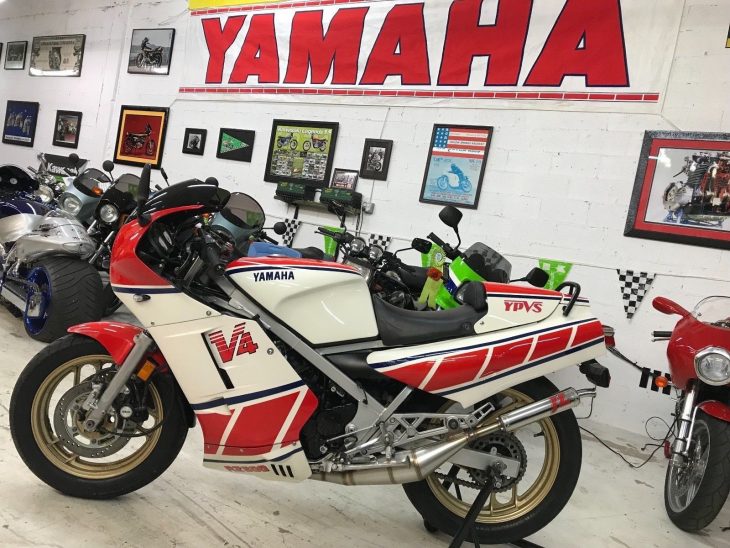 This 1985 Yamaha RZ500RN is a bread-and-butter bike for us here at RSBFS. It's an old, rare, iconic Japanese sportbike in excellent shape topped off with a few unique touches to separate it from the rest of its thin herd. What's not to like? It has covered fewer than 5,000 miles (just over 7,000 kilometers) in its 33 years, and sports a raft of recent, but period-correct, mods. Oh, yeah, and a front fender signed by 500cc Grand Prix World Champion Kenny Roberts.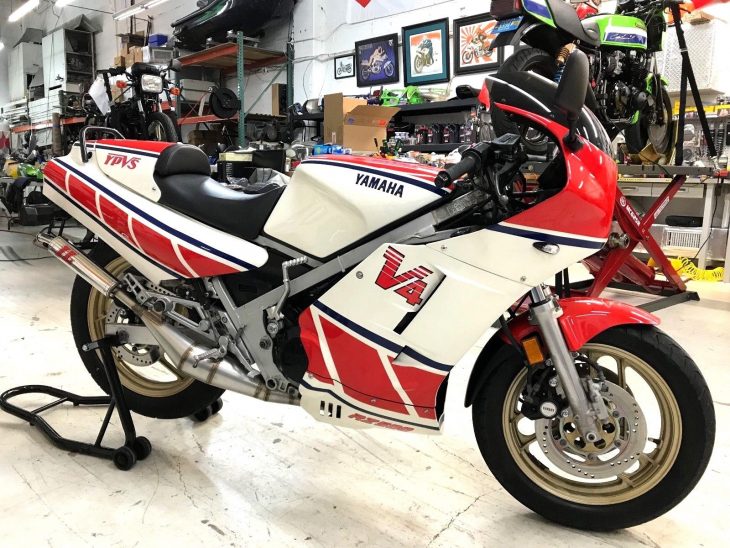 In addition to a recent .030-over rebuild and those lovely JL pipes, the bike wears immaculate paint, and all the plastic, rubber and vinyl surfaces show evidence that the machine was stored indoors and extremely well looked after. Aside from the pipes, the mechanical rebuild featured a carb rejetting, which should work with the exhaust to wake the bike up from its corked stock specifications.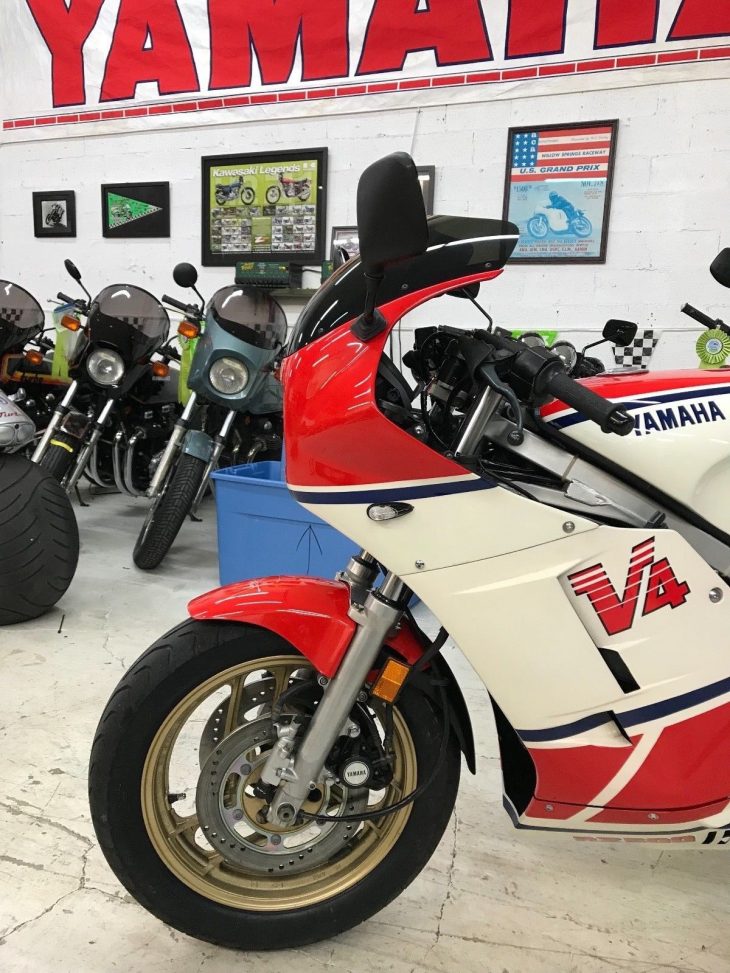 Despite their winning lineage, wild engines and potential for pace, these bikes weren't bought at the same fever pitch as their four-stroke stablemates, so finding them these days, especially ones this nice, is a feat. Prices have been a little across the map, but none can be had for cheap.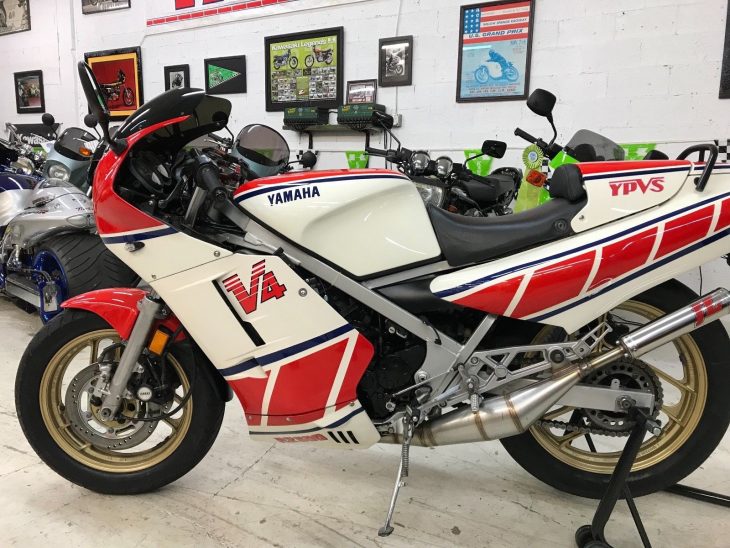 From the eBay listing:
FROM MY PRIVATE COLLECTION A PRISTINE HARD TO FIND 1985 YAMAHA RZ 500RN WITH A CLEAR FLORIDA TITLE.

I HAVE OWNED SEVERAL RZ'S/RZV"s AND THIS IS THE ONE THAT I KEPT FOR MYSELF.

RUNNING OUT OF SPACE FORCES ME TO PART WITH AND SHARE THE ENJOYMENT OF A FEW OF MY PRIZED COLLECTABLES.

THIS PIECE OF YAMAHA HISTORY THAT (NOT SOLD/OFFERED IN THE UNITED STATES) FEATURES LOW MILAGE 7423 KILOMETERS/4612 MILES (MILAGE IS IN KILOMETERS) IN IMMACULATE, PRISTINE CONDITION MY RZ 500RN HAS WORLD CHAMPION KENNY ROBERTS SR AUTOGRAPH ON THE FRONT FENDER, A PERFECT NOS FUEL TANK (THE BEST PAINT THAT I HAVE EVER SEEN), AND THE REST OF THE PAINT IS MUSEUM QUALITY.

FITTED WITH A PERIOD CORRECT J L EXHAUST, THE ENGINE WAS GONE THRU A FEW YEARS/250K AGO, WIESCO .030 PISTONS, NEW BEARINGS, SEALS AND GASKETS, CARBS RE-JETTED AND JUST THOROUGHLY CLEANED AND SYNCHRONIZED, NEW TIRES, A NEW LITHIUM BATTERY, THE HARD TO FIND OWNERS MANUAL, THE SOLO SEAT WITH EXACT MATCHING PAINT (THEY NEVER MATCH), NOS ROTORS AND PADS, REBUILT MASTER CYLINDERS, NOS TAIL LENS, NOS REAR TURN SIGNALS, NOS MORRORS

THE AUTOGRAPHED HELMET IS NOT INCLUDED IN THIS AUCTION, BUT IS ALSO AVAILABLE. THE HELMET WAS SIGNED BY KENNY ROBERTS, EDDIE LAWSON, WAYNE RAINEY, JORGE LORENZO, ANDREA DOVISIOSO, BEN SPIES, AND ALVARO BAUTISTA, AND WES COOLEY. THE BEST IN THE WORLD. ALSO AVAILABLE ARE 2 NOS STILL IN THE BOX MID SECTION FAIRINGS.

THE BIKE LOOKS, RUNS, AND RIDES BETTER THEN NEW! THIS IS A MULTIPLE SHOW WINNER AND A VERY FUN BIKE TO RIDE.

I HAVE BEEN RIDING, RACING, COLLECTING AND RESTORING BIKES SINCE GRADUATING FROM AMERICAN MOTORCYCLE INSTITUTE IN DAYTONA BEACH IN 1980. I TAKE MUCH PRIDE IN THE FEW BIKES THAT I OFFER FOR SALE. ONLY THE BEST WILL DO IN MY MINI MUSUEM. SO BID WITH CONFIDENCE. THIS BIKE STARTS UP ON 1 KICK IDLES BETTER THEN WHEN NEW AND RUNS/RIDES LIKE A DREAM.

SERIOUS BUYERS ONLY PLEASE. $500 IMMEDIATE DEPOSIT THRU PAY PAL. THE BALANCE DUE WITHIN 3 DAYS CASH OR A WIRE TRANSFER. I CAN HOLD THE BIKE UP TO 30 DAYS IN MY SECURE CLIMATE CONTROLLED FACILITY. I CAN ALSO ASSIST IN SHIPPING ARRANGEMENTS. THE CLEAR TITLE WILL BE SENT VIA FED EX ALONG WITH THE KEYS AFTER FULL PAYMENT.

ANY QUESTIONS PLEASE CALL OR TEXT 954-816-0806 BOB

HAPPY BIDDING:) BID HIGH SO YOU DON'T MISS OUT.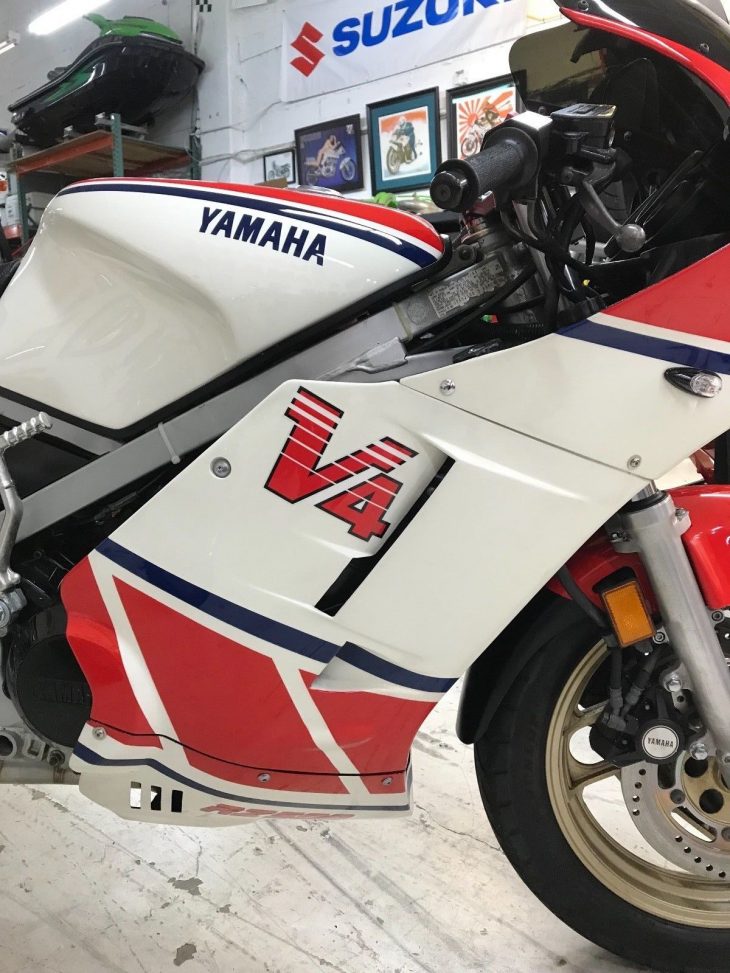 The buy-it-now for this machine is set pretty close to as high as you'll see them listed, but it does come with touches that similar machines can't offer, and is in really nice shape.