She's Easy On the Eyes:  2000 Bimota SB8R-S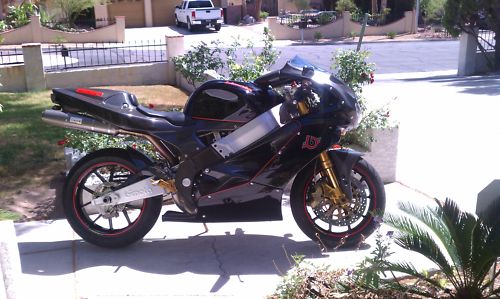 Update 5.2.2011: . -dc
You know you are getting jaded when you have a really sweet looking Bimota to post and you forget to post it.  In my humble opinion this is the best looking SB8R we've listed (these may be the same two bikes)  and all for one simple reason:  those wheels.  I'm  astounded how much those wheels dress up the SB8R.  Yes, it is an exquisite exercise in engineering but I always thought the SB8R was a bit frumpy looking.  Me likey this one though.  If my bank account had a few more zeros I'd be game for this one.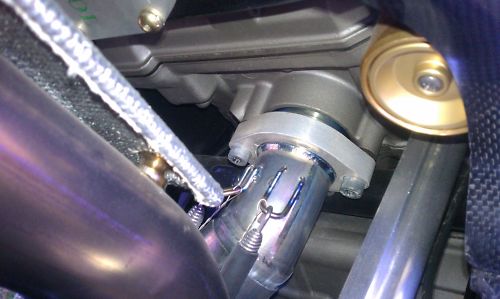 Why post a couple of boring close ups?  To show how dog gone clean this thing really is.  That is show room clean right there my friends.  Yes, that is a ti exhaust. 
Do Bimota's have a healthy smattering of carbon fiber?  Do bears crap in the woods?
The info on her:
I am selling my 2000 Bimota SB8R-S (Special).  Very Very RARE.  Only 150 world wide.  It has only 3203 highway miles (all the miles were put on last July when I went to a bike show in San Francisco – Reno).  This was the first and last time I have ridden the bike.  I bought this bike BRAND new last year with 0 miles and an open MSO.  I registered the bike last year so I could ride up to Laguna Seca last July.  Since then, I have decided not to ride the bike anymore as I got too nervous about damaging any parts.  The bike is as clean as a new bike and looks fantastic.  You wont be disappointed.  There is over 10K in modified parts when bought from Bimota USA.  It was their last bike left from their inventory when they closed their doors.

Specs:  
– Suzuki TL1000 engine (996 cc Vtwin) fuel injected 
– Full carbon fiber nose piece, side fairings, and complete sub frame seat section
– Carbon fiber frame and rear hugger
– Gold anodized aluminum chain sprocket

– Gold adjustable racing foot controls from billet aluminum
– Gold colored Paioli front forks 
– Gold colored rotor hat with cross drilled rotors
– European headlight system with HID lights.  This was only offered in Europe

– Ohlins steering stabilizer

Aftermarket parts that were put on by Bimota USA as a special order. 

– Motocorse full titanium exhaust – $5600 (only produced 10 of these units) They are no longer available
– Marchesini 5 spoke rims – $5200 (only produced for this bike as an addition)
– Clear LED taillight 
– Power Commander PCIII custom built map – $600 (This unit has corrected the fueling problem that was common on the bike)

I can guarantee that you will not find another bike this new.  It is very clean with no scratches or dirt.  Never dropped, crashed, or raced.  It is 100% immaculate.  I have found some SB8R for sale in the UK at $17,000 but not the "Special" version.  

I have everything that came with this bike.  Manuals, Certificates, Extra keys, brochure, and leather key cover.  This is truly a collectible and will be worth twice as much in no time
 She's got a healthy set of………..scoops up front.  Since I was late in posting this one the benefit is knowing the auction is for real.  The reserve is off as the bidding has risen to $14,000 as of this writing.  Definitely more than the "common" SB8's have been going for but this one does have some drool worthy extras and it is an "S" version.  Heck I was sold on the exhaust and the wheels alone.
Here is the rest of the Bimota porn.
Ian