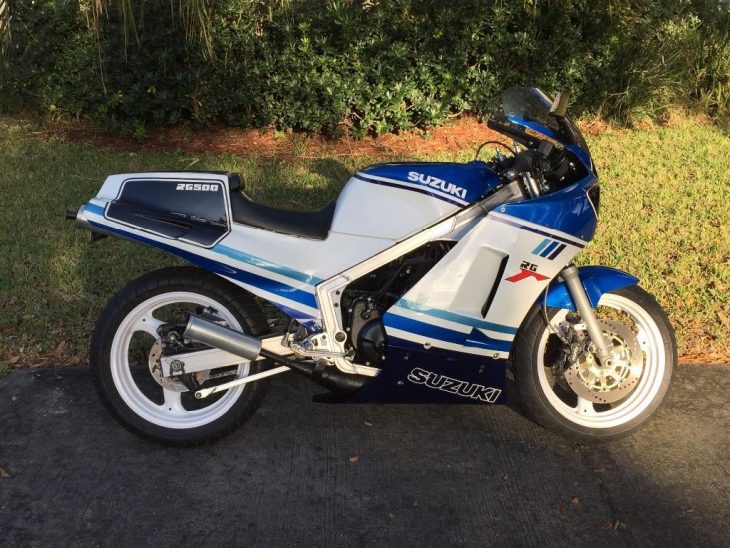 One of the most desirable sportbikes of the 1980s, the Suzuki RG500Γ was in a class of basically two with the Yamaha RZ500. Powered by a two-stroke square four it shared with no other bike in Suzuki's lineup, the Gamma was intended to evoke their Grand Prix racebikes, which led to an interesting dilemma: two-strokes were still king in the racing world, but their smoky emissions and poor fuel-consumption were dooming them to irrelevance in the real world. And while quarter-liter two-strokes continued well into the 1990s, "big" 500cc two-stroke fours from Suzuki and Yamaha lasted for just a couple years.
The Gamma's 400lbs and 100hp weren't cutting-edge numbers even in their day, but the relatively light weight and 500cc power meant that, although there were faster bikes in a straight-line, the Gamma had that magical combination of agility and top-end hit that two-stroke fans find so addictive. Or maybe burnt two-stroke oil has some sort of narcotic effect? Sure, yesterday's Triumph Daytona would probably kill it in any quantifiable measure of performance, but what would you expect from a thirty year-old motorcycle?
Today's example is very sharp-looking and has been modified to use wider 17″ wheels front and rear. Purists might balk, but finding sticky [and safe] modern rubber to fit those very skinny [120 wide at the rear!] stock items might be difficult and I think it improves the look of the bike, although aesthetics are certainly subjective.
From the original eBay listing: 1986 Suzuki RG500Γ for Sale
GAMMA, totally refurbished, Lance Gamma tune, top end, pipes. Carbs bored, air filters, ride height adj, RaceTech forks, Fox shock, GSX-R400 rims, new body work and paint. Bike comes with owners manual, shop manual, custom stand, race stand, cover, and Suzuki leather jacket size 48. Bike runs and idles perfectly. If u have ever wanted one, this is the one. Don't let this pass you up, bike will only appreciate.
Digging back through our archives, it doesn't look like this example has graced the pages of RSBFS. Obviously, restomods can be a bit divisive, but I'm a fan as long as they're done tastefully and this one looks pretty class, assuming that carbon dash is real carbon fiber… Even the slightly updated graphics on that solo tail look great, and it has the required Lance Gamma tune. The price for this pristine, tastefully-modified Gamma? A cool $23,000. That's pretty steep, but the bike looks sharp enough to justify that kind of cash, and if you've been looking for a lightly-modified RG500, this might be the time to dig deep.
-tad