Metric tons of ink have been spilled concerning Yamaha's FZR-750R – code named OW01 – and other homologation specials built for the first few years of the Superbike World Championship.  Rare as they are, this Californian is striking with very low miles and a spare set of bodywork.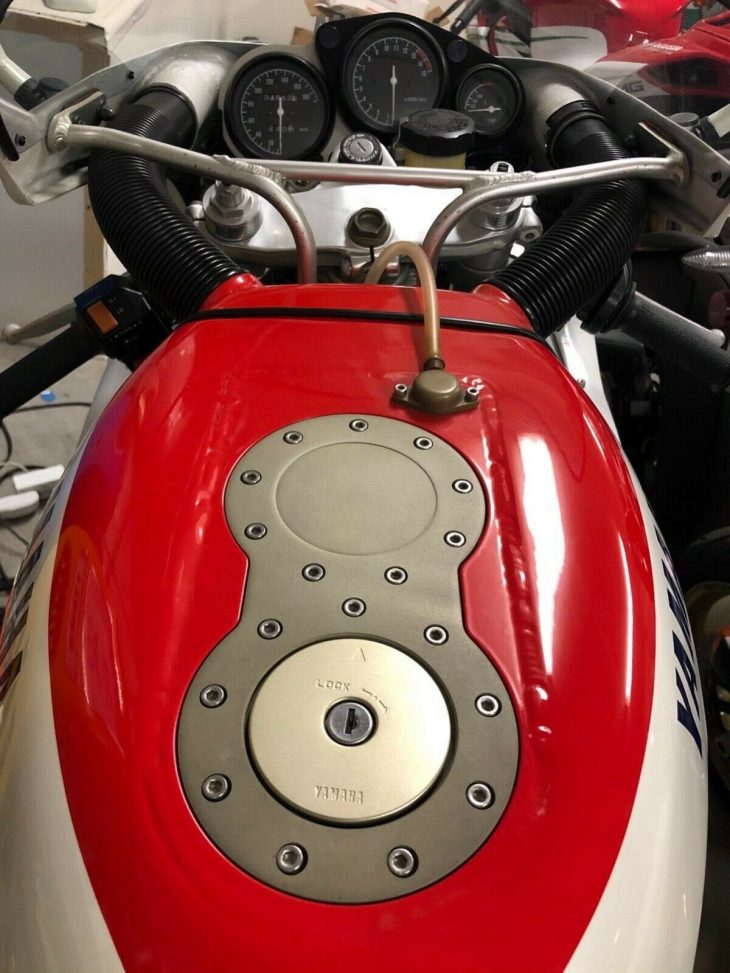 Yamaha added just the bare requirements to make their FZR-750R ready for the road, lower compression pistons ( still 11.2-to-1 ), the EXUP automatic exhaust tuner, mirrors, reflectors, and a few lights.  The rest is how a superbike team would like to see it, a seriously oversquare four, with 38mm Mikuni flat slides looking right down into the five-valve head, and 109hp before the racekit and tuner worked their magic.  Titanium connecting rods are topped with short-skirted pistons, light to achieve the 12,500 rpm ceiling of the powerband.  A Deltabox frame triangulates light alloy stampings right to the headstock, welded to cast frame connectors which hold the Monocross rear and Öhlins shock.  Conventional forks are up front hung with 320mm Nissin brakes, with a smaller single rear.
Collectors come and go, but judging from recent auctions, apparently thinning the herd in this case.  The OW01 has some compatriots in the garage full of 20th century superbikes, but is set apart at least by the scoops delivering cold air and 916-style folds in the fairing.  Thirty-plus years on, with not enough miles to worry about the history, it looks remarkably tidy.  Not that someone would have to go through it carefully if it was going out on the track, but a carpeted stand is more likely.  Comments from the eBay auction:
Rare FZR 750R OW01.  Bike is a JDM version and in mint condition like the rest of my collection.  Bike will come with a spare upper fairing and I have a lot of miscellaneous NOS parts for it as well. Bike has 4,800 kilometers.
Feedback from race teams was included in new designs, and it was practically a miracle when models survived three years.  The OW01 was superceded for 1993 but soldiered on in private and semi-private hands – like Eddie Lawson's 1993 Daytona victory.  Many 750R's found their way onto the racetrack, but that time has passed for this almost perfect specimen.  A singular bike from a special time, anxious for a new home or at least a new offer.
-donn