Although the Honda NSR two-stroke sportbikes were by no means "starter bikes" and were very high-performing motorcycles, they were still relatively affordable and often bought by riders not flush enough to afford the taxes on bigger bikes. Basically: young hooligans bought them. Because of this, nice examples are pretty thin on the ground in their home markets.
The recent flood of affordable "grey market" Japanese two-strokes here in the US offers up our first real opportunity to sample bikes that still get the British motorcycle press all dewy-eyed and nostalgic. Unfortunately, caveat emptor is the order of the day, since many of these little nippers were thoroughly thrashed when new.
The NSR250R featured a 90° liquid-cooled 249cc v-twin backed up by a six-speed cassette gearbox and, from the factory, these were limited to 45hp by Japanese regulations. But there is plenty of additional power waiting to be unleashed by a US owner and, with a sub-300 lb dry weight, this could certainly embarrass many bigger sportbikes in anything but a straight-line race.
This MC21 wasn't just a continuation of the earlier MC18, it was a ground-up redesign and featured a banana or "gull-arm" swingarm, PGMIII electronically-controlled carburetors, and 17″ wheels at both ends, making tire choice a bit easier today. Although the bike used carburetors, the PGM system created a three-dimensional ignition map for each cylinder, based on throttle-position, revs, and gear.
From the original eBay listing: 1990 Honda NSR250R MC21 for Sale
I am selling my 1990 Honda NSR 250R MC-21 two stroke motorcycle. For those unfamiliar with this bike, it is the street version of Honda's legendary 250cc Moto GP race bike, the NSR250. Despite it's small displacement, this is not a beginner's motorcycle! The two stroke engine is very powerful for its size and the bike weighs in at less than 300lbs. On a twisty road, it will leave larger displacement bikes in the rear view mirror. Plus the sound, feel, and power delivery of the two  stroke engine is unlike any four stroke motorcycle. The MC-21 model was brand new in 1990, and was a huge step up from the earlier MC-16 and MC-18 models. In addition to new body work and the super sexy gull-arm swingarm design, the MC-21 utilized the PGMIII ECU from the RC30 superbike, giving it true 3D ignition. Suspension was upgraded and the rear wheel diameter was decreased from 18″ to 17″ to fit the most advanced tires. The bike is in overall great condition, with 11,117km (<7,000 miles) on the clock. There are a few minor scratches on the bodywork (see pictures) but no other significant damage. The bike kick starts from cold on the first try and runs/revs very smoothly.

Honda never sold this bike in the U.S. as the EPA banned most two stroke powered road vehicles in the '70's. As such, they are extremely rare. There are a handful of these bikes in the U.S., some here legally, and others illegally. In general, two strokes less than 25 years old are still banned by the EPA, so use caution if you are looking at a similar bike that is newer than 1990. This bike was imported legally by myself directly from Japan, and I have all the US Customs paperwork to verify its legality. I also have a clean and clear Virginia title in my name, which has an 11 digit VIN that matches the bike's frame number.

Photos: The first seven photos show the bike from various angles, front & rear tires, the speedo/odometer in km. The remaining photos show the following marks & scratches: left front fairing, right lower fairing, right upper fairing, left lower fairing, right seat fairing, left seat fairing, and right handle bar.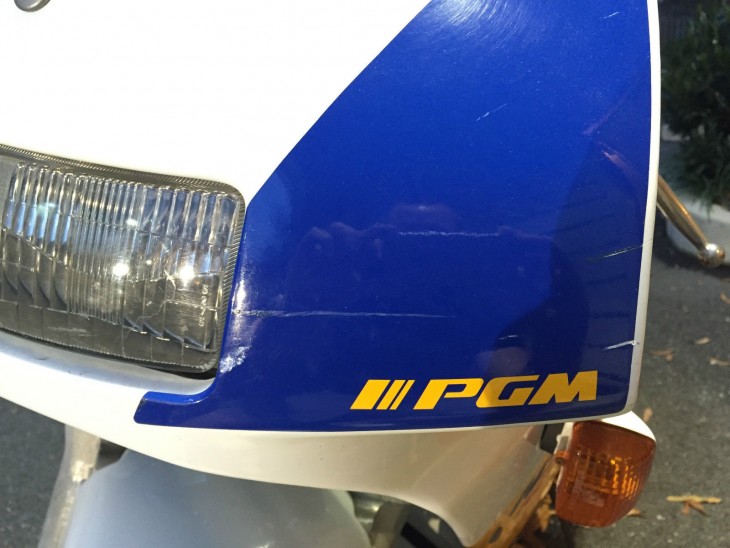 This bike isn't in showroom condition, but looks very clean and appears to start easily and run well from the included video. There's a bit of surface rust on some of the fasteners and some scuffs at the edges of the bodywork, but nothing jumps out that should scare off potential buyers.
There are just four days left on this auction, with no takers yet at the starting bid of $5,000. Considering these were virtually unobtainable just a few years ago, has the market been flooded?
-tad