Check out this very low miles (2500!) Honda NSR250 for sale on San Francisco Craigslist for $4800: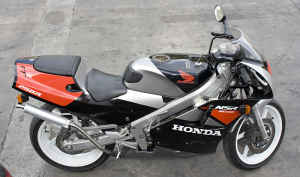 quote from seller's Craigslist ad:
Up for sale is a Japanese spec MC18 NSR 250.

Chassis: MC18-111
Bike: NSR 250-3 2stroke
Color: black/silver
Mileage: 4,276km ~ 2,500 miles (ACTUAL)

Bike runs excellent and is a great track bike. Handles like a dream. This mc18 has been known as one of the best in the entire NSR lineup (better than mc21 and mc28). Bike is not registered and is being sold for off-road use purposes. Please see pics.
With no title, this great little bike will be attractive to collectors and track day enthusiasts. As a track day bike, do you pick something like this or a new Aprilia RS125? I sat on the latter this past weekend at the Seattle International Motorcycle Show, it's amazing how beautiful it is in person…
dc