Location: Carmel Valley, California
Mileage: 811
Price: $8,799 BIN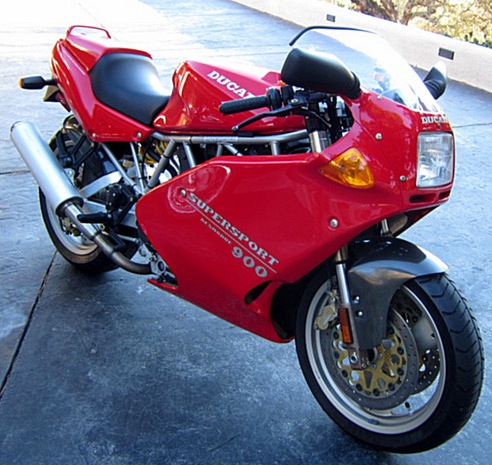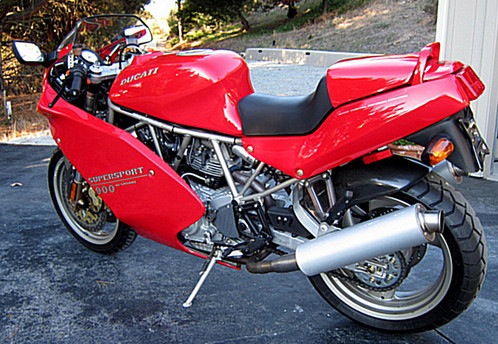 Okay, we've seen a few Ducati's lately here on RSBFS, and that's not unusual as they make some of the coolest bikes out there. The Superlight, 888SPO and 851 are all killer rides. In the Ducati world, the 900 SS/SP might not be the rarest of all Duc's but when it has 811 miles, then it's time to pay attention. Collecting is not only finding what is collected today, but also anticipating what will be collectible, if you have the vision. I'll put this bike in the future (if not already) collectible category.
Here's the seller's info-
Ducati 1995 900 Super Sport SP, Fully Faired Collectable Bike

Let me be very straightforward, if you are looking for just another  "ridden hard and put away wet" Italian motorcycle you can stop reading right now.

I am a collector in Carmel California and over a period of 20 years built a very special motorcycle collection.

You may have seen the other 7 bikes from my collection that I have sold over the last 8 months… each better than the next. Many setting a new standard for sales price as they should.

This is the last of my collection to be sold, and what I consider one of the most beautiful and classical Italian machines ever designed.

The 900 Super Sport SP series was the last modern great looking Modern yet individual Italian design before all brands started looking alike.

Each one of these Ducati's were plated and numbered, this bike being number 810. The motorcycle has been owned by only two of us since new and has only 811 original miles. This is a factory unmolested example. I have the original clutch cover but the bike has a correct period vented carbon fiber cover now. Everything else is as the Factory delivered it to the States.

The bike has been watched over by my personal mechanic Ted Porter of Santa Cruz, Ted worked on my entire collection when we were both back East and now once again on the central coast of California.

Anyone can go out and buy a 16K new Ducati that looks and feels like everything else out there in the Asian Sport market, or you can rarely find something as important as this machine for half the price.

This is a bike that can add so much to a collectors group of historic bikes, and so hard to find without be beaten to death, or all fiddled with after market stuff.

If you want to collect or ride the best of the best, you just found it.

Good luck to you and let me know if I can answer any other questions… there is not much more to be said, it is exactly what is stated.
And the photos-
I don't know what really there is to say about this bike. It's low mileage, and stock. And a total beauty. If you're looking to start a collection, add to your collection, or maybe just want a basically new 900 SS/SP, then you'll want to give this bike a look. The seller is asking $8,800 bucks. High price? Sure. But consider what that gets you in a new bike. Granted, the maintenance won't be the same, but what a classic ride.
So it's up to you. If you dreamt about these when they were new, now might be your shot. If so, check this thing out!
-RN