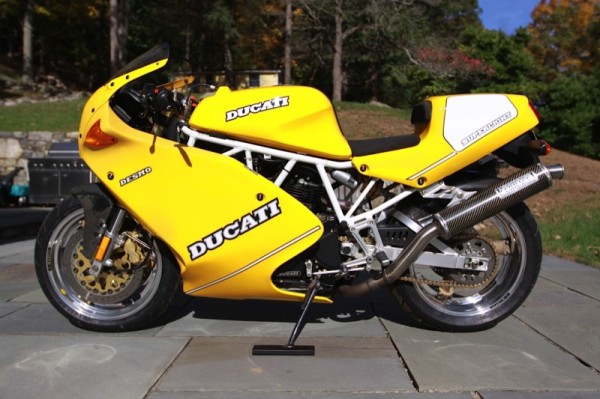 Today we've got a great looking Ducati Superlight for sale on eBay. This one has under 5000 miles and is currently at $6600 reserve not met. Buy-it-now is set at $10900. This one has a couple of very small blems but it's also practically a one owner bike. While $10900 is a bit higher than we've seen previously for a SL like this, I'll bet the reserve is a bit lower and may be attractive if you've been waiting for the ultimate in SuperSports of this era.
dc
From the seller:
Listing this bike and a 1976 Moto Guzzi Le mans for a friend. The bikes are located in Cold Spring NY…Any questions can be referred to him, his email is listed below.

ZDM1LC4N6PB0065671993 Ducati 900 Superlight

One of only 300 imported into the US (#857)

In excellent condition with only 4400 miles.

Original 2 piece Marvic/Akront mag/alloy wheels

I am the 2nd owner having bought the bike in September of 1993 with 219 miles on it (the originaZDM1LC4N6PB006567ZDM1LC4N6PB006567l owner bought it in june 1993, rode it briefly and decided it was not what he wanted). So I have owned it for virtually it's whole life.

During my ownership the bike has been serviced by well known and regarded east coast (Ct) mechanic Phil Cheney (now with Max BMW of Ct.)

In January of 1996 the head bolts were upgraded to the heavy duty bolts.

Most recently serviced by European Cycle Services of Middletown, NY at the end of July.

Tires are fresh with less than 200 miles on them.

The bike is generally original with only the following modifications:

1) Termignoni carbon fiber exhaust

2) 39 tooth rear sprocket

3) k&n air filer element

4) bar end mirror

5) tank guard

6) In line fuel petcock (much easier to access than the factory item which is under the tank and requires removal of the seat and tilting the tank up to access, see photo)

Included in the sale of the bike will be the original exhaust, 37 tooth sprocket and the original mirrors. Also included will be a carbon fiber dash which I never got around to putting on as well as original delivery paper work, warranty card, all service records and original owners manual.

Bike has never been crashed, raced, tracked or abused in any way.

The following is a list of the flaws:

1) cracking around the 2 right side seat mounting bolt holes (see photos)

2) abrasion of the fairing near the oil cooler (see photo)

3) deterioration of the foam around the gauges (will be covered by the carbon fiber dash)

Not be a show bike but a very well preserved example of one of the last great two-valve, air cooled Ducati superbikes with the additional rarity of being one of only 300.