1993 Ducati 900 Superlight For Sale-
Mileage: A super low 1,298
Location: Columbia, MO
Price: $3,050.00 with reserve still on- duh!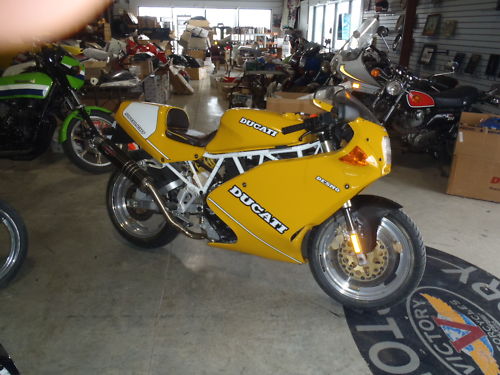 Who wouldn't like to roll on a little Mellow Yellow? I for one would rock it and would be happy to talk to anyone who wanted to ask questions about it. Who cares if it only has 78hp in stock trim it's an LE Ducati with some bitch'n wheels, Forza hi-mounts, Brembo's and full floating front disc that sound like an Abacus being used. Oh, and if I'm not mistaken there's a sprinkling of CF to be found as well.
A very rare Ducati Super Light that has very low miles and is in great condition. It has only 1298 miles on the original factory tires. It comes with a set of Forza slip on exhaust, Corbin seat, light weight Marvic wheels and slotted dry clutch cover.

There were only 200 of these Super Lights produced with the Marvic wheels so this is truly a collectors item. As the years go by, these Ducati Super Lights are becoming more difficult to find. If you've been looking for a Super Light, this one should be on the top of your list.
Okay, so we have all of the important stuff out of the way now I'm getting on my soap box-
If you have a cool bike and want to sell it- PLEASE, PLEASE take some decent photos of it i.e. the 749R in our side bar. There, now I feel much better.
You can view other Ducati 900 Superlights that we've posted here
Cheers!
dd