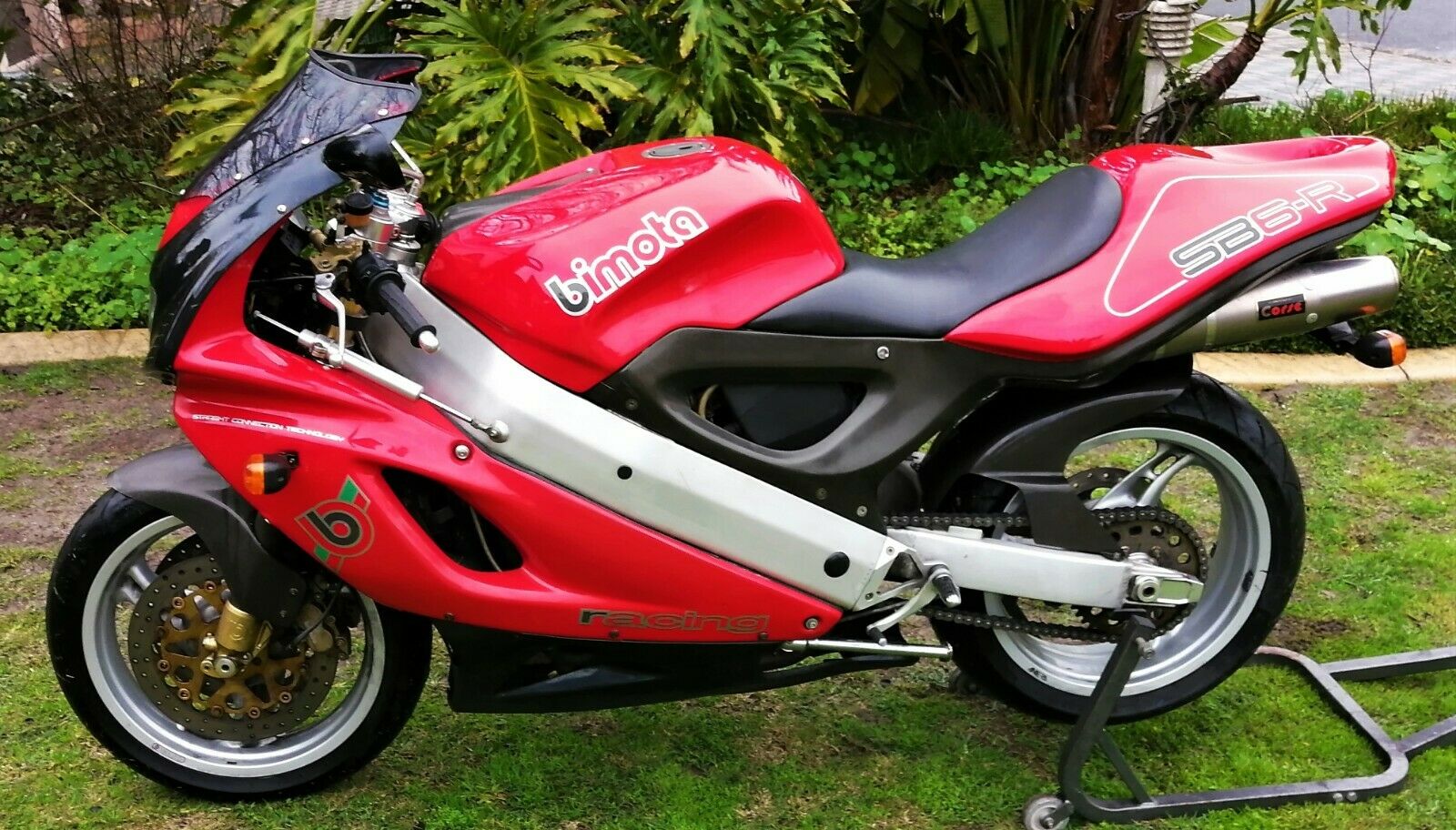 Bimota is known for taking the road less traveled – in order to travel that road faster and with more exclusivity. And while Bimota has had some brilliant successes and failures, it was the SB6R that promised mainstream potential. Housing a GSX-R1100 powerplant magically wrapped in aluminum and fiberglass, the SB6R weighed less than the Suzuki donor bike that gave up the engine and trans. Fast, powerful and looking like it was built to break speed limits everywhere, the SB6R is among the most approachable of the Bimota set, and always worth a closer look.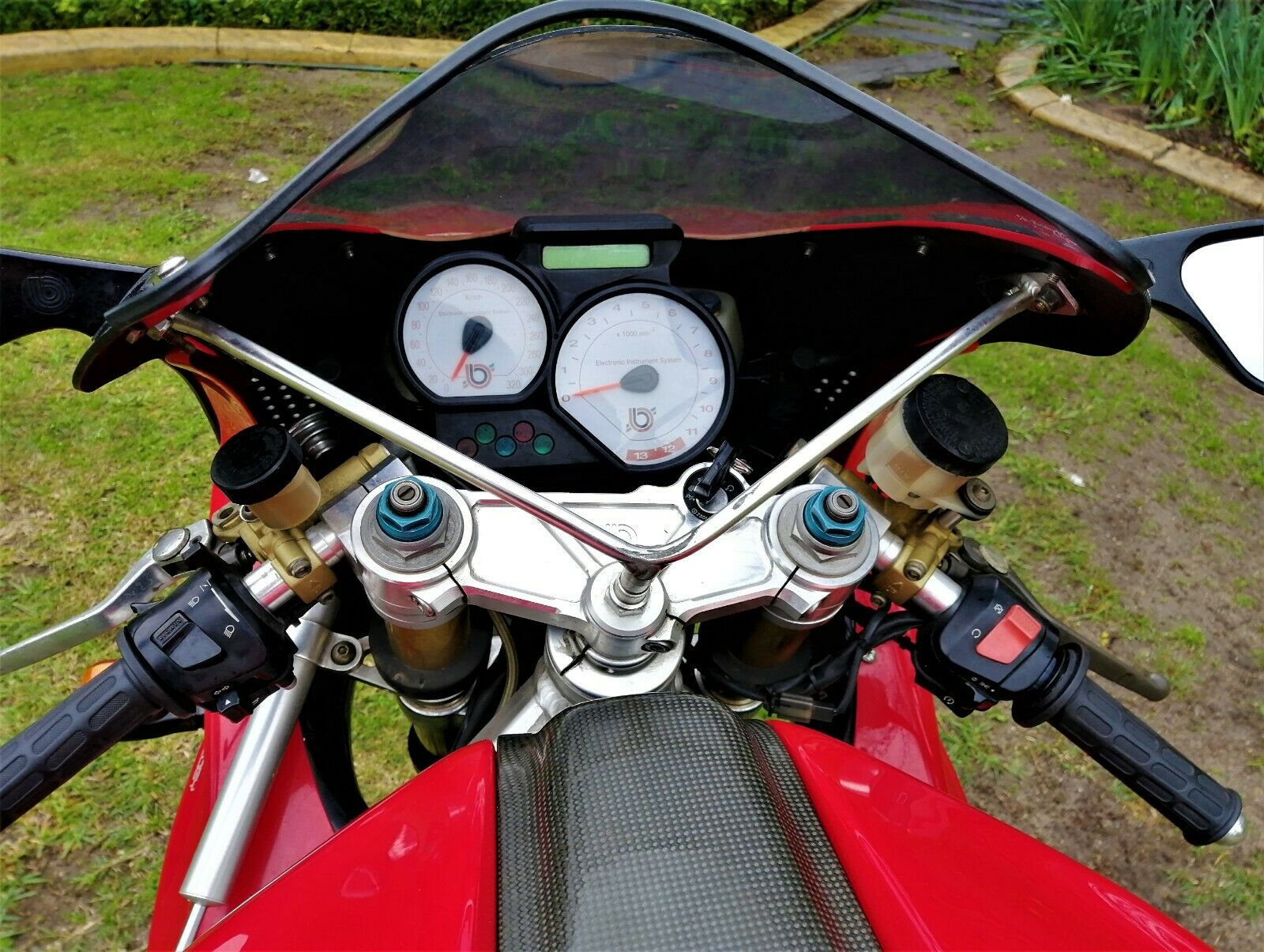 While you would be forgiven to lust after a more exotic Bimota – say a VDue or Tesi – the SB6R is a work of art in its own right. Look closely at the details and let the fun begin. Where to start? How about that asymmetrical swing arm, complete with BIMOTA stamped out in raised lettering. Light, trick and very indicative of the level of workmanship. Check out the under tail exhaust poking out shotgun style over the rear wheel. Look at the solo saddle. No passengers on this ride, and there is no faux solo seat cover to confuse the issue. This is a rider's bike. Check out the Bimota-logo instruments and spend some time on those lovely triple clamps. Yes, those started life out as billet blocks. Even the non-Bimota stuff is gorgeous: the rear Ohlins shock and placement, the right side up Paioli fork with carbon covering and quick release, and the Brembo binders all work together to create art.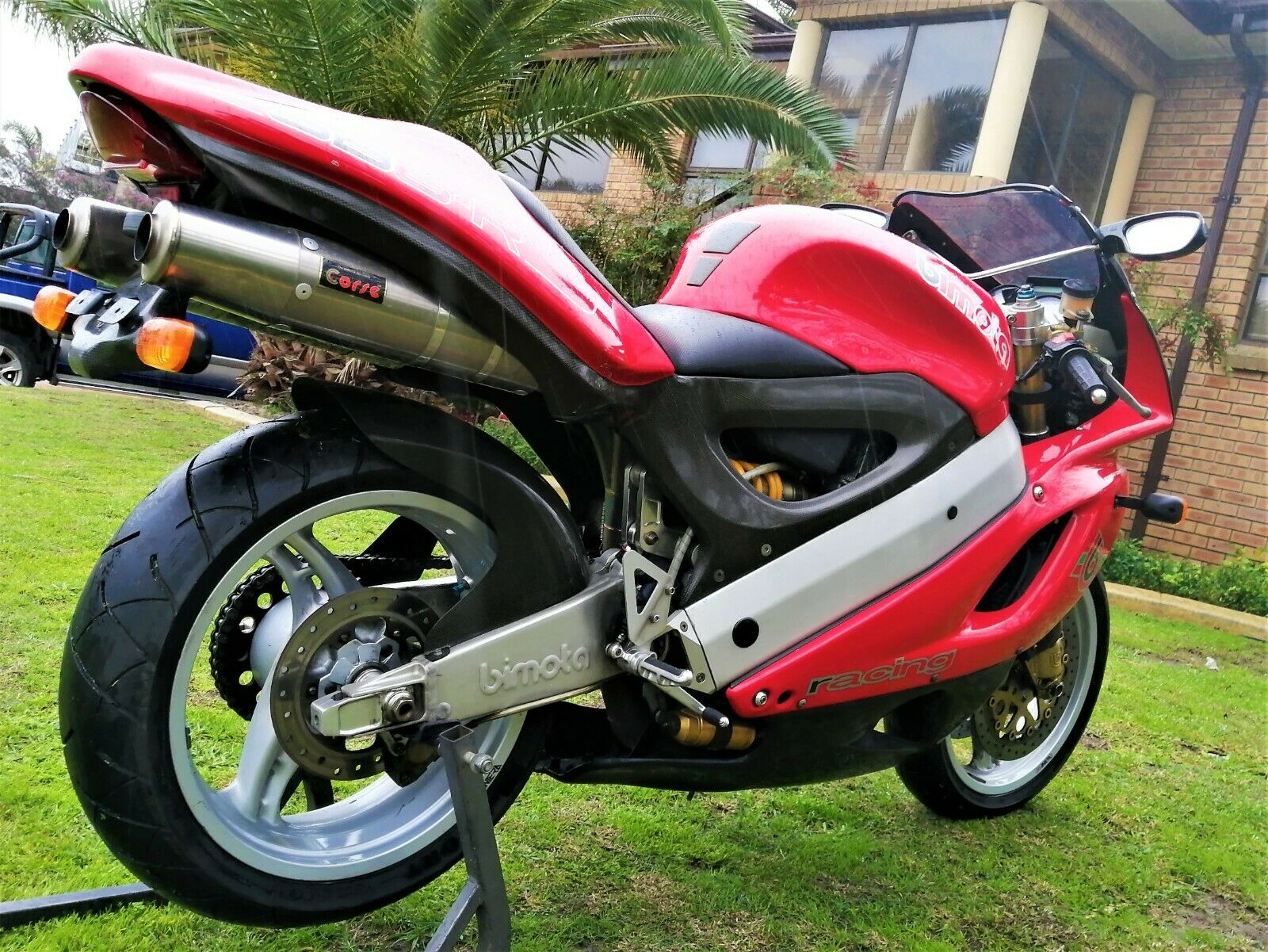 From the seller:
On offer is this mint condition Bimota SB6R.
Corse exhausts.
Low mileage, well maintained and serviced recently.
I have also included an additional original rear wheel.
This prime example would make a great addition to any motorcycle collection.
Worldwide shipping is available at competitive rates.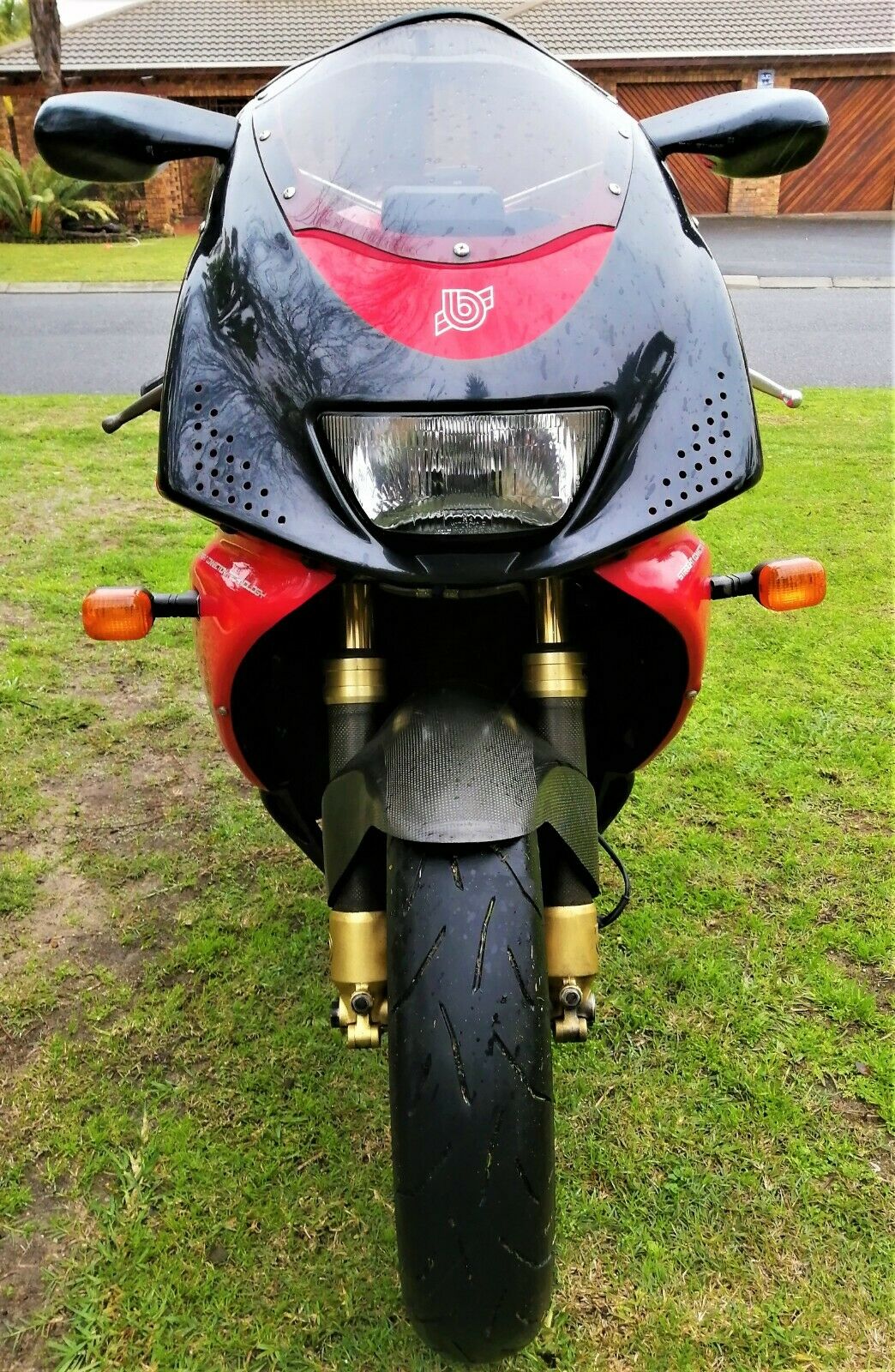 In a sad twist of irony, it was the more exotic Bimota VDue that sealed the fate of the SB6R. With the recalls of the two-stroke machine pushing Bimota into bankruptcy, a mere 600 SB6Rs were produced – far fewer than anticipated. That makes this particular bike a bit rare. Unfortunately in this case rare does not immediately equate to expensive. While this was priced above $30,000 when new, these are laregely sub $10k machines today. And that makes them well worth the purchase. Where else can you find the exclusivity and panache that only a Bimota can give you – not to mention the handling and performance – for that kind of dosh? Sure, maintenance is a bit tough on many of these models due to the tight tolerances between the engine, frame and bodywork, but thankfully the Suzuki mill is well neigh bulletproof. Check it out here, as this one is looking for an opening ask of $9,900. That is more than many we have seen recently, but not out of the range of reason by any means. Good Luck!!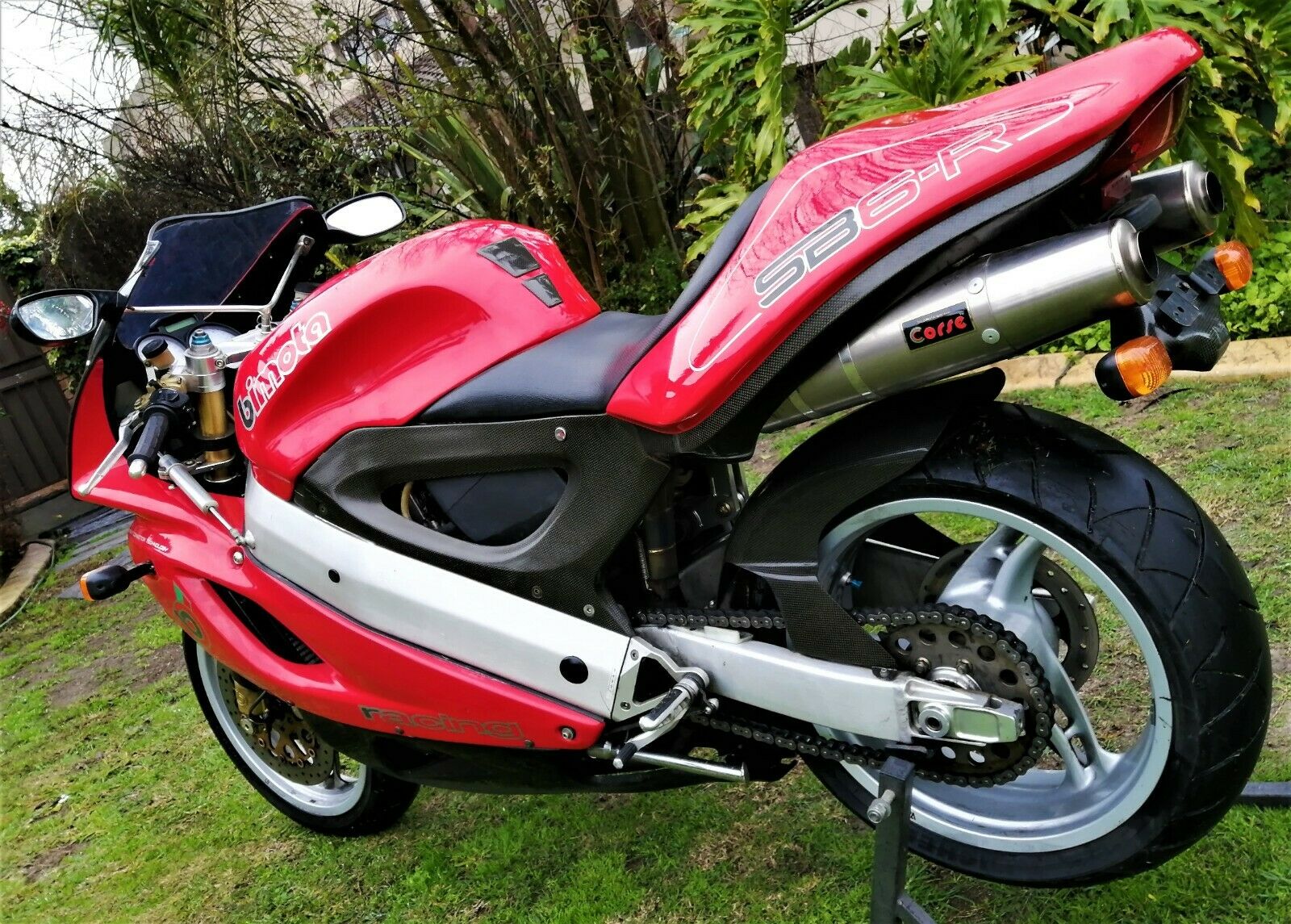 MI