UK Goodies:  Bimota Vdue Trofeo Edition, Laverda 1200 Anniversary, Norton Commando 961 Cafe Racer
It was a little slow around the plush and dimly lit RSBFS offices this week and I found myself wandering onto Ebay UK (you can only read the paper in the bathroom stall so many times).  Read on to see if what I found interests you as well.
—————————————————————————————-
1998 Bimota Vdue Bimota Trofeo Edition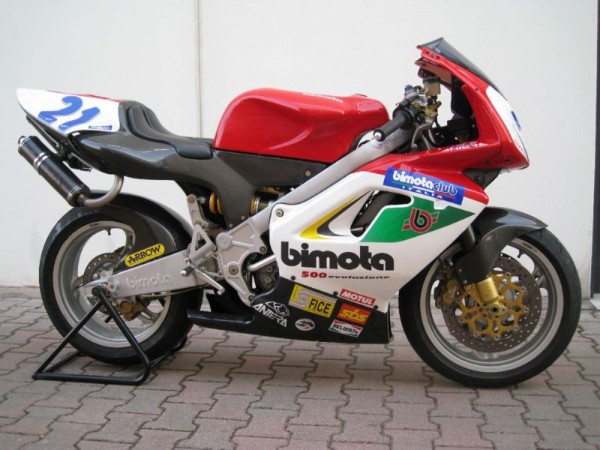 I'm a huge two stroke fan but have to admit I've never been that fascinated with the Bimota Vdue.  Maybe it was the styling, maybe it was the problems associated with it but my lust factor was low.  This particular model intrigues the heck out of me though.  There were 26 track models produced for a Vdue race series with a host of updates that fixed the nagging problems.
The specifics from Vdueusa.com:
After a managerial change, Bimota decided it was time to solve the troubles of the injection unit. Thanks to Ing. Naldi, the engine of the Vdue got new cranks, bearings (on the inside of the crank seals), more accurate ports in the cilinders and and 39,5mm Dell'Orto carburators.
With these modifications the engine was reliable that Bimota sponsored a challenger series called "Trophy". The motorcycles where "leased" directly by the factory with different exhaust system, carburetors, electrical harness reduced to the minimum and new digital instrument panel with integrated ECU.

All of those bikes were pure race machines. During the challenge, they never experienced the peaky power delivery of the injection unit and also the engine did not suffer major troubles.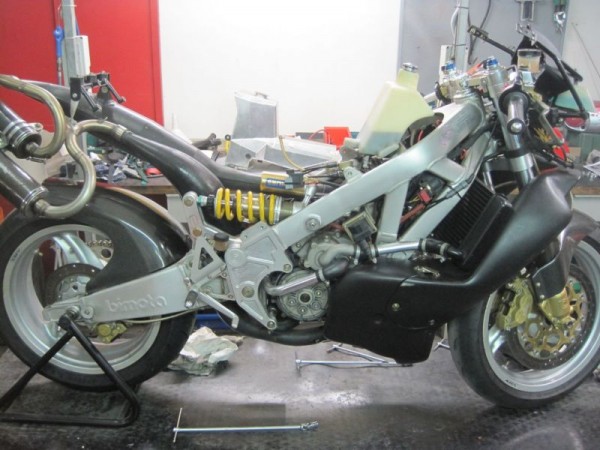 Can you smell that two stroke smell filling the gargage?
The exhaust is specific to the Trofeo Edition.  Click here for some Vdue exhaust porn courtesy of Brian Turfrey.
As stated above, the dash is unique to these models as well.
The asking price is roughly $26,500.  Click quickly the listing is close to ending.
——————————————————————————————————-
Laverda 1200 Anniversay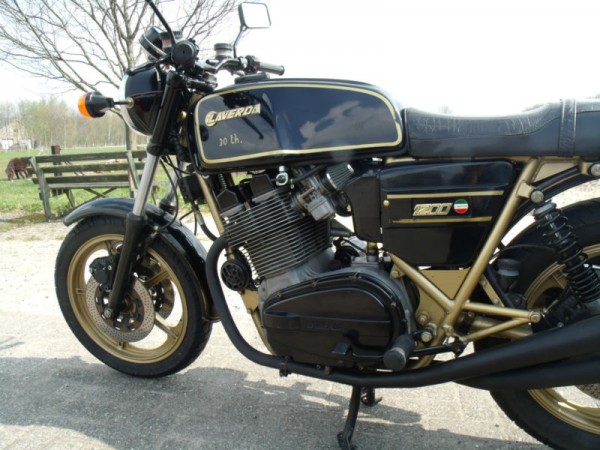 Next up is this brute, a Laverda 1200 Anniversary.  This thing has a certain Mad Max factor to it.  It looks like you are out to kick some ass if you are riding this beast.  There is very little info on this bike on the web but I did find a little.  It seems some serious Laverda fans dismiss the Anniversary as strictly a marketing ploy.  The fact is very few were made and exact number produced is up for discussion.  Possibly no more than 200 were produced.
From the auction:
collectors, 100-200 only built! ;

first production bike with hydraulic clutch;

cosmetic black – gold combination;

handlebar fairing a la BMW style.. with leather look plastic trim on the inside;

Matching numbers: *2208*

Dutch papers and all needed export documents.

The bike will be standard deliverd, with the original mufflers and complete fairing.




This bike is all original, except for the Koni rear shocks, the original Corte e Cosso's we do have.
Back to basics boys.  Not water cooling here.  All you need is a black leather jacket and boots.
I can't quite figure out the hand painted "30th".  It almost looks like a mistake.
Asking price on this bad boy is roughly $20,000.
——————————————————————————————————-
2011 Norton Commando 961 Cafe Racer
They sure as heck aren't cheap.  They sell for close to $24,000 and there is a year waiting list.
The sellers are asking above MSRP for you impatient bastards.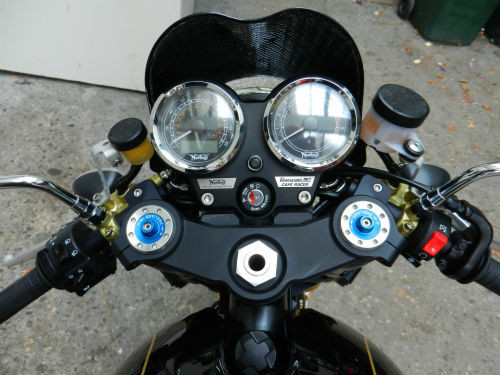 A dash with some classic styling elements.  I like it.  Have you seen the Norton/Aprilia/Spondon to be raced at the Isle of Man?
Ian