For sale: 2008 Yamaha YZF-R1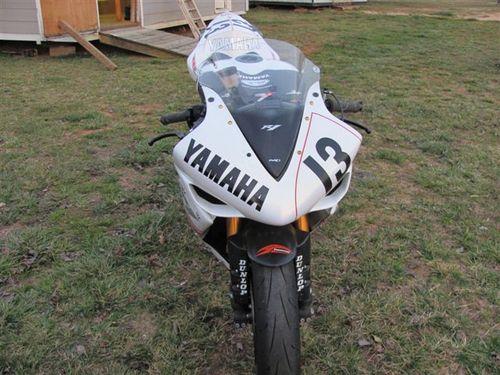 Up on the block today is a Jamie James prepped Yamaha R1 reportedly raced by AMA champ Scott Russell himself! If those claim prove to be true, this one will turn out to be a pretty sweet piece of historic hardware. Interestingly, this is the second ex-Scott Russell bike posted here on RSBFS – you can see the other Yamaha R1 in this post.
While the stock R1 was no slouch in the power or handling department, the seller notes a custom-built engine by Jamie James Productions and some interesting add ons including an Ohlins shock in the rear, updated rearsets with quickshifter and full Akropovic system.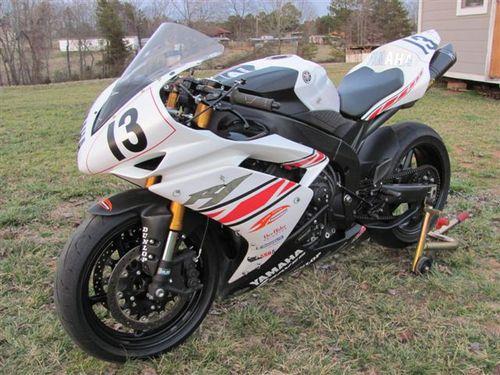 From the seller:
2008 Yahama R1
Kit ECU
Quick Shift
Ohlins TTX Rear Shock
25 mil. kit Front Forks
Brembro brake adjuster
Akrapovic full exhaust
Graves Rear Set
520 Vortec
Sharkskinz plastics
Vortec gas cap
Ohlins Steering Stabilizer
Engine built by Jamie James Productions
Raced by AMA Pro racer Scott Russell in 2008
Now I must admit that an ex-Scott Russell bike with a Jamie James built motor would probably bring in more than a garden variety track day R1. And that is where I could use some help from the knowledgeable readers of RSBFS. I know that Russell came out of retirement in 2008 to ride Daytona and a few other races – aboard a Yamaha. But nowhere can I find pics of Russell on a bike with this livery or number. It could be that the skins were changed out, and underneath the paint is the actual steed ridden by the AMA star – but it would sure help if the seller offered some additional historical data on that point.
Your chance to find out more is right now! This auction is on and the seller has set the BIN at $8,999.99 or best offer. That could be fair money if the bike has the documented race history as inferred. Click the link to jump over to the auction, and then let us know what you think about this one. Here's your chance to ride it like Russell! Good Luck!
MI