Superlative in so many ways, it's important to remember that the Ducati 999R was a step ( or several ) towards today's superbike.  And though  stylists can critique Pierre Terblanche's design, the mechanical and handling improvements led to three WSBK Championships, 2006's under Troy Bayliss in the Xerox livery offered as an option on the 999R.
The revised testastretta heads on the 999R resulted in 150 hp for the showroom 999R, helped by titanium valves and collets, magnesium valve covers and carbon timing belt covers.  Very little of any of that is visible, though you can catch a glimpse through the vents in the carbon-fiber bodywork.  The main spar of the red trellis frame contrasts with the seat sub-frame and gold-anodized monoshock.  43mm Öhlins forks are finished in black on the -R, as is the numbered triple clamp.  Also in black is the beefy fabricated swingarm, as are the forged Marchesini wheels, and the rear mudguard and guard for the controversial canister muffler are carbon.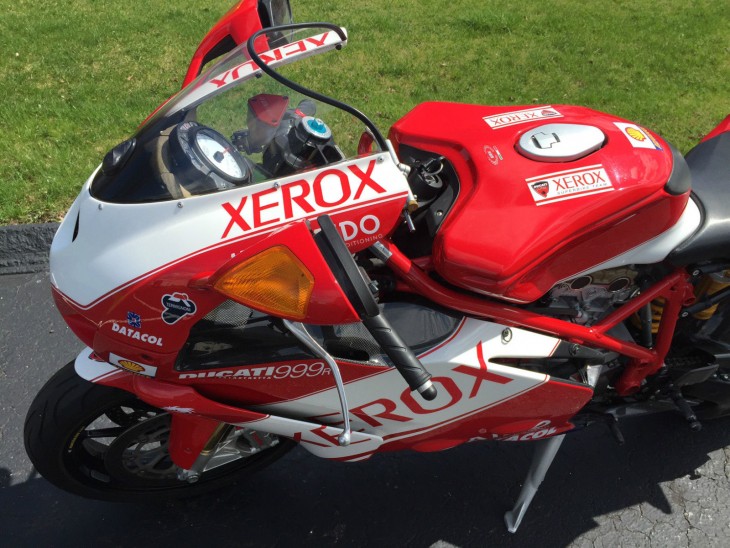 This 999R has just under 2,100 miles and looks like they were cafe' and not track miles.  One puzzling scrape under the left footpeg is pictured, but it's a barely used bike with just a few mods.  Ten years on and with no maintenance history offered, it's a safe assumption that belts and tires would be want a change before any substantial riding.  The owner states in the eBay auction:
This might be the most beautiful bike ever made by Ducati !  The Ducati 999r Xerox was the first and only bike to win the World Superbike Championship 3 years in a row. In celebration, Ducati built 300 street legal replicas. The 999r Xerox features the "R" spec motor which is a big performance improvement over the standard 999 motor. Also features a full Ohlins suspension front and rear, full carbon fiber body panels, carbon fiber cylinder covers, magnesium heads, the most beautiful paint job you can imagine, light weight Marchesini wheels, and a placard showing its production number of the 300 total units made. This particular bike has a slipper clutch, open clutch cover, Giles rear set, and aftermarket shift lever set for GP shift. Only 2061 miles on this collector bike! This is a living room bike that attracts attention wherever it is parked.  comes with custom factory plaque and case as well as owners manual. these bikes don't come up often.  don't miss this opportunity to own a piece of motorcycle history !!!!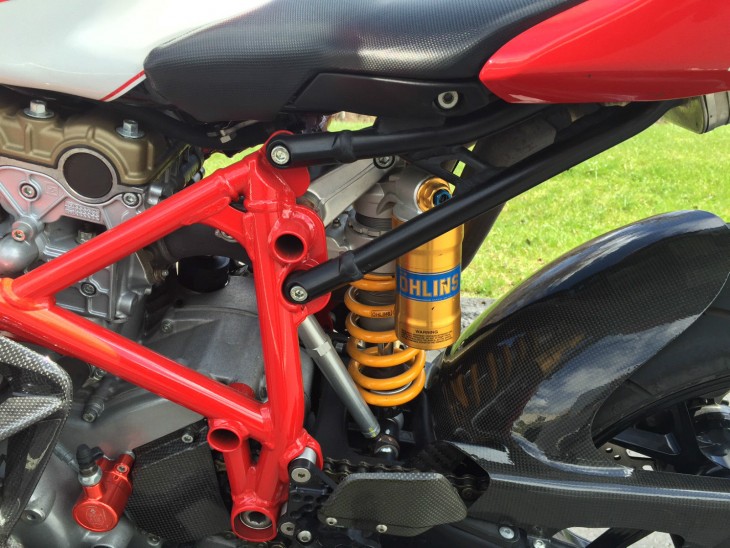 Though the more upright fairing made life better for the WSBK riders, the showroom response compelled Ducati to return to side-by-side headlights for the 1098.  This makes the 999 a unique chapter in the Ducati history book, and a great champion in -R form.  As a seldom-ordered option for the final year of 999 production, the Xerox decal set is a standout and very collectible…
-Donn