Warning!
This post is in our archives. Links in this post have been updated to point to similar bikes available to bid on eBay.

 Restored And Wanted: 1974 Rickman CR900
It looks like there are some anxious bidders out there in cyberspace waiting for this auction to end.  This beautifully restored 1974 Rickman has generated quite a bit of  interest and why shouldn't it? Just look at the pics.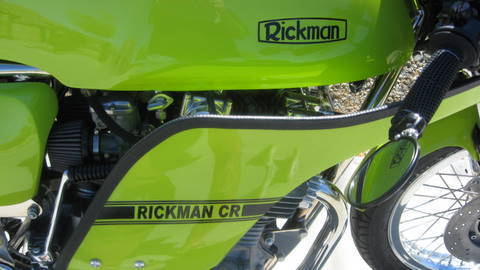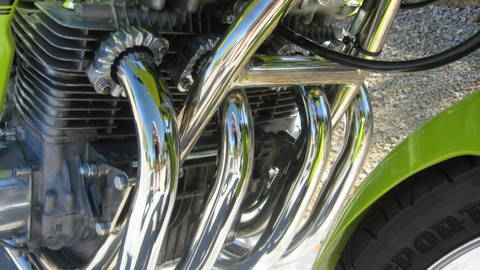 I'm generally a latest and greatest sort of guy but I think I'm in love.  I know it's the details that make a good restoration but the photos point in the right direction.  That is a good shot of the Rickman nickel plated frame.
We've listed a couple Rickman CR's in the not too distant past (here and here) but neither were, shall we say, as bright as this one.   Lets get a little history:
1974 Rickman with Kawasaki Z1 motor.  What is the hottest trend in Motorcycling today?  Cafe Racers!  This beauty is the Mother of all Cafe Racers.  It just does not get any cooler!

This bike has ben completely restored.  Every single nut, bolt and other items are like new.  The gauges have been rebuilt by Z-Resto.  The engine (Z1E –2447) has a fresh top end.  Switch gear is NOS.  NOS cables.  New Progressive Shocks.  New K & N filter pods.  NOS Kawasaki exhaust system. 

Rickmans were hand built in England.  They were much lighter and better handling than factory bikes.  They kicked ass in road racing.  All body work is perfect and painted the correct green as it left the factory.  All Rickman bikes have chrome moly frames with bronze welds.  All Rickman bikes have nickel plated frames.  This frame is freshly nickel plated.  New windshield.  Very rare Borrani hubs and wheels.  New Pirelli Sport Demon tires.  Bike has only been run to insure no flaws or problems. 

There is not a single flaw on this bike.  It is not often you can say perfect but this bike is perfect!  10 plus condition.  Very rare and beautiful.  Draw a big crowd where ever you ride it or put it in the middle of your collection.  Includes many magazine articles from the era, Rickman assembly instructions and parts catalogue.  Also includes a complete and new set of chain adjuster discs.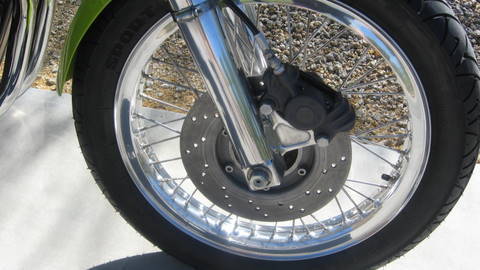 Extra style points for the seller matching the color of his text to the bike.  Since the bike is obviously in mint condition, the only conern for a buyer is if the restoration if up to snuff.  When you get into high dollar bikes people will get picky and rightfully so.  Sometimes "restoration" means different things to different people.  My guess is some $$$ was spent on this one.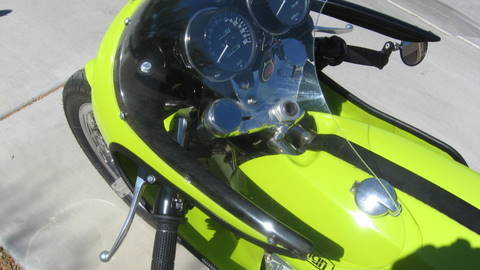 Pretty from front to back, top to bottom.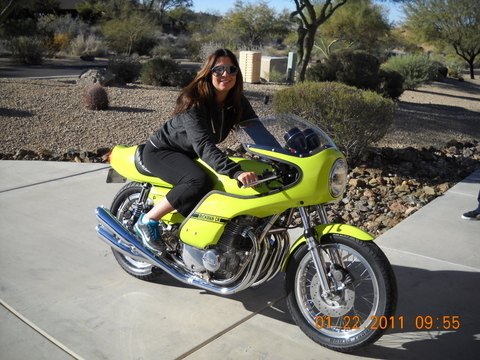 Of course chicks dig Rickmans!  Check out this link for some nice pics of Rickmans from a thread on the Kawasaki Forum.  They are  quite a few lovingly cared for Rickmans out there.  This example is quickly approaching $10,000 with a few days remaining in the auction.   If the pictures won you over you can place a bid for this one here. 
Ian