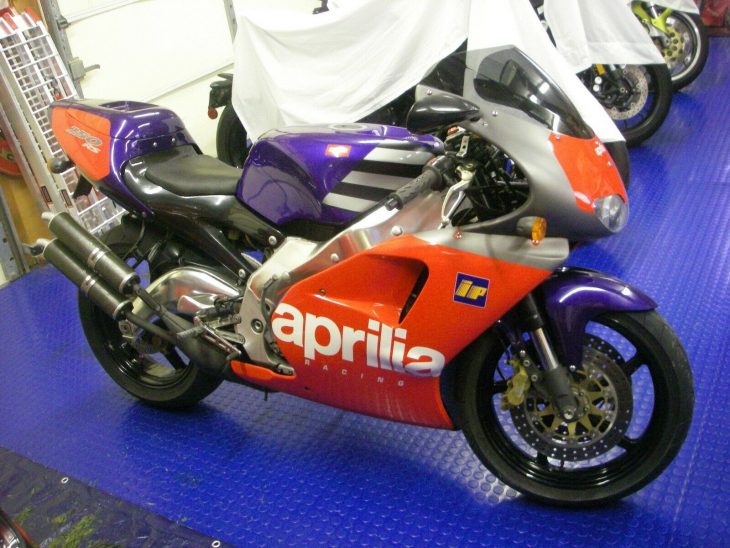 I'm not always a fan of race-replica paint schemes: they're obviously designed to be as eye-catching as possible, so they're usually not very subtle… But the Loris Reggiani Replica Aprilia RS250 keeps thing pretty simple, with a distinctive scheme that flatters the bike's simple good looks. It's so understated that, for the longest time, I didn't realize it was a race-replica scheme at all! Regianni rode Aprilias between 1985 and 1995 in the 250cc and 500cc classes, although the bored-out 380 v-twin wasn't entirely successful against bigger machines.
Introduced in 1995, the Aprilia was a late-entry into the quarter-liter sportbike class, and one of few officially available outside Japan, since the NSR, TZR, RGV, and KR were sold only as grey or "parallel import" machines in many markets. Instead of trying to build a brand-new engine to compete in the hotly-contested class, Aprilia simply purchased complete Suzuki's proven RGV250Γ "Gamma" two-stroke v-twins and installed them in their own chassis, with good suspension and possibly excessive braking ability: the RS250 is equipped with the same triple Brembo setup considered to be highly effective on much heavier bikes like the Ducati 916 and the hulking Moto Guzzi Sport 1100i…
Aprilia claimed to have tuned Suzuki's 249cc engine and the official horsepower would suggest some serious Italian magic has been applied to raise the horsepower to the RS250's claimed 70hp, but it's all sleight of hand: the Japanese manufacturers generally quoted an output of 45hp to meet Japanese market regulations. In reality, they were easily capable of more, and the RS250's Suzuki v-twin wasn't very different than the RGV250's powerplant and those Italian horses are probably optimistic, even when measured at the crank.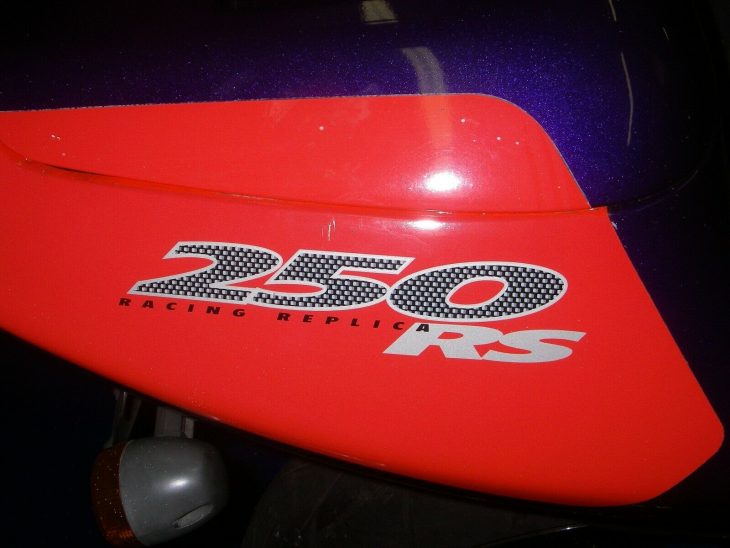 But that actually works to a prospective buyer's advantage: parts to tune an RS250 or keep one running shouldn't be any more difficult to obtain than they would be for an RGV and, while they weren't common here in the USA, they were very popular overseas. Which is to say: make sure you've got some good translation software installed on your computer and be prepared for things to ship from Japan or Europe.
A 1998 restyle of the RS250 kept the same general character, but updated the nose and tail with a more pronounced teardrop taper and introduced a new, more "modern" dash. Function of the new gauges was pretty cutting-edge and included a lap-timer, although the style dated quickly. Personally, I much prefer the earlier style of bodywork and gauges seen here. The photos of this example aren't of the best quality: resolution is low and the lighting is pretty terrible. But from the description, it sounds like it's worth a look, and probably a message to the seller to request some better pictures!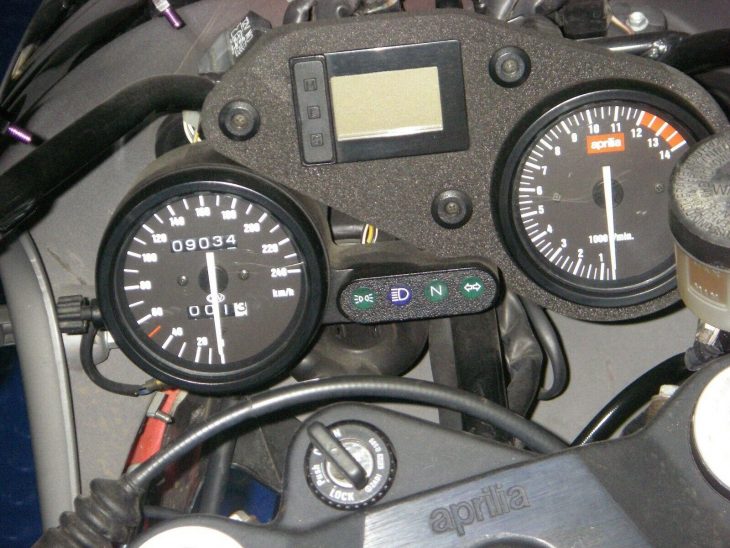 From the original eBay listing: 1995 Aprilia RS250 Loris Reggiani Replica for Sale
Up for sale is a 1995 (titled as a 1996) Aprilia RS 250 Loris Reggiani Replica with only 5613 miles on it.  It is in very good condition for it's age with only some small scratches on it but in great condition for a 20+ year motorcycle. All switches and controls work. Of all the RS 250 models the Reggiani Replica is one of the more collectible ones. The bike comes with a clear Florida title.  The only additions to it are a Battery Tender lead, Ohlins Steering Damper, and a smoked windscreen

The following services have been done to the bike:

New Battery
New Spark Plugs
New Black Stainless Steel front and rear brake lines
New rear brake pads
New air cleaner
New Pro-grips
New chain guide
Transmission fluid replaced
Coolant replaced
Injector Oil topped off
Carbs cleaned

Also included in the sale of this bike is a box of take-off spare parts from a customers RS 250 that he parted out. Basically $1000.00 in extra parts that you can either use as back-up spares or sale.

RH Switch gear
Grips
Flywheel
Voltage Regulator
Clutch Assembly
CDI Box
Oil Pump
Rear Brake master cylinder (NEW)

I am also including an Aprilia Factory service manual with the bike along with (2) keys.  I don't have the owners manual.  The only reason I am selling the bike is the riding position is too extreme for me.  The shift pattern is also a race set-up with 1 up and 5 down.  It can also be switched back to the normal 1 down and 5 up if you need to have it that way.

Payment by cashiers check or cash. Check has to clear before bike can be picked up.  For sale locally so I reserve the right to end the auction early.
This Aprilia RS250 has just 5,613 miles on it, and comes with a nice stash of extras you can keep or resell to recoup some of the very reasonable $9,995 asking price. The unfortunate thing about all of these little strokers is that they're such fun to thrash, but are rapidly increasing in value where it makes less sense to use them that way, which is a real shame.
-tad