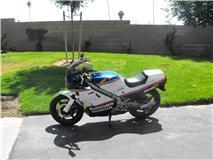 One for the Honda boys has appeared on Ebay.  The old NS400R's don't appear all that often so take note if you've been hunting for one.  What sticks out about this bike is the fact that it only has 12,200 miles on it.  Not bad for something produced in 1985.  It is also dressed in the pretty Rothmans paint scheme.  The solo tail cover is a nice touch as well.  It definitely gives the bike a racier look.  My eyesight is bad enough and the seller is making me work with these tiny pictures.  I really can't discern a whole bunch more about the bike from the photos.  It generally looks stock but more pictures are needed.
If you don't have a NS400R owner in your circle of friends the internet becomes your friend.  One of the sites I visit for info on the big NS is NS400R.co.uk.  Best of all, the site has forum which I have found invaluable when owning a rare bike.
Not a whole lot in the picture department: 

Details, details:  
A NSR400 is a rare very limited edition commemorative street bike version of the NSR500. Freddy Spencer won several world championships in the early 1980s. Honda built this bike as a celebration of Spencer's success.
The bike was way ahead of its time with an all aluminum frame, comstar wheels,power valves,nickel silicon
cylinders. Like Spencer's race bike, it has a 3 cylinder water cooled engine
in a V shape configuration, 2 cylinders in the front, 1 in the rear . There are 
many other unique technical features to this bike. I Will explain upon
request .      

I am a 25 year fully certified Honda technician.  I spent the last
few months professionally restoring this bike. It should be a show bike but is
completely rideable and runs great.

I will be happy to send more pictures upon request.
I would definitely take him up on more pictures.  The bike is listed as a classified ad with a $9,500 price tag.  There is also the option of best offer.  That offering price is right in the range for some other big two strokes with titles and low miles.  Do the Honda's command the same sort of price?  Can I get by with a "maybe"?  If this bike is bone stock and mint, I think it might, with its' low miles.  I just don't think there is as large pool of buyers for them compared to RG's and RZ's.  if you are one of those buyers waiting for a clean NS400R.
IK