90's CBR's are normally seen in a multi-colored lightning storm of graphics, but here's a plainer red wrapper.  Presented on an eBay classified, it looks excellent with moderate mileage, just some light scrapes, and limited mods.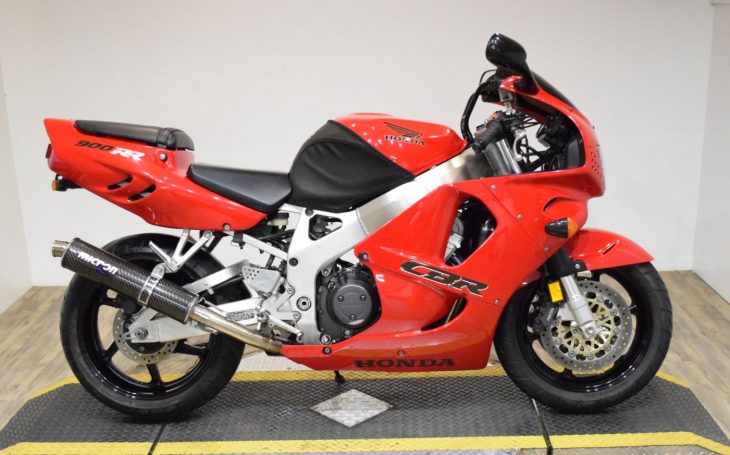 1996 was the first year of the 3rd generation 900RR, with a 1 mm bore increase to 919 cc's, and strengthened the bottom end.  The revised chassis used thinner walled extrusions which were larger to handle the 130 hp.  Forks and monoshock got revised internals, and the swingarm and its pivot casting were beefed up with webbing on the back side.  A GP-inspired front mudguard contributed some slightly subjective gains, and handlebars raised a bit in concert with the new fuel tank shape.  Gear changes were smoothed out with a new shift drum.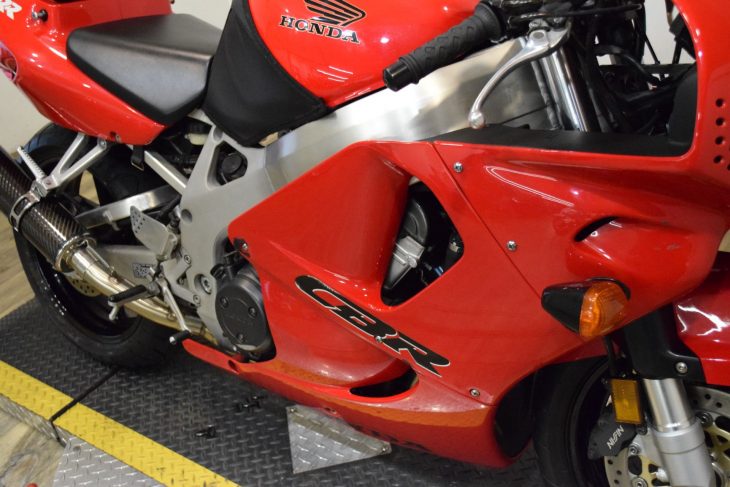 With an eBay handle like  – webuybikes – no history was expected, though it looks great and the mileage looks to be 17,322.  Close-ups show it's been down on the right but not terribly.  The Micron carbon canister, tail-ectomy and tank bra might be most of the updates.  This consigner seems to have around 600 bikes on offer, so find a Chi-town buddy to drive out to Wauconda and take a look before pushing any buttons.
With an ask just shy of half the MSRP, this CBR900RR might be a bargain in a pretty silly season.  Got to do the homework, but if there aren't any surprises here it's a super lot of bike for the money.
-donn