Warning!
This post is in our archives. Links in this post have been updated to point to similar bikes available to bid on eBay.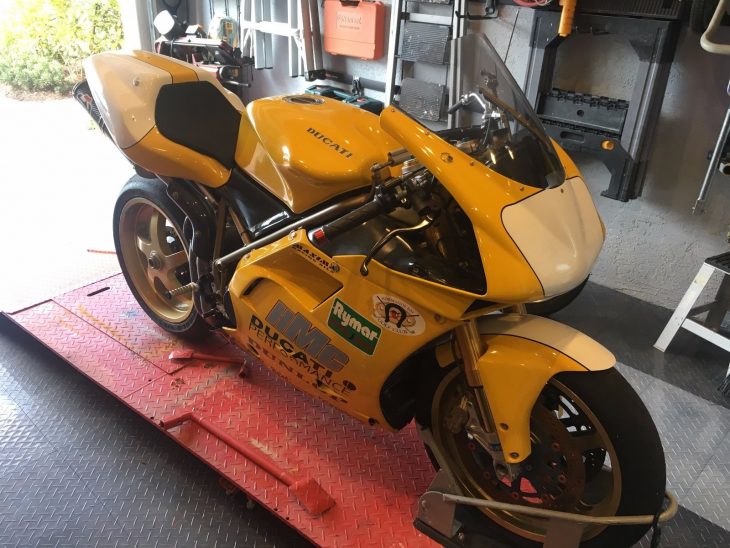 The Ducati 916/748 was the poster child for performance motorcycles throughout its production, with the same sort of ubiquity the Lamborghini Countach enjoyed in its heyday. With so many of them made over such a long timeframe, it's easy to forget how huge an impact the bike had when it was new: Tamburini's creation may have been uncomfortable, temperamental, and expensive, but Ducati sold streetbikes so they could go racing, not the other way around. Which makes today's 748RS one of the purest Ducatis you can buy, aside from a used World Superbike machine.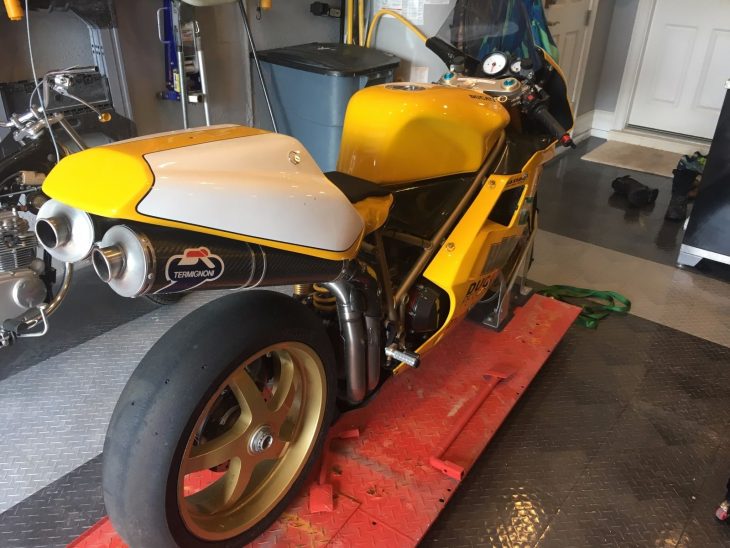 The 748 was the baby-brother to the 916 and came in standard, S, R, and RS flavors. Naturally, the RS was the trickest of the bunch, a pure factory racebike with plenty of trick parts and a highly-strung engine with maintenance requirements to match. The 748cc v-twin was pitched against 600cc inline fours and the displacement bump allowed by World Supersport rules helped the Ducati compete, but heavily-revised internals were also required to keep them on relatively equal footing. Wild cams opened RS-specific valves to make the 124hp needed, while a 54mm Termignoni exhaust ferried exhaust gasses to the undertail "mufflers."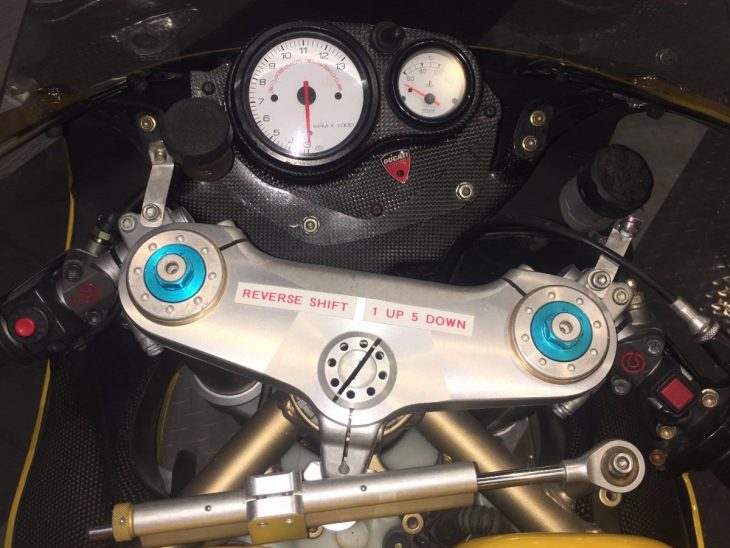 As you'd expect, the bike features a close-ratio gearbox, high-end suspension, and extensive use of lightweight materials, including bodywork and a simplified wiring loom, as this was never intended to be used on the road and obviously didn't need connections for lights and other legal requirements.
From the original eBay listing: 1999 Ducati 748RS for Sale
A motorcycle like this only comes up for sale once in a blue moon. This is a completely rebuilt 1999 Ducati 748RS (Corsa) factory race bike. This particular machine was used in the AMA Pro Thunder Championship which was won by Shawn Conrad. The machine as it sits, is effectively new. It has been rebuilt from the ground up and any part not 100% has been replaced. The engine was rebuilt by Chris Boy's team at Motocorse Ducati in Fort Lauderdale and has zero miles, zero time on it. Everything has been refurbished except the side panels which are original and "as raced". This is again, a factory race bike and ready for your living room or to take racing or for track days. There is no title as this is a factory race bike.  The Ducati factory can confirm it is as stated. I can assist with shipping but the costs are all to the buyers account.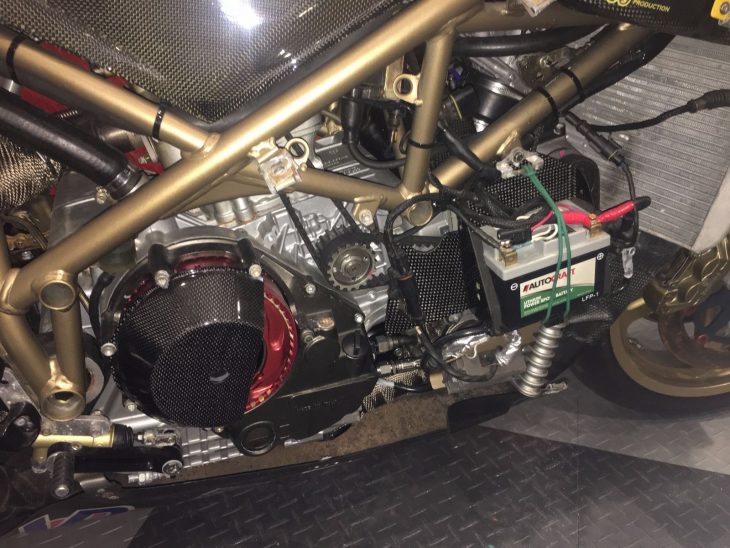 Those of you without deep pockets, beware: this is no tarted-up roadbike converted to track duty, and parts can be very expensive, even if you're used to Ducati's regular belt changes and valve-adjustment: rumor has it, you'll be swapping out those valves [and rockers!] out every 750 km or so. The bike is listed with a $13,499 starting bid, no takers and several days left on the auction. That's big money for a 748 but seems pretty reasonable for an RS, especially one with legitimate race history, a complete rebuild, and a bit of as-raced patina. From the seller's description, this one's basically ready to race or display!
-tad