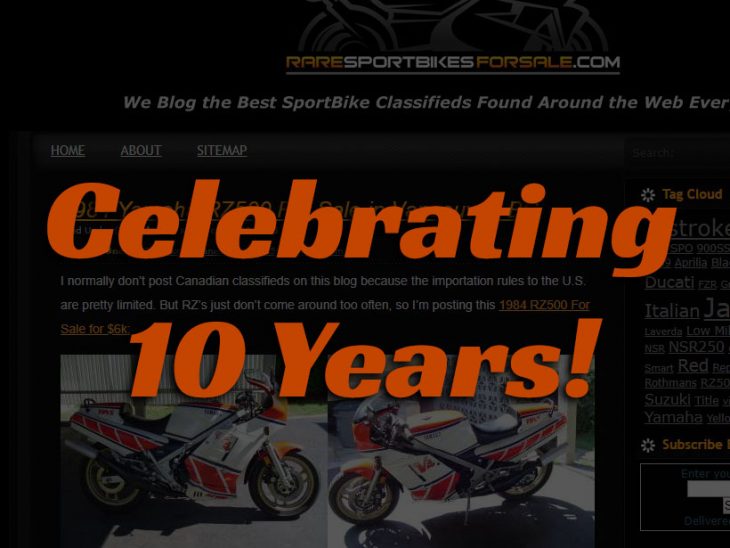 Looking back at my first – few – posts – on raresportbikesforsale.com, I'm proud to say this website has evolved far beyond my original expectations.  When I created the site, I felt compelled to share the results of my online searches as a budding internet professional and sportbike enthusiast.  I was not in a position to be a collector, but I had a strong passion to seek out not only the exotics, but also the rare and gray market offerings that only true enthusiasts in North America appreciated.  In the next few years RSBFS readership grew faster than I could have ever imagined.
Now 10 years on, RSBFS has evolved.  While we'll always be an outlet to highlight the most interesting online listings available for sale, RSBFS now serves as a marketplace in it's own right that connects buyers and sellers right here.  This website has become the online destination for enthusiasts that are looking to sell on the same website they choose to buy from.  With nearly 2 million pageviews every year from hundreds of thousands of readers, I sincerely thank you all for your patronage and viewership.  
As such we're going to mark August 2018 as the official 10 year anniversary celebration at RSBFS. Special listing prices will apply, contests for RSBFS swag, and an invitation to share your RSBFS story are all part of the plan.
But before I get ahead of myself, I need to take a moment to thank those who have helped make RSBFS the special place it is.  Please join me in embracing these essential players in the making of RSBFS:
In the Beginning
Alex – I'll never forget your help in the early days and the fun we had envisioning the possibilities with your Yamaha TZ125.  Thank you for your encouragement in the beginning.
Doug – I could and should dedicate an entire portion of the website to your contributions in making RSBFS what it is.  I'll never be able to fully repay you, but know that the site wouldn't enjoy the success that we witness today without the commitment and enthusiasm you brought.  We miss you buddy!
Mike – The coolest cat we have been blessed to cross paths with who also happens to be one of our longest standing contributors.  His passion for our sport is always evident in his posts and you can feel the clock turning back as you read them. Mike has been away to address personal matters but I'm happy to announce that he is coming back to the rotation!
Current Contributors
Tad – We are so lucky to have Tad writing for RSBFS.  He initially started with CSBFS and transitioned to RSBFS when demand here increased.  Reading his posts always reinvigorates my passion as a fan and enthusiast. You are witnessing the start of a great career in sportbike journalism and we are lucky to have his work here.
Donn – When the call was made, Donn was eager to apply and has demonstrated ever since that he is not only one of us but that he is committed to the sport.  I'm always eager to see your selections and enjoy watching your adventures in aviation as well. Thanks for being a part of the site!
Aaron – We barely take advantage of your experience in journalism, but what you provide for us is incredible reliability and a succinct writing ability that serves our audience so well.  I look forward to our continued working together.
Marty – Over the years Marty has provided unique insight to a modest collectors perspective and always selects examples that we might otherwise overlook.  Thank you for your wisdom over the years and your continued experience on the staff.
Emeritus
Ian – A fountain of information, especially related to two stroke and gray market Suzuki's.  I still refer readers to your informative posts as you always did a marvelous job of detailing what it takes for such an example to be authentic and original.  I'd absolutely love to see you return if the interest ever returns.
Jay – An industry veteran that we were very lucky to have join the team in our earliest haydays.  In addition to adding his expertise to the site, he also was able to connect us with a a privateer Aprilia RS250 race team that we had a small sponsorship stake in.  It was an opportunity of a lifetime for us and the memories still make me emotional. Rock on!
Claudio – You are a true gentleman and we have appreciated your global perspective in the time you shared with RSBFS.  I look forward to your observations aboard in the future.
Philip – You are such an ambassador of the site and I'm flattered to have your support in the early development of the site.  Someday we'll have to meet in person and celebrate the lives that we never thought possible.
Jarred & Rem – though we only worked together a short time, your help on the site was very much appreciated.  I continue to enjoy seeing your journeys online.
Mike M. – Though we only worked together a short time, I sincerely appreciate your willingness to help out on the site.  Did you ever get the 916 you were after?
Andrew – Again, while we only worked together a little while, I still enjoy seeing your moto adventures in Europe and remember your work fondly.
Please join me in the comments to celebrate and thank those who have made it all possible.  Thank you RSBFS crew, past and present!
-Dan Crouch