Warning!
This post is in our archives. Links in this post have been updated to point to similar bikes available to bid on eBay.

Update 3.28.2017: Previously seen in October 2016, this GSX-R Limited is back on eBay with a starting bid of $13,500. Links updated. Good luck to buyers and seller, -dc.
It's interesting how some bikes seem to come up for sale in waves, like owners who've had their bikes for years see similar bikes up for sale and think, "Hey, I'd better get in on that before demand is all gone!" Or maybe it has to do with the ages of the bikes and the related ages of the owners… Regardless, we've seen a number of Suzuki GSX-R750 Limited Editions come up for sale recently, in a range of conditions, but this example appears to be very clean and original.
The original GSX-R750 was a pretty significant bike when it was introduced in 1985, and it became an icon for good reason: the fully-faired styling, aluminum-frame, and monoshock suspension helped to define the modern sportbike, and was adopted by millions of hooligans and squids as their bike of choice. Plus, they do look pretty sharp in Suzuki's traditional blue-and-white paint.
The GSX-R750 was powered by an oil and air-cooled inline four to save weight and reduce complexity compared to water-cooling, although it did use dual overhead cams and featured four valves per cylinder. The temperatures generated were kept in check by Suzuki's Advanced Cooling System or "SACS" that featured a double-chambered oil pump to more effectively circulate and cool the bike's lubricant, along with oil jets that sprayed the undersides of the pistons. In spite of the obvious cooling fins cast into the engine, it's actually oil that does most of the cooling in the Gixxer.
Based on the regular GSX-R that was introduced in 1985, the Limited Edition was intended to homologate specific parts for superbike and endurance racing, Suzuki's equivalent of the Yamaha OW01. Parts exclusive to the LE were the vented dry clutch [clearly visible in the above picture] and electronic anti-dive forks that contrasted with Honda's mechanically-operated forks. The seat unit offered no passenger accommodations, as befitted the bike's race-bred styling.
From the original eBay listing: 1986 Suzuki GSX-R 750R Limited Edition for Sale
The bike is an amazing piece of history, absolutely gorgeous and has been in my collection for some time. However I am feeling my mortality and so it is time to pass it on to a new owner. I have rode this bike sparingly over the past years but have maintained it both mechanically and cosmetically in a temperature controlled environment. Cosmetically, the bike is in excellent condition for a 30 year old bike, with the exception of a very, very small soft dimple in the right hand upper rear corner of the tank that a good PDR tank man could take care of but in my neck of the woods there are none. (had to place light to see it) All original equipment to best of my knowledge, but will let you be the judge. I understand in terms of a collector bike originality is important. I noticed the exhaust pipe was not right after purchase, the heat shield louvres were horizontal rather vertical as they should be …and spent a tidy sum to make it right.

Mechanically the bike is "spot on" (just tuned) but you may want to do some fine tuning as well as set the bike up to accommodate you personally, or simple admire for what it is, and will be in the future. One fork seal starting to slightly weep, and if you planning on riding I would suggest new tires as these are getting on in years.

I am not going into the history or the desirability of this particular model. It is generally well known by any student of the early superbikes that maybe interested in this bike. And if not there is considerable available on-line or from knowledgeable resources. Also for some, what it is, and is not as far as originality will be a subject of debate, I personally do not regard myself as a expert so I have attempted to display the bike in the best way I can by removing the plastics. Someone willing to pay what I am asking at least deserves to have the opportunity to evaluate the bike in the proper manner. All in all, I personally feel it a very nice example in comparison to the limited number eBay sales I have monitored in the past.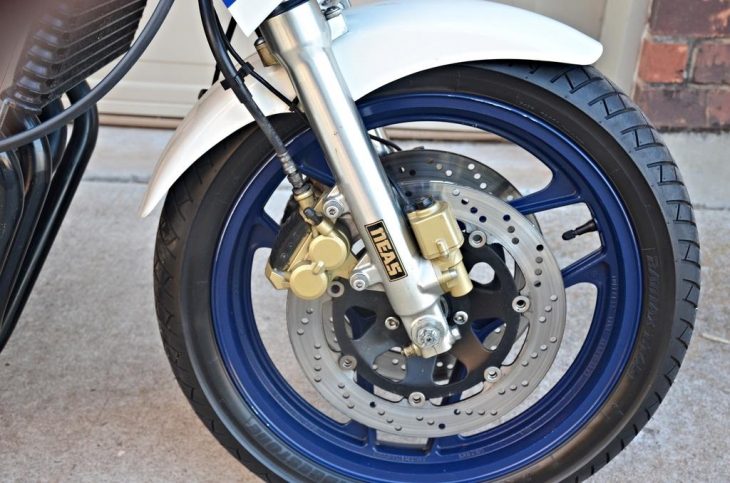 Just 299 examples were imported in 1986, making this one rare Suzuki. This example has a few minor nicks and chips, but looks very clean and complete, with bidding up north of $11,000 and the reserve not met. There are several days left on the auction and active interest, which should come as no surprise, considering a recent, very non-original example sold for over $19,000!
-tad