Looking for something really rare? Ever heard of an Italian bike built from an idea of the Japanese importer? How about lightweight is better than power…and how about classic looks remind us all of the style of the 60s? By now you might be wandering what the hell am I talking about…let's play a little more…
Q: Is it red ?
A: Yes it is.
Q: How many cylinders does it have ?
A: 1.
Q: Ok, it must be the ultra expensive Ducati Supermono, right?
A: Wrong, try again.
Q: I don't know, give me a hint…
A: It has the name of a planet
Right, it is the Gilera Saturno 500 Bialbero:

A born child form an imaginative idea of a Japanese, traditionally always keen on small capacity bikes and the even more crazy acceptance of Gilera. The engine comes from an Enduro bike, the relatively popular Dakota model. The name Bialbero stands for double head cam also often referred to as DOHC which was state or the art in 1991 for a mono cylinder bike.
Add a larger single carburetor, a stiff tubular frame, a mono sear, mono large diameter single disc front brake, Ferrari red paint, a round light, an exhaust taken straight form a Manga comic and there you have an amazing fun package.
And here are the specs:
And a little video from…Japan…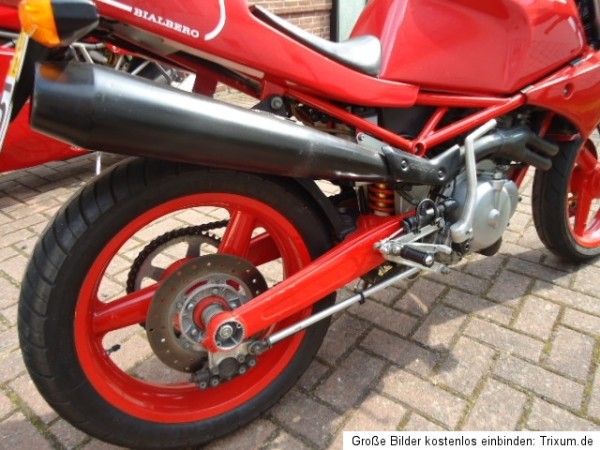 On sale in Germany for 3820 Eur, The bike was originally registered in Hungary and is now on sale in Germany. It has 15.500km.
Here's the link:
Claudio