Location: West Hills, California
Mileage: 11,600
Price: Auction, $6,500 BIN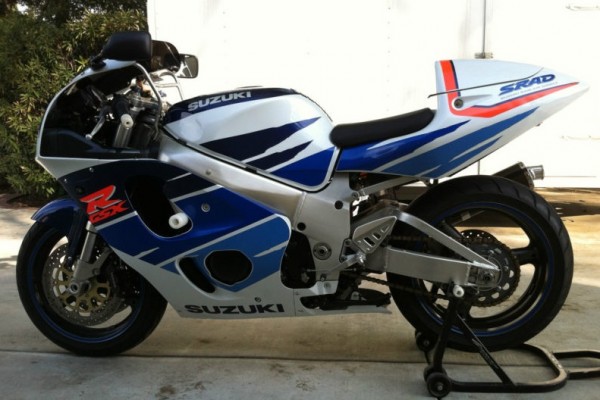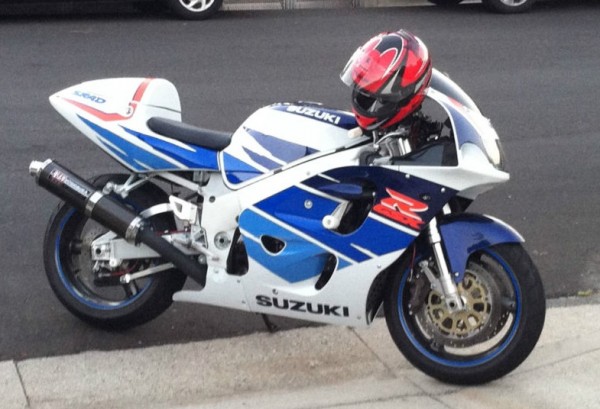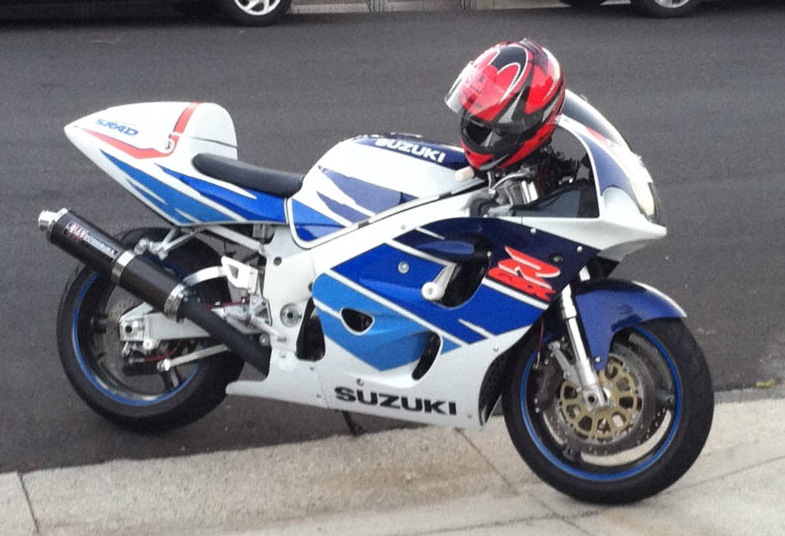 You can say what you will about wether this deserves a listing on RSBFS. And I'm sure you'll be able to make your points about it not being rare, or questioning if it truly performs like a GSX-R should, and on and on. But here's the important part. I don't care. I think this bike is killer. And I'm the author here, not you.
The thing you'll notice about this particular GSX-R is a new acronym from a company that was not shy in that department. It's the SRAD. Suzuki Ram Air Direct. Designed to do exactly what is says. Ram air. Where, you ask? (not where you think, you pervs). Into the engine of course. You all know the more nice, clean, cool air you can shove in the motor, the more power you get. Sixties muscle cars did it, why not sportbikes?
Here's photos of this beauty-
Here's what the seller has to say-
Here for sale is my beautiful 1996 SUZUKI GSXR 750 SRAD. The bike is in amazing condition for its age with only 11,600 miles. It has never been down or abused. This thing has been garaged its whole life. Never been ridden in the rain and you can tell when you see it. This bike is very close to flawless, a perfect example of Suzuki's history. The only blemishes on the bike are a very small chip on the upper fairing under the headlamp and a little discoloring on the frame where your right knee would be, from the leathers rubbing on it. you can see them in the pics. Their have been a few tasteful modifications that have been done to the bike, like a Yoshimura carbon fiber bolt on muffler, steel braided brake lines, frame sliders, and flush mount turn signals, to make it look like it should. In my opinion that is. If you are the type of person that prefers everything to be stock for collection reasons or just because that's what you prefer you would easily be able to turn it back to stock. Unfortunately I don't have any of the original parts for the bike that were removed. There were no holes or cuts made in the fairings from any of the modifications that were done. These Gsxr's are becoming very hard to find in this condition so don't miss this opportunity to own this beautiful piece of garage art. This was the hottest bike to have in its time and for that their are very few left that haven't been crashed, junked, or just plain ridden to the ground. Especially in blue and white factory team color scheme. The bike is still on its second set of tires with good tread but they are dry due to sitting. I think the tires date back to 2001 so you know the bikes barely bin ridden in eleven years. I do start the bike and take it around the block a few times a month so it is in running condition and starts and rides as it should. The reason I haven't put tires on is because these bikes are collectors in this condition and I don't want to risk scratching the beautiful stock wheels. This Item is being sold as is. No International bidders. The buyer is responsible for pick up. Please feel free to contact me with any questions you may have. Thanks for looking.
The bike certainly looks clean and the seller highlights some modifications that really aren't significant for those who want a bone stocker. The bike does have a Yoshimura pipe, not exactly unusual for a Suzuki from any era. Brake lines, frame sliders and signals pretty much round out the changes. Everything else is there. And mileage is not a concern.
So, again, this may not be the rarest of all bikes, but I can guarantee Suzuki ain't making any more of them. It's listed at $6,500 BIN, which may be a bit high. But who knows where it will actually sell.
If you want a clean GSX-R SRAD to enjoy and maybe hold onto as part of your Suzuki collection, this one is worth looking at.
-RN