From its U.S. introductory year, this Suzuki GSX-R750 looks and acts the upstart role.  This bad boy has been some rider's favorite, with almost 33,000 miles and a tidy state of patina.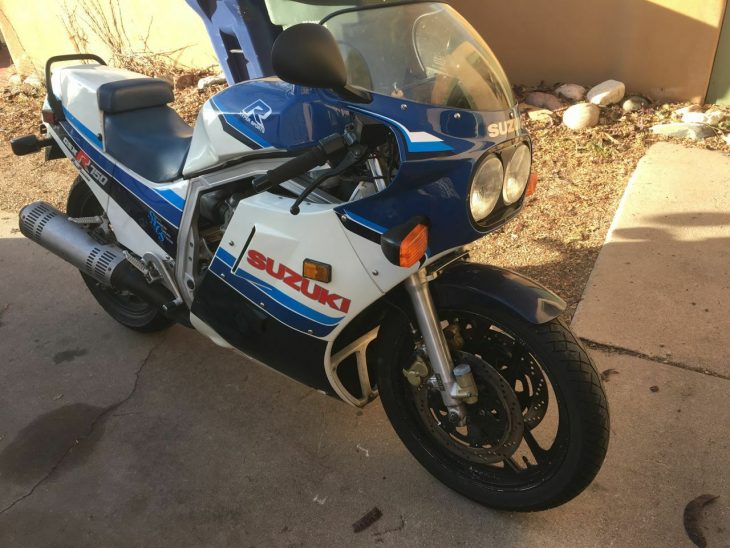 Suzuki went all in on light weight and simplicity with the GSX-R750, and came up an air/oil-cooled winner.  The additional oil pump for the Suzuki Advance Cooling weighed less and avoided the complexity of a water-cooling system, even if the oil cooler is nearly as big as a radiator.  A nice round 100 hp was available, giving the lightweight alloy chassis a ruun for its money.  Suzuki's own suspension was used, the Posi Damp Fork being adjustable with early anti-dive, and Full Floater monoshock rear.  The brakes are 310 mm with four pistion calipers, and the endurance template fairing has the serious twin headlight look.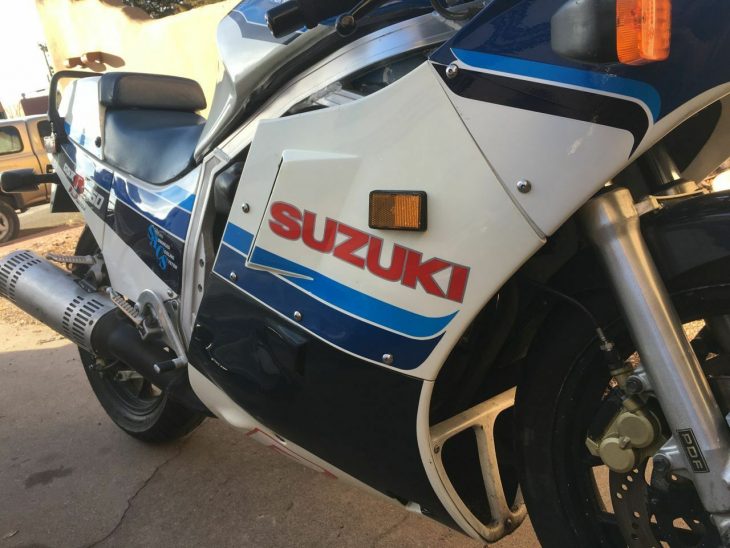 This GSX-R comes out of Santa Fe, with easy access to miles and miles of two-lane, and has the odometer reading to show for it.  Aside from a right-side slip and fall, it's in good shape, complete and substantially original.  The owner's impressions from the eBay auction:
This is a bike that has been sympathetically preserved over the years as an original driver quality condition.

In other words, lots of patina but not unsightly.  I would hesitate to restore this one because it just has a loved/used but not abused quality to it.

I bought it not too long ago but just landed two more motorcycles that I am more passionate about and I need the room.

Runs great, stops, shifts and doesn't leak! New tires! New fork seals and battery.

Uncut rear fender! Original upholstery! Solo seat cover!

All the fairings appear original with only the nose appearing to have been replaced with a high end replica nose professionally painted with a proper decal kit.

The lower right side fairing appears to have been professionally repaired on the "blister" portion – naturally from having fallen over. Seamless repair/paint from the outside but inside the fairing you can see where the crack once was.

Rare stock pipe has only a small bit of rash on the rear that could be buffed out as it is not severe at all.

I will include a stock set of proper OEM period correct Suzuki grips as the bike currently has the foam type and I wanted it to be 100% factory.

The rest appears all original and solid with areas of wear and chips in paint etc…

Not a museum piece but just as stunning to look at and ride without being a trailer queen that you have to worry about.
While a minty example would be cool, there's a lot to be said for a classic you can ride – if not without a care, without panic.  Maybe a riding restoration – if you don't have to pay extra for the patina.  A lot of improvements could be made without taking it off the road, and ride the benefits…
-donn