Putting the "SP" In Special: 1991 RGV250SP Gamma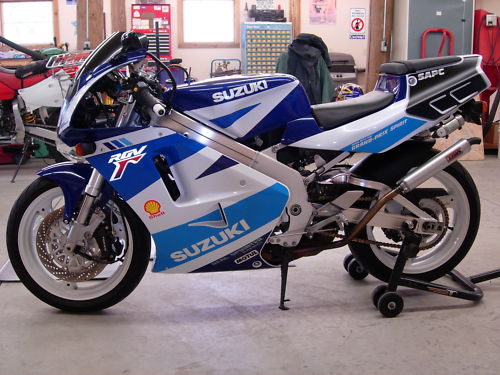 Wow!  A RGV buyers dream is hiding in Oregon.  Being an RGV guy this one immediately caught my eye.  How does 1,450 miles, titled and SP sound together?  Sounds like time to write a check to me.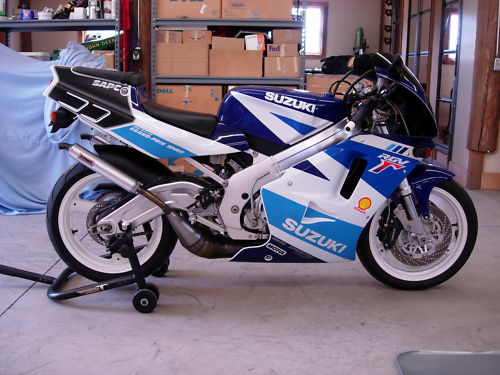 Plain and simple, this is the sort of RGV you hold out for.  It has super low miles, it has a title and it is an SP.  It also has one of the best color schemes to come out of Hammamatsu.  The owner knows what he has too, so hopefully the price is not in the stratosphere.  It looks close to stock as well.  I'm only noticing the bar ends, the windscreen and maybe braided brake lines.  Of course the pipes catch your eye.  They are not the traditional stacked RGV pipes but rather Tyga side by sides.  They give the bike a more modern look but maybe loose a little of  the classic RGV lines.  I can't quite make out if they are stainless or mild steel.  If they are mild steel remember they require regular up keep to keep them looking good.  Keep them bathed in WD40 and it will help keep the rust away.
Looks just as good from the back.  The old VJ22's have held up well with time.  The barely look dated to me.  If you don't keep up with RGV's, the SP gives you the usual sort of upgrades.  More adjustable suspension front and rear.  A close ratio gear box with dry clutch (which have been fetching close to $1,000).  A different CDI and straight plug heads are also included.  It might be worth finding out if it was a domestic market SP or and export model SP.  I believe they would differ in CDI and carb size.  Can't remember for sure though.  SP's in Japan were still covered under the 45hp limit.  Remember, if you ever need info on RGV's head over the RGV forum, it is a library of RGV info.
What would you pay for it?  If it looks as good in person as it does in the photos I would think the price would be pretty darn steep.  I wouldn't be surprised if the owner is seeking close to $10,000 considering everything it has going for it.  I know it is a buyers market right now but considering the model and condition I wouldn't let it go for much less than that.  I know I'd sure like to have it hanging out it my garage.  !
Ian