Pure Sports:  1987 Yamaha FZR250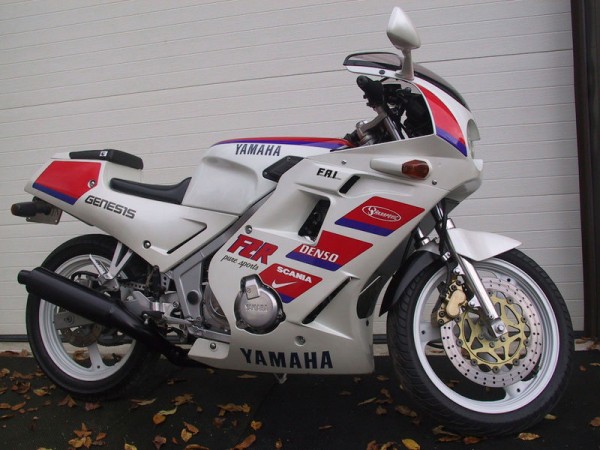 Here we have another relic of the Japanese domestic market race replica wars:  a 1987 Yamaha FZR250.  It is interesting to me on a couple of levels.  One is obviously the rarity of such a bike in the United States.  We are not a bunch that is typically interested in the smaller cc bikes.  That leads me into what else is interesting about the little FZR:  value.  It is probably more rare than 80% percent of what graces the pages here but does it have much value in a country of big roads, big bodies and big egos?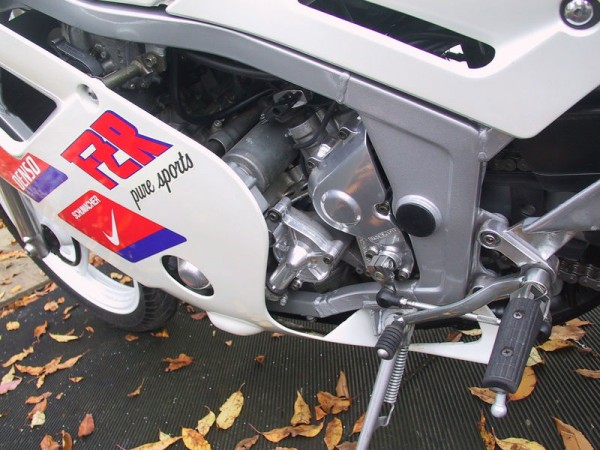 There are some tiny pistons hiding somewhere under that bodywork.  The horsepower numbers won't wow you but how about the technical wonder of a four cylinder, high revving, 250cc engine.  Fun to look at and think about but I'd imagine not so much fun to work on or find parts for.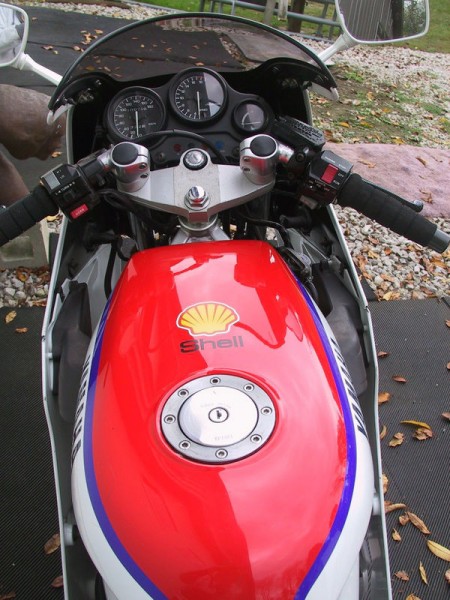 If you live for all the technical bells and  whistles, you have to wait until 1989 for EXUP to appear on the 250.  The bike also became the FZR250R in 89.
It is quite clean and has low miles but here is the whole story:
I bought the bike in 2004 in California, where it was titled and registered as a 1979 model. I know nothing about its origin or how this came about. It is now titled and registered in Michigan, still as a 1979. As far as I know you could transfer the registration to any state in the U. S.

When I got the bike it ran well (only about 6000 miles on the odometer) but had been cosmetically modified quite badly. Lots of fake carbon fiber, crummy mirrors, etc. Plus, apparently a can of tire puncture sealant had exploded in the compartment under the seat and coated everything.  I disassembled the entire frame, plumbing and wiring, suspension, and wheels and cleaned, stripped, blasted and powder coated. The exhaust was blasted and high-heat powder coated. The brake master cylinders and calipers were rebuilt and the system filled with silicone brake fluid. The front forks were polished and new seals installed.

I repainted the front fender and mirrors but left the rest of the plastic alone because it is in decent shape and has dozens of (stock) decals that are not replaceable. The red/white/blue color and logo scheme is all original and was meant to look like an endurance racer of that period.  The paint is not perfect – there is light wear and chips at various places. But it is good enough to win local shows and admiring glances. There are two cracks in the lower left side of the fairing caused by a loading ramp problem. There is no evidence that this bike has ever been laid down or tipped over.

I did not do anything to the engine/trans except check it over and change the oil and filter and coolant. It runs great and shifts through all six gears with no issues. I did remove the previously silver-painted side cases and cam cover and powder coated them "near chrome". They look much better that way and should be more durable. I disassembled and cleaned the carbs and replated parts of them as needed.

The bike is completely stock. Everything works properly  – lights, switches, instruments, horn, fan, fuel pump, petcock, helmet lock, gas cap lock, steering lock, seat locks, cables, mirrors, etc. It comes with two keys which fit all of the locks.  The Yuasa battery is new this year. The o-ring chain and sprockets are in excellent shape (almost new?). The Bridgestone Battlax rear tire is virtually new. The front Bridgestone Exedra has decent tread left, but appears to have been run at low pressure for a while – it shows uneven wear when inflated properly. I don't notice it at speeds I've ridden (~90mph).

This bike is rare, fun, and in excellent condition. It is NOT a 100 point show bike. To be ridden, enjoyed, and shared with other riders who have usually never seen one of these anywhere in the U.S. The bike is available for anyone to see before the end of the auction. Send me a message through eBay if you have a question or would like to talk on the phone about buying the bike. By the way, the speedometer/odometer is metric (kilometers)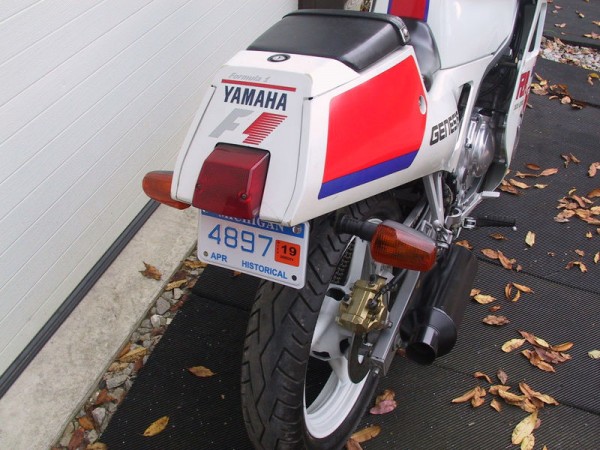 There is some bidding on the bike but the reserve has yet to be met.  What is the  average guy willing to pay for an older 250cc four stroke?  I'm guessing  not very much but someone with a collection of Yamaha's might be willing for fork over a little more.  We have had some listed on RSBFS for as little as $2,000 but they were not in  the same condition as this bike though.  Get in on the action here.
They are get those those classic Yamaha lines later in life.
Here is a nice little page with specs on the FZR250's.  I'll take a 1990 or 1992!
Ian