I know there are some RSBFS faithful out there that refuse to believe a BMW can be sporty OR rare. I beg to differ. As such, I offer you this 2003 Boxer Cup machine, created by BMW to capitalize on what was essentially a one-make Battle Of The Twins series. As #172 in a 200-bike limited production, it is justifiably rare – even if this is really an upscale version of the R1100S model. As for the sporting equation, I rely on the likes of Reg Pridmore, Randy Mamola, and Kevin Schwantz to comment; all have been competitors on BMW twins. Sure, at age 77 Reg could probably beat all of us on track even if he were riding a motorized skateboard, but each of these professional riders has shown the possible performance attainable from the bikes out of Bavaria.
With carbon fiber fender and mudguard, a full belly pan, carbon valve covers with cylinder head pucks, twin under-seat exhaust, Ohlins suspension on both ends and a special setup that raises the rear of the bike to aid in cornering clearance, the Replika machine is as sporty as you could get in the BMW world during this time. Evoking the 5 year racing series was a marketing coup for BMW, and with model-specific graphics (including Mamola's replicated signature on the fairing) this BMW promises to be something different.
From the seller:
Thank you for viewing my favorite moto: 2003 BMW R1100S Boxer Cup Replika
This rare bike is amazing to ride! Comfortable, smooth, fast, and people love the timeless design. If you have made it this far into my listing, then I don't need to write 10 pages explaining the Boxer Cup racing series and the limited production of very rare commemorative Bimmers that were sold around the world. Specifically, this moto is a great example of a well-preserved and maintained R1100S BCR that has always been adult ridden, never dropped or even leaned on, garage-kept, and will always be a fan favorite to every type of rider.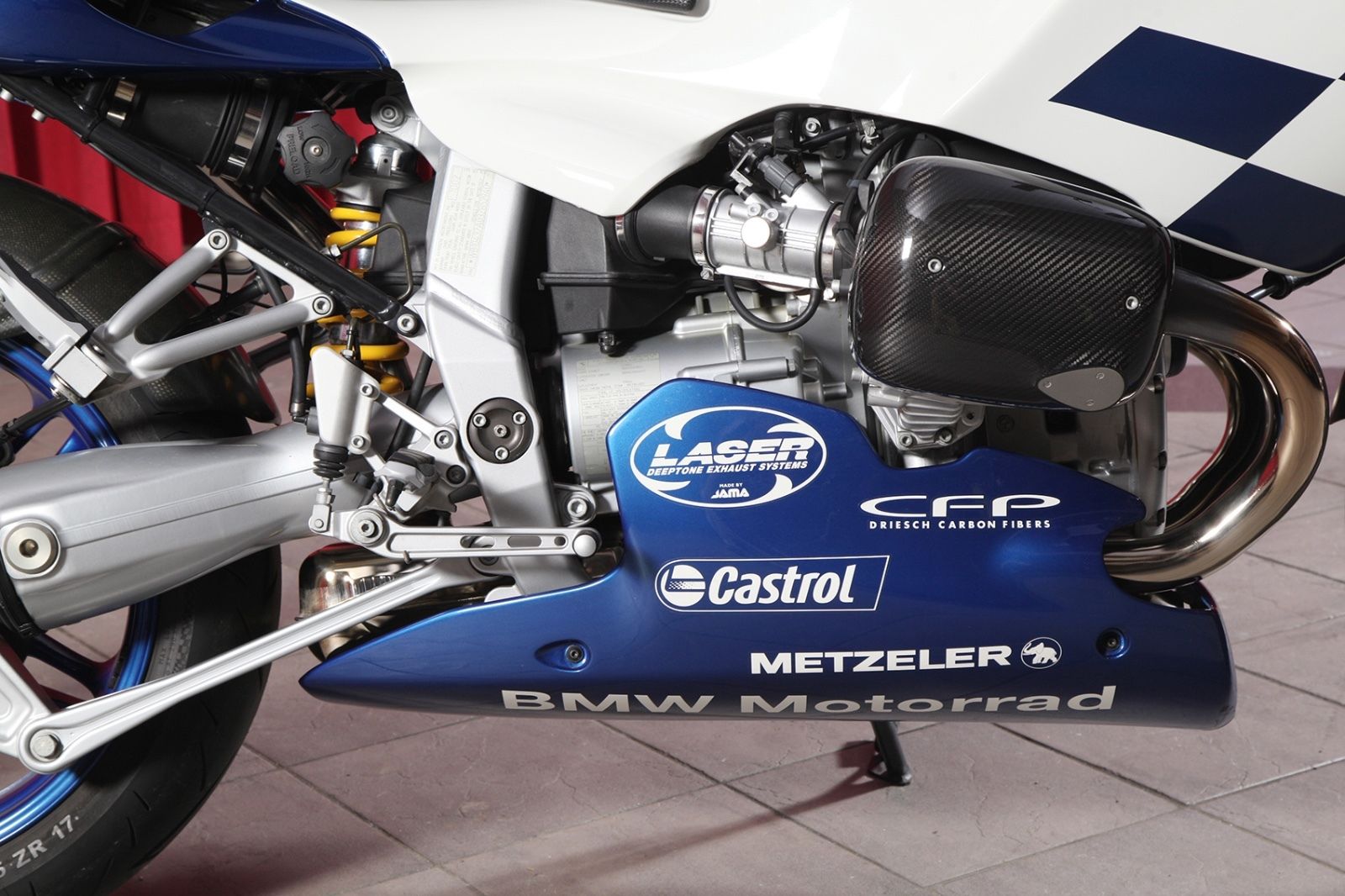 More from the seller:
I purchased this from a private owner in spring of 2016, had it enclosed shipped from Florida, and loved every second of riding it. Sadly, I am moving and need to downsize for the time being. The spark plugs, all fluids, and tires were replaced at 7,300 miles (shortly before I purchased it). This bike is nearly spotless: I'd rate the condition of it around a 9.3/10 with only stress cracks on the windscreen, a few very minor scratches on the gas tank, seat cover, and a few chips on the lower front of the bellypan. I have pampered this moto for 3,000 miles, and most of them are highway from weekend adventures. The rear tire is starting to show a little wear, but should easily perform for another 2,500-3,000 miles before replacing.
Sure, it was not until the S1000RR and piles of money that BMW finally met the competition head on in World Super Bike – but the Boxer Cup paved the way. This example is very, very clean. Miles are certainly low for what we all know to be a dead reliable lump of a motor, and unlike some of the high-strung Italian supermodels you can ride this one through some pretty decently sized service intervals. It's everything you would expect from a BMW twin, with a little extra cachet, performance and exclusivity. Check it out here for all of the details and some great photos. Then jump back into the comments section and share your thoughts on the Boxer Cup – genuinely good race series, or mad marketing ploy von Deutschland?
MI