Project Season Is Upon Us: 1992 And 1996 Kawasaki ZX7R's
Call them diamonds in the rough or money pits but no matter the name it is time to make room in the garage for the next winter project.  I thought these two ZX7R's might be a good excuse to hang out in the garage this winter.
—————————————————————————————————–
Lets begin with the 1996 ZX7RR.  Although it is newer, I'm not so sure it would be the lighter project of the two.  It has had more mods and someone couldn't keep their hands off the frame.
From the wording of the auction it doesn't sound like the seller has owned it for long:
 For sale, due to relocation, is a mint ZX7RR from 1996, number 665 out of 1500. This is no longer a standard bike but its best asset is its perfect mechanical condition. Whoever has set up the flat side carbs has done a top job. This bike revs cleanly up to 12000rpms while the slick close ratio gearbox makes sure no speed is lost. OEM suspension still does a very good job and braking is excellent – the Nissin calipers are as good as race Brembos if kept in a good shape. I was planning to upgrade the front brakes but that would be overkill – although the distinctive sound of full floating dics is nice.

As it is, there is nothing to do: all fluids are fresh and the spark plugs were replaced.
For true spirited riding I would suggest to replace the current Dunlop Qualifiers.

As you can see from the pictures, the upper fairing has a big hole on the right side.Otherwise, the lower fairing and seat are in perfect condition.
The OEM part is still available. Following a crash, I suppose, a previous owner replaced the original subframe with a ZX7R one. For those who have any doubts, look at the VIN number, adjustable swingarm and Nissin calipers. This is the real thing. It is a blast to ride on a racetrack or twisty roads.

Low mileage (13386 kilometers) is typical of race homologation bikes. It was always stored indoors and I'm not sure it has ever seen any rain.By the condition  of the rear shock, engine and exhaust, I don't think so.

It gets the following aftermarket parts:

– Carbon front mudguard
– Carbon rear fender
– Carbon air ducts
– Gilles adjustable rearsets
– Pazzo brake and clutch levers
– Undertray
– Integrated taillight
– New Shorai lithium battery
– Race fuel cap

Comes with the following OEM parts:

– rearsets
– taillight
– chainguard
– front mudguard
– fuel cap

Will give away:

– Spare Zero gravity windshield
– Clymer manual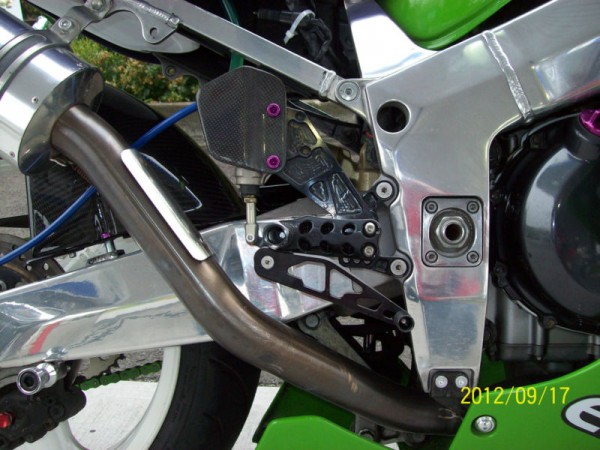 Boy I'm not a fan of polished frames.  That fad couldn't have ended fast enough for me.  I must admit, that brake cable routing is rather unique.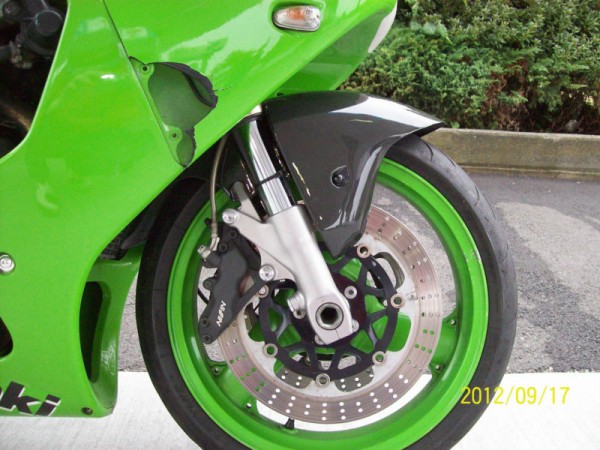 It looks like this isn't the bikes first go around on RSBFS.  We featured it back in 2009 and it had the hole in the fairing back then.  Will the reserve price be modest enough to make this a worth while restoration?
——————————————————————————————————————————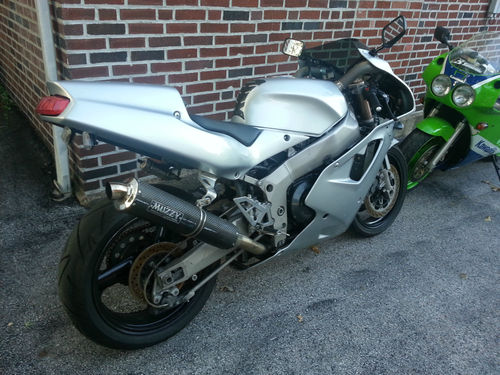 The 1992 ZX7R might be the true diamond in the rough.
Again, it sounds like this is someone flipping a bike:
A 1992 Kawasaki ZX7R, or model K2 bike, with less than 8K miles.  This ZX7R has a Carbon Fiber Muzzy Exhaust with ceramic headers, flush mounted blinkers and a tinted windscreen.  It also has brand new Continental Conti-Attack tires front and back. 

This bike was stripped down and finished in Aston Martin Titanium Silver Metallic.  Not sure why the Green was done over, but hey it is what it is, and still a 1992 K model R underneath the paint.
I would call the overall repaint a 7 out of 10.  Not perfect, pretty decent though and looks slick/unique.  Some imperfections and a small nick or scrape here or there, but looks good.  All badges/stickers removed.  Definitely safe to say THIS ZX7R K2 is one of a kind & the only one around, haha.
Anyone like the silver more than Kawasaki racing green/blue?  I didn't think so.  Owners out there;  if you get the over whelming urge to paint your bike;  buy a second set of bodywork.   If you are lucky enough to own a limited production bike save every darn thing, down to the fasteners, you change.  You will be glad you did when you decide to sell.
To bad we can't see it with the bodywork off because it looks like it might be quite stock mechanically.  Who's done a ZX7R restore lately?  Is sourcing parts becoming a problem?
There is some interest in the auction but the reserve has yet to be met.  What's it worth as a project bike?
Ian