Considering they never sold all that well when they were new, the asking prices for used examples KTM's RC8 superbike have been pretty shocking. They were always extremely competent bikes, but just a step behind in terms of outright performance, and they lacked the top-shelf tech of Ducati's 1098 and BMW's S1000RR and the Japanese offerings. But reading between the lines, it always seemed that reviewers wanted to rank it higher, the mark of a charismatic superbike. And, if we're being honest, that's a truly important consideration for most of us who don't get paid to win races.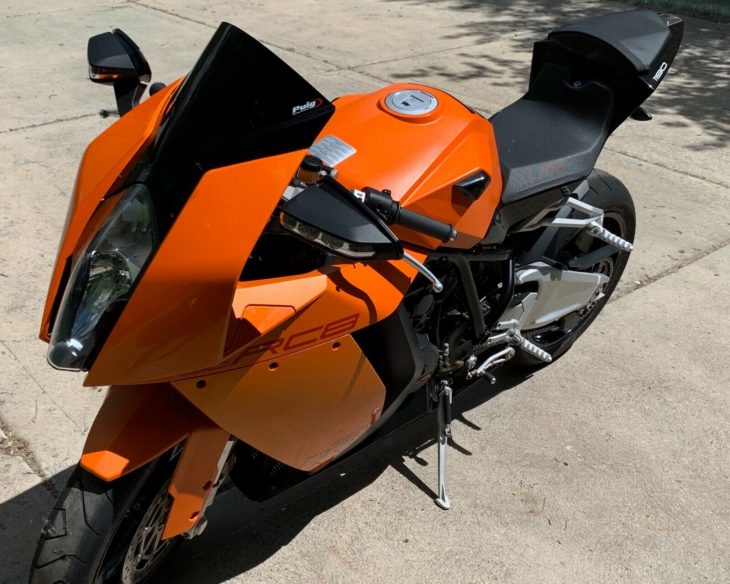 Not that the thing was slow, by any means. Obviously, KTM had been around for a while when the RC8 was introduced in 2008, and their offroad and hooligan machine credentials were well-established. They'd even been doing multis for a while, with their 990 SuperDuke and Supermoto leading the charge to establish the brand as a premier builder of entertaining roadbikes. But somehow, the pleasingly simple character of the thumping v-twin didn't sell bikes to brand-conscious superbike buyers.
In it's original incarnation, the liquid-cooled 75° v-twin displaced 1148cc and produced a stout 151hp and 85ft-lbs of torque. It wasn't stout enough, and the bike lost out in the spec-sheet wars to the Ducati 1098 so in 2010 displacement was bumped to 1195cc for the updated RC8R version. Power jumped to 175hp with 90ft-lbs, which was on par with the regular 1198 and 1198S. Unfortunately, the RC8 wasn't any less expensive than the Ducatis, and not many people wanted to take a chance on the Austrian brand so the bike soldiered on with very few updates until 2013.
If the the bike didn't have class-leading horsepower numbers or cutting-edge technology, why buy one now? Well, first of all, take a moment to look at it. Are you horrified by the sheer angularity and garish colors, are you worried you'll cut yourself if you lean on it? Well, move along to something less dangerous-looking. The styling is wild and that's down to personal preference, but considering the design was introduced way back in 2008, the thing could have been built yesterday and it would still look fresh. For a superbike, the ergonomics are surprisingly humane and are adjustable: the seat moves, as do all the controls, making it especially appealing to tall riders, which you'd expect from an Austrian company… It's also relatively simple to service, almost like KTM planned for owners to do their own basic maintenance. Reviews then and now talk about how easy the RC8 is to live with and how, contrary to the wild image, it's a superbike that's surprisingly easy to live with.
This particular RC8 is being offered for what seems to be a much more reasonable sum, and it's not clear why, since it looks like nothing at all is wrong with it, the bike is barely broken-in, and it comes with a wealth of quality bolt-on extras. Perhaps the seller is just reasonable, or is looking for a quick sale? Ideally, you'd probably want the later, more refined RC8R, but this still offers plenty of performance for the money.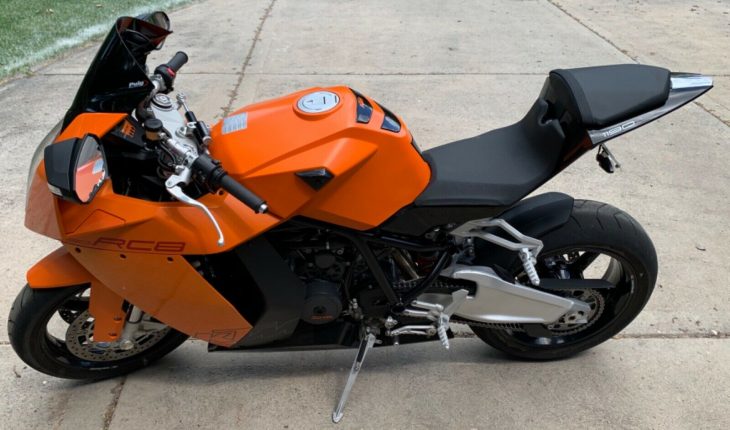 From the original eBay listing: 2009 KTM RC8 for Sale
Mint condition 2009 KTM RC8 with less than 800 original miles and beautiful KTM color combination! Properly broken in, serviced and minimally ridden. Only Motorex lubricants and ethanol free premium fuel with Star Tron stabilizer have ever been used! Stored covered 24/7 in climate and humidity controlled garage, never ridden in the rain or off road. Wiped and polished after every ride! It is in like new! Original tires! Extras include:

Power Commander V fuel and ignition tuner.
LSL bar riser and clip on kit imported from Sweden!
Air suction valve and O2 bypass kit.
PUIG tinted screen. 
Throttle tamer.
JC custom exhaust with interchangeable baffles, original exhaust included.
WPS dry cell featherweight battery.
Larger rear sprocket, factory KTM.
Tank protector, factory KTM.
Tail tidy with LED blinkers, original included.
Goodridge front brake lines.
Clean title, all original keys and owner manual. 

Bike was over $19000 new and has $3000 in extras! Please ask any questions you might have prior to placing a bid! This mint condition 2009 KTM RC8 is the closest to a new bike one could possibly find! It has less than 800 miles and is minimally ridden just to maintain the proper mechanical condition. Battery tender installed and included, together with the factory original tail light assembly, exhaust, keys, owner manual. Bike is located in Park City UT and buyer is responsible for pick up or shipping. Please check the 2007 Yamaha FJR1300 recently sold and my feedback. Video of the bike is available upon request. Cashiers check, bank wire transfer or cash in person is accepted and the clean&clear title will be signed over and mailed only upon completion of payment. $500 NON REFUNDABLE PayPal deposit due within 48 hrs of placing the winning bid! Thank you and have a nice day!
The seller is asking just $8,000 for this example, thousands less than the others I found while looking on eBay. There's been a bit of a glut recently… Admittedly, those more expensive examples were the improved R version and I prefer the orange/white ones, but there's no denying this is a pretty great price on KTM's contrarian superbike. The title is claimed to be clean, the bike is pretty much perfect, with all the modifications easily reversible with the included original bits. I don't know if these will ever be properly collectible, but they're wild-looking with plenty of analog performance to keep even expert riders entertained.
-tad