After the Ducati 916 was launched it was very difficult to imagine another motorbike that could be as beautiful. A few years later though, Massimo Tamburini thought to combine the incredibly sexy lines of his previous creation with a 4 cylinder inline motor to re-launch one of the most iconic motorcycle brands in history: the MV Agusta. The return of the brand on the market had to be something spectacular and so in 1999 the F4 750 Serie Oro was born. Built to 300 examples it features the finest of raw materials: Magnesium was used for all cast parts (excluding the tubular steel frame), carbon fiber was used for all otherwise ABS made parts (fairing, seat cowl and even the fuel tank)
The bike featured also a number of innovations, some of them technical (like the radial valves) and some of them aesthetic (like the amazing organ pipes exhaust built by Arrow as a tier 1 to MV).
It was originally sold in Germany for 72000 DM (Deutsche Mark) about 36000 of modern days Euros. In this sense the fixed price set at 29000 Euro for this brand new Nr. 155/300 is almost cheap…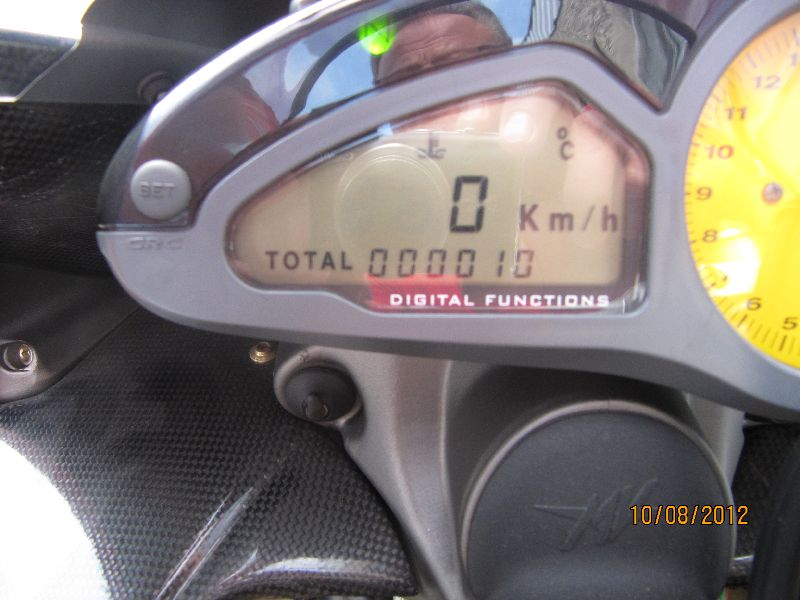 This bike is clearly coming from a collection and probably deserves to find another warm and comfortable heated room to be shown off. I mean loot at the tyres :
If you are into the carbon fetish you might want to check the gallery below as well:
I used to own a more standard EVO3 and boy what a beautiful sound it had. It was too heavy though, but I guess that all this magnesium and CFK will make the riding experience differnt.
Check out this sale on ebay.de by clicking the link below:
Claudio