The mid-2000's saw BMW put their flagship 1170cc DOHC twin into three very different motorcycles – a big super-motard, a hare-n-hound off-roader, and this, the HP2 Sport.  While both the motard and off-road machines were mega-size compared to the mainstream, the HP2 Sport fit better into the superbike genre and can show and go.  This 2008 is just ready for it's second oil change mileage-wise, but has been a collector's gem, farkled and serviced to a high level.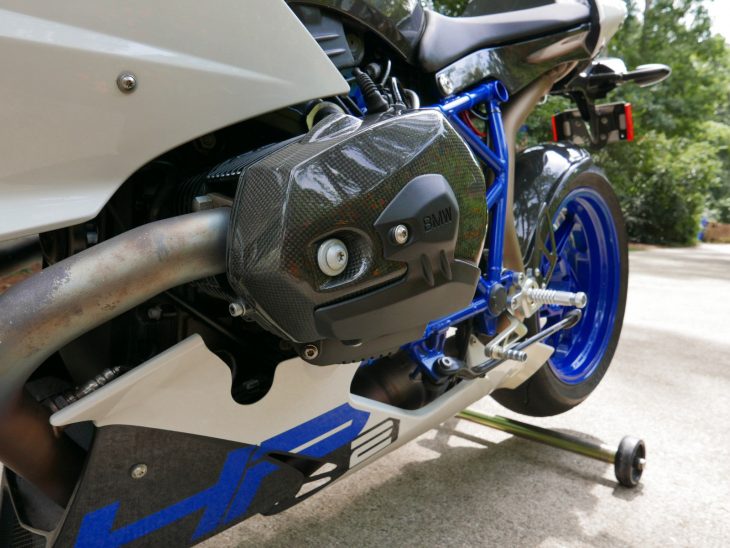 Never giving up on the flat twin, the search for four valves led BMW to a complex chain-driven cam arrangement, and achieved 130 hp with 85 ft.-lbs. with the compulsory Bayerische reliability.  Instantly recognizable as part of the brand, it of course uses shaft drive, and the recent Paralever monoshock.  Up front is their newer Telelever suspension, with empty "fork" tubes and conventional shock absorber above the wheel.  Elsewhere it's all new, trellis frame, carbon fairing and self-supporting seat console.  The 2-1-2 exhaust darts under the engine to the catalyst and then underseat to the canister muffler.
Just shown by the original purchaser, the current owner has curated some nice mods and taken care of some maintenance concerns for the next owner.  The RR mirrors look less automotive than the stockers, and the SW Motech tank bag is a great no-mar solution.  New rubber might be considered if the buyer intends to push things hard.  From the eBay auction:
This bike is in immaculate condition with only 3,507 mile since new. Bike needs nothing as has just had the front forks redone with new seals and oil and both cylinder heads resealed with new BMW gaskets and new cylinder head sliders for good measure.

I am the second owner and purchased the bike from the original owner who had it in a collection thus the low miles. I have ridden it and done a few tasteful mods which are all simple bolt-ons and can easily be removed by the new owner as all original parts are included:

Ilmberger Carbon Fiber rear wheel hugger
BMW S1000RR mirrors with Sandbar Composites adapters (original mirrors included)
Puig windscreen (original windscreen included)
SW Motech quick release ring and tank bag (original fuel ring included)
Osram Nightbreaker headlight bulbs
Pitbull rear stand

Everything else is stock the way it rolled off the production line—perfect. Bike comes with two keys, owner's manual, factory repair manual, factory training booklet, tool roll, and fanny pack.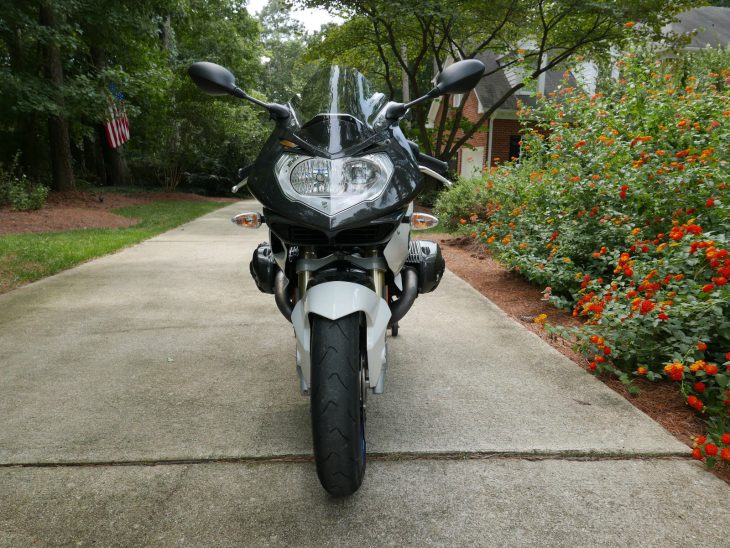 Most often seen with few miles, the HP2 was a $erious commitment when new.  The secrecy around total production numbers warrants investigation by Wikileaks, but stateside imports for the 2008-10 years should be no more than a couple of hundred.  Glad to see such a special machine undamaged, but the low miles just scream missed opportunity.  Five days to run on the auction and bidding has been brisk but no challenge to the reserve.  Unlike trains, there won't always be another.  An epic ride for any fan of the brand or big twins in general…
-donn