Parts Bin:  RGV250SP VJ23 Custom And Kit (Autorimessa) Exhaust
Yes, these are extremely expensive. Yes,they are difficult to buy.  And yes, shipping will add to your pain.  Being a 23 owner myself,  I couldn't pass up these two sets of  as they aren't your average set of chambers you normally see for sale on Yahoo Auctions Japan.  If you are interested in anything from Yahoo Auctions Japan just do a Goggle search for proxy bidding and read up.  If you visit enough forums you will also notice there are some guys people recommend.  We even have an advertiser here who provides the service.  There is no getting around the fact though, that the Yen is killing the Dollar and 23 parts are at an all time high price wise.  Read on at your wallets peril.
-------------------------------------------------------------------------------------
These are an interesting set of 23 chambers, they are custom made.  I've followed this seller for years and he has had a steady stream of VJ23 kit parts and seems to be quite the VJ23 enthusiast.   I'm not a welder but the craftsmanship looks top notch to my amateur eye.  The stinger length looks quite short compared to most 23 pipes I've seen.  I believe that means less over rev (more top end though?).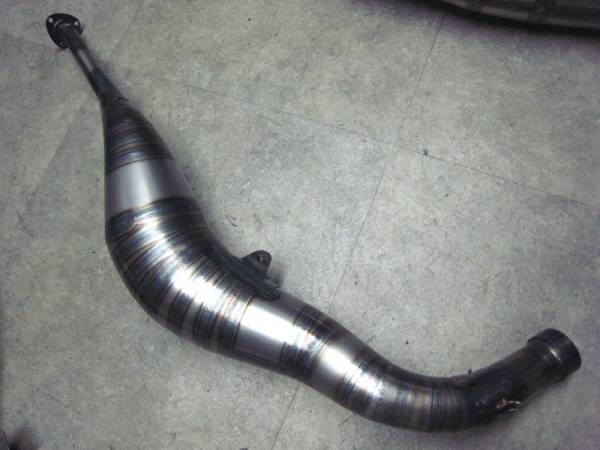 What is interesting about these is that they are a true race exhaust.  They will not fit under your stock bodywork and you will have to remove your starter motor for them to fit.  Not matter what part of the world you live in,  people like to fudge HP numbers.  The seller is claiming 77 rear wheel HP with these beauties.  It sounds like he is claiming 80 HP from the crank.  To be honest those are real high numbers (maybe I should have said unheard of) for a 23.  You'd have to have carb work, porting, high octane fuel and maybe a magic wand to get anywhere near that.  I've never heard of a 23 making  anything over the mid 70's but there is a first for everything.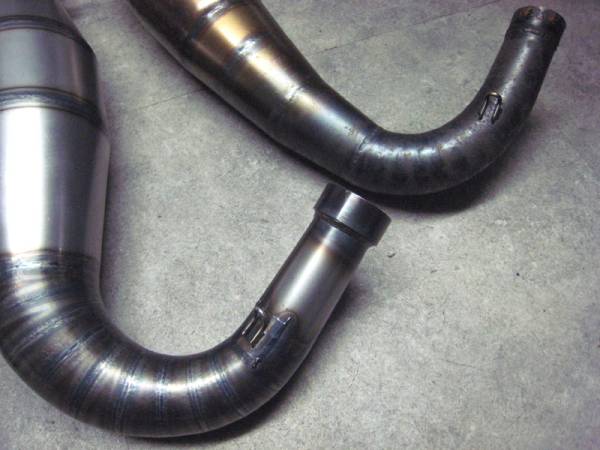 Welding porn!  I'll let the price be a surprise.
------------------------------------------------------------------------------------------------------------------------
Next up is a set of genuine Autorimessa (sometimes known as Racin Function) kit chambers.  I know a lot of people swear by Sugaya's, and they are a great pipe, but if you want the real kit item then Autorimessa's are what you want.  An interesting fact is that in the kit catalog they actually recommended Sugaya and Vega Sports because Autorimessa apparently only produced a limited amount of chambers.  The key to identifying the kit chambers is the flower petal like muffler mount and they have a built in nut on the mounting tab.  They didn't get too fancy with the mufflers back in 96.  They are surprisingly heavy.
The rust is normal on mild steel and easily cleaned off.  I can vouch for great fit (although I run the kit bodywork) and finish on these chambers.  It is common to have to split the rear belly pan on the stock bodywork to accept the aftermarket chambers.  I can't quite see in these pictures but  the pair I have appear to have been hand hammered.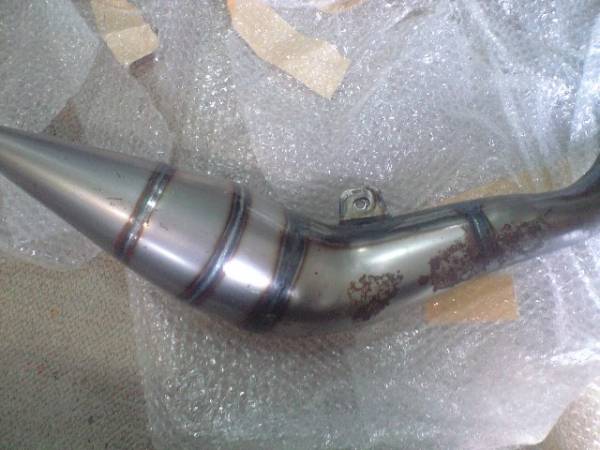 Years ago, I saw an auction for  "high" and "low" speed sets so they apparently made different styles back in the day.
The starting bid on the auction is 75,000 yen which is approximately $933.