Location: Palm Beach,FL
Miles: 6,800
Price: $5,500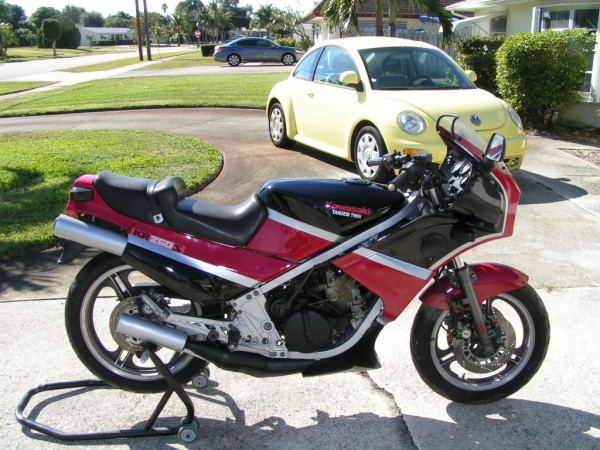 I don't know about you, but I'm a fan of unusual engine configurations. From Suzuki's Square Four in the RG500 to the V3 pumping at the heart of Honda's NS400R. Unlike the 250cc two-strokes that later followed, the KR250-S packs all of its displacement into only two cylinders. How does two 125cc singles paired together with two separate cranks connected by large gears in the same case sound? Sounds unusual to me, and that's awesome!
The KR250-S isn't going to set any land speed records with only 45hp. But with a dry weight of only 290lbs this little smoker will take you all the way to 110mph.
From the seller:
1985 KAWASAKI KR250 KR 250-S, 100 percent stock and complete, 2 two Stroke 2 cylinder bike, water cooled, tandem twin 2 crankshafts with 2 rotary valve induction, 2 power valve, 2 reed valve, very rare and collectable. Very few people looking for one of these because nobody has ever heard of this model. Not only is this a rare bike, but it's the even more rare power valve version also. Never sold in the USA, the bike was imported from Japan. Very exotic bike, only bike similar to it is the Suzuki RG500 gamma, which go for 15 to 30K, is like that engine, but cut in half.

Aluminum frame, triple disc brakes with anti dive feature. It runs great and is fast. Everything works on this bike. Tires have good tread but have cracks and are old. All the parts are there and in good condition. 100% stock without any modifications. Don't think its ever been apart and does not need to be. All the body work and gas tank were repainted stock colors and are near perfect, no cracks or dents scratches etc. The rear seat vinyl has a slight crack, only
noticeable imperfection on the bike. Only 10800 kilometers or 6800 miles US original miles. Not perfect, but very good for the year. Located in North Palm Beach, FL 33403, Must pick up, no shipping or crating, will work with your shipper though. No title, bill of sale only. If you know these bikes this is a deal. $5500 FIRM. Consider trade (+/-cash) for RG500, TZ, or similar.
The KR250-S up for sale here looks to be in great condition with a full repaint of the fairings and gas tank. It also has relatively low 6,800 miles and remains 100% stock. Only mention of flaw is a slight crack on the rear seat vinyl. Also looks like that windscreen would use some love to make it less cloudy. It's hard to tell where the $4,500 asking price will sit with potential buyers as I haven't ever come across one of these before. It does however look like a fun bike to rip around on. Check out the seller's ad here!
-JS