Location: Tualatin, OR
Miles:  11,160
Price: $15,500
We have seen a sting of big two strokes here on RSBFS last week. If you are a fan of those, then here in one more for you to look at! The RG500 is definitely my favorite between the RZ500 and the NS400R. With 95hp and a only 350 pounds to lug around, I can imagine these are a blast to ride.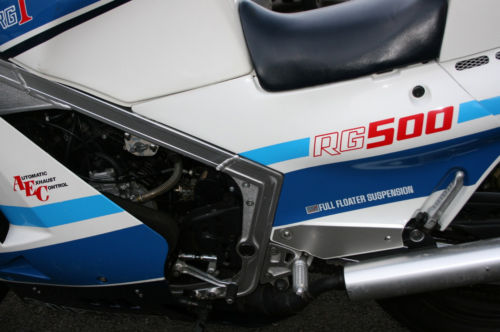 The particular bike up for grabs is located only an hour or two from Rem, RSBFS CEO Dan Crouch, and I… and seller says he will deliver up to 200 miles. Hmm, who wants it?? The bike itself seems to be in good condition for a 27-year—old two stroke. It does have a small crack/hole in the lower part of the fairing, which the seller mentions. The air box has also been replaced with foam filters.
From the seller:
You are bidding on a very rare Suzuki RG500 4 cylinder two stroke. The bike is in excellent condition and has never been down. It's all completely original and stock with the exception of aftermarket foam air filters. These are a replacement for the poor performing OEM air box.(which comes with the bike) Mileage is approx 11160 miles as a conversion to the kilometers on the speedo. This bike has a clear WA title but needs new registration as it has been stored for several years (without gas in it) The only blemish (shown in pic) is under the lower side of the belly pan. Not visible unless you get on the ground to search for it. All you will need is to add gas (oil injection tank is still full) turn the key and kick her into life. I regret the selling the bike as I have no longer the space to keep it.
There you have it, yet another Suzuki RG500 up for grabs. I do think that the price is a little on the high side. We have seen lower mileage and near perfect examples go for about what the seller is asking for this one, so take that into consideration if you are serious about this bike. However, they aren't making any new ones and this one does look to be pretty clean. My only other concern is its running condition since the seller mentions all it needs is gas. I would want to see it running before making an offer. If you think you can fit this under the Christmas tree, have a look at the seller's ad here!
-JS