One of Kawasaki's alternative livery used basic black instead of championship lime, but this carefully tended example is an eye-catcher even so.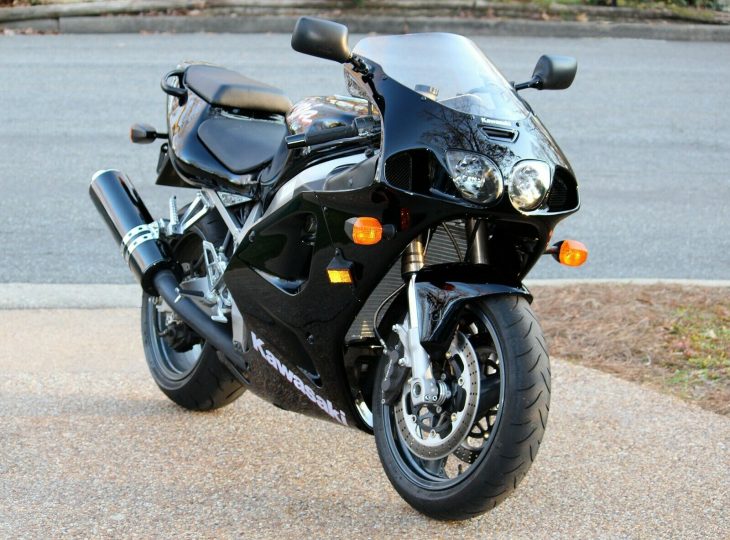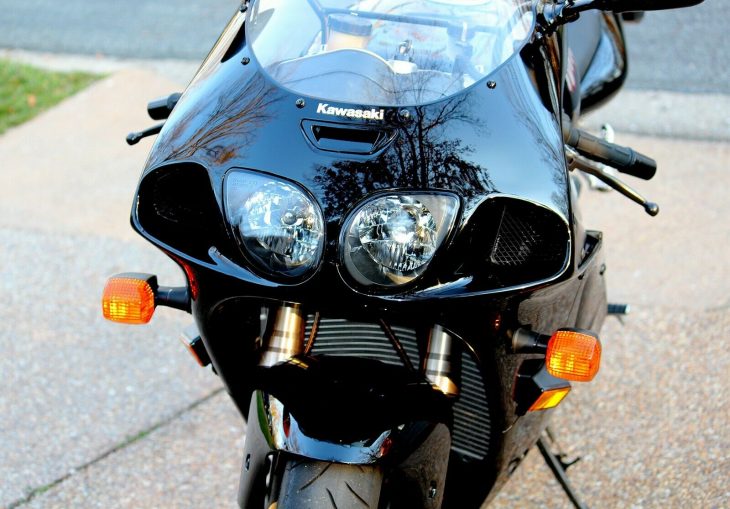 Right in the middle of the 1989-2003 model run, the '96 was the first year where the rest-of-world and North American models had the same ZX-7R name.  The classic 748 cc inline was carburetted and boasted 111 ponies.  Intake runners were dialed back a few mm to improve throttle response, and mid-range torque was augmented by a crossover pipe between downpipes 1 and 4.  Not messing with the good, the alloy twin-spar chassis can handle whatever comes its way and the conservative headstock geometry takes it all in stride.  Components like the 6-piston front brakes and piggyback reservoir rear shock were definite improvements.
This Virginia owner took super care of this baby, and the detailed photos show no wear or corrosion, not even a rub on the heel guards.  Rarely seen OEM mirrors and signals might actually work as intended.  The rims look as though they've been subjected to just one tire change.  From the eBay auction:
Bike still has over 99% of its original OEM parts – Bridgestone Battlax Hypersports and stainless steel front brake lines are not.  Extremely well preserved and under 6K there's not much of a service record here.  Maintenance done recently – MOTUL 10W40 100% synthetic, OEM Kawasaki oil filter, MOTUL 7.5W 100% synthetic fork oil, MOTUL MC CARE chain clean and lube, OEM Kawasaki air filter, NGK spark plugs, OEM Kawasaki fuel filter, rear 41 PSI, front 37 PSI, P21S Carnauba Wax – check!

Clearly this bike is ready to show or ride to the beach, canyon.  Runs like it looks, INCREDIBLE.  Items included in sale: original owners manual, clear Exempt title, 2 keys and 1 spare, original sales ad, period correct never used tank bra, 100% original never used OEM Kawasaki tool kit.  Rare was the factory Ebony with reflective iridescence decals that color morph in sunlight but rarer here is a true survivor time capsule ready to take you back – don't miss it.
Though the street-going ZX-7R had grown up into a slightly overweight kit, the AMA Superbikes had to make room for Doug Chandler and his Team Muzzy special, who repeated in 1997.  For a fan, this might be a perfect redux – hardly used, perfect shape, serious rather than flashy, and sensibly priced.
-donn