Well here is one sure to please lovers of either NSR's or cigarettes.
So what exactly do we have here?
1987 Honda NSR 50 Rothmans Edition from Japan. Extremely rare bike maybe only one in the whole entire country. This bike is in perfect condition Is 100% original From top to bottom besides after market carb. Brand new IRC Tires . Bike Runs Excellent. Comes with two keys. This bike is the baby sister of the Famous Honda NSR 250.  If you would like to see a video of the bike go to YouTube type NSR 50 from Japan (Chicago). This bike doesn't have a title due to it be from japan but can get one issued from Vermont for $125 if buyer wanted to do so.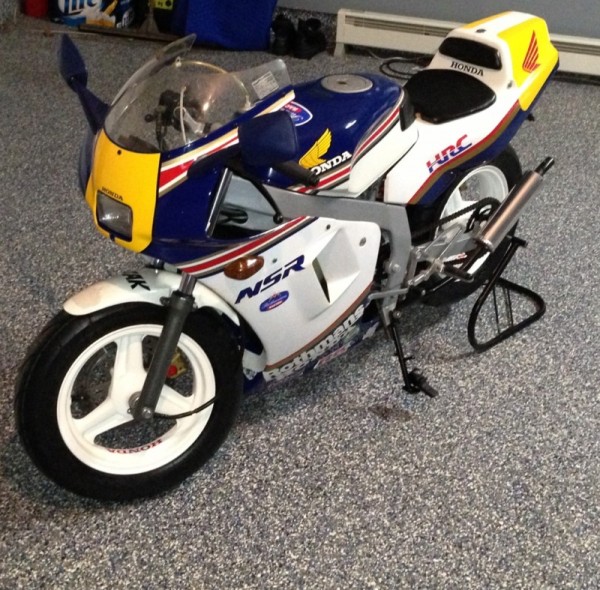 It is pleasing to the eye but not completely stock.  The seller mentions an aftermarket carb but the exhaust is aftermarket as well.  It is exiting the opposite side as the stock one.  Not a minus to me though.  I'll take a litte more zip and some extra ring a ding.  I wouldn't be surprised if the the airbox is modified (or missing) as well.  I thought the blue mirrors might be aftermarket but appear to match up with the stock Honda photo.  Stickers appear to be a mix and match affair.
Someone might have had some extra time on their hands and some extra gold spray paint laying around.  I never say never but I couldn't find a single example on the net with gold accents. 
This isn't the 1987 model but I never get tired of the wacky Japanese to English slogans.  Would "Real Blue" and "3/4 Works" sale a bike here?  For almost all the years the 50 was produced they also produced an 80cc version but we rarely see them them compared to the 50.
It might make the perfect companion to your Rothmans NSR250 or NS400R.
Ian