Nice looking bike with some tasteful upgrades and custom work. And even includes a few videos:
Here's the link to the posting on eBay (Florida)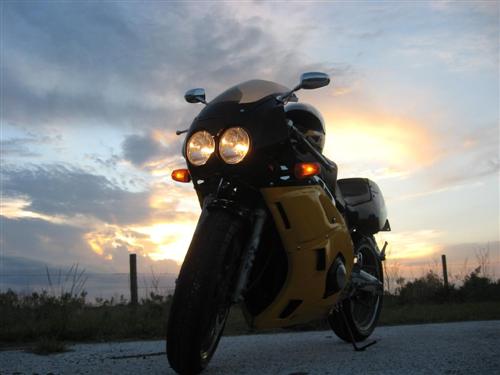 Up for auction is a 1990 Yamaha FZR 400R with clear Florida title and 28,500 miles. Bike has New Fork Seals and Fork Oil. Front and rear wheel bearings were replaced a few hundred miles ago. New front Brakes and Dot 5 Brake Fluid, Rear also has Dot 5 brake fluid, Pads were 75% so they were not replaced. Engine oil and filter were just changed. Vintage Yoshimura Exhaust early 90's model. Stage 3 Jet kit. Quad K&N Air Filters. Aluminum Frame with Delta Box Swingarm. Alot of the bike has been polished but could use some more detail work on the polish not perfect. Tires are about 40%. Has passenger seat cover. Left lower is cracked as seen in pictures I don't know how it got like that. Was like that when I got the bike. Previous over said it fell over against the wall in the garage, that is all I know. Bike is Black Metallic and Yellow. Has intergrated mirors with turn signals.Aftermarket Rear Turn Signals Chain and Sprokets are ok but probably wouldn't hurt to replace in a few thousand miles. Runs and rides good. Comes with Large HJC Helmet in like new condition.
4 days remain on the auction and it looks like a no reserve. Currently just under $2k.
dc
2 Responses.