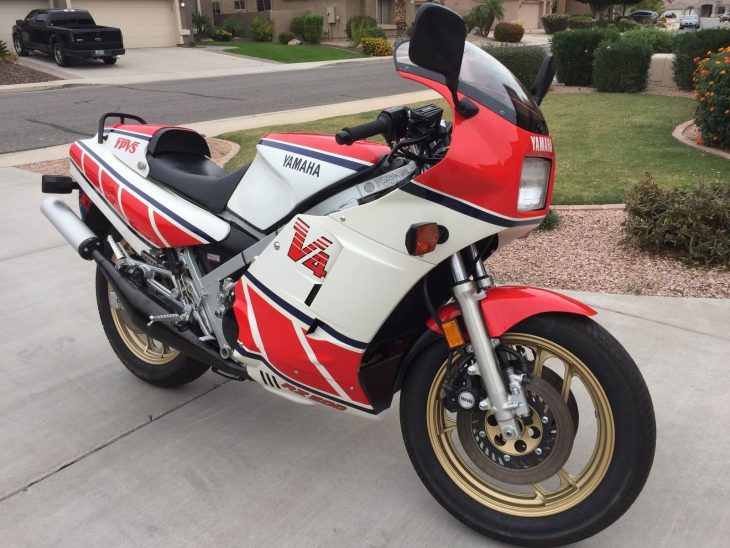 The two-stroke race-replicas like this Yamaha RZ500 represent a brief, very exciting time in motorcycling. The 1980s were a difficult time for bikes as well as cars: technology was leaping forward while emissions legislation stifled performance at the same time it attempted to save the planet. Eventually, manufacturers would find ways to work within or around these laws and increase performance to the point where today's 190hp literbikes, with incredibly sophisticated engine management software, ABS, and traction control, are useable by mere mortals without fear that they'll die the first time the throttle is wound to the stop. But the RZ500, Suzuki's RG500 and, to a lesser extent, Honda's NS400R were pretty wild for their time. They weren't the fastest bikes on the road, but they combined light weight and decent power in a package that rewarded skilled riders.
The RZ500, also known as the RD500LC in some markets, was motivated by a liquid-cooled 50° two-stroke V4 that featured twin cranks, with midrange torque boosted by a pair of YPVS power valves and lubrication handled by Yamaha's Autolube oil-injection. Some engine parts were cast from magnesium for lightness and are clearly labeled "MAGNESIUM" for maximum bragging rights. A balance shaft smoothed out vibrations, which had the intended effect of allowing the frame and other parts to be lighter, as they weren't required to withstand as much vibration, while simultaneously making the bike smoother and more civilized, a feature that ended up backfiring on Yamaha a bit…
The claimed 88hp was transferred to the 18″ rear wheel via a six-speed gearbox with a wet clutch, while the front end featured anti-dive forks and a 16" wheel. Packaging all four expansion chambers into a compact sportbike meant some unusual choices were made and the rear shock was mounted horizontally under the engine to clear up some space for the upper cylinders' expansion chambers, as well as the battery. The Japanese-market version of the bike, the RZV500R used an aluminum frame in place of the steel part to save weight and offset that bike's reduced 64hp and, if you're not concerned about that bike's generally lower value, might make for a serious hot-rod when de-restricted…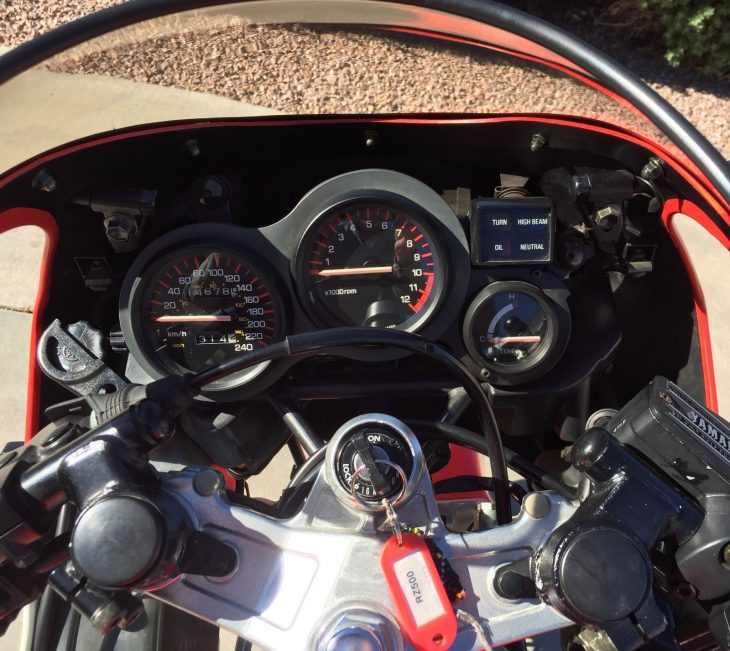 The bike was never officially available for purchase in the USA, but many found there way here via grey-market import from our northern neighbors in Canada. Compared to Suzuki's RG500, the RZ500's most direct competitor, it was heavier, a bit less powerful, and noticeably more "civilized." It's still a 500cc two-stroke though, and power, although aided by the displacement and the YPVS, still has a pretty pronounced two-stroke powerband and that distinctive stroker sound. These have been generally less desirable than Suzuki's race-replica, but interest in this forgotten class has seen a steady increase in values.
From the original eBay listing: 1985 Yamaha RZ500 for Sale
A one-owner bike; I'm the original owner. Km: 14,678 ­­­Mileage: 9,120. Purchased November 15, 1986 from Year Round Yamaha in Calgary Alberta. Located in Glendale, AZ.

Details

This RZ500 is an original, completely stock example with no modifications whatsoever.  Full documentation including original Bill of Sale, all receipts, and complete maintenance and repair logs since new. Legally imported to the USA from Canada in June 1997. All import documents included. Clean Arizona title.

Includes

Both original keys, original owners manual, original tool bag and complete original tools, Yamaha Service Manual (Canadian Version), more than 100 OEM spare parts including many hard to find spares. Comes with magazines featuring the RZ500 from the period and a TAMIYA RZV500R model kit.

Condition

Very nice original condition, unmolested, unmodified, and extremely well looked after bike. There is nothing missing and all fasteners are correct OEM. The paint and metal work are excellent. There is a fairing crack in the lower left side fairing. This is covered by the belly faring and can't be seen; however this should be repaired at some point. The bike is currently licensed and insured in Arizona and runs as it did when new.

Repair History

The bike has had two "garage accidents" resulting in a dented gas tank and a cracked upper fairing. The gas tank dent was professionally pounded out and repaired without any body filler. The fairing was plastic welded. Both the fairing and gas tank were expertly painted by Art Line Painting in Toronto. The bike also had a 3 MPH tip over resulting in scratches to the left fairing. This panel was also touched up by Art Line Painting in Toronto. The paint repairs are excellent and completely match the OEM paint. See photos or ask for specific photos and I'll provide them. The motor has been repaired twice; once in 1994 (6,672 KM) to replace a crankshaft bearing and once in 2002 (10,656 Km) to replace a crankshaft seal. In both instances, no short cuts were taken; all seals, o-rings and gaskets were replaced in addition to the failed part.  
While the mishaps the seller describes are unfortunate, they're to be expected when talking about a bike that's 30 years old, and the repairs indicate the kind of attention that's been lavished on the bike to keep it in top shape. From the photos, it appears to be in excellent, if not perfect cosmetic shape and, as the seller indicates, been kept in original condition. The bike's titled status is a bonus if you're looking to use it on the road, but would also make a pretty nice collector.
-tad