For Sale: 2008 Yamaha YZF-R AMA Superbike Jamie James Scott Russell
What you are looking at is a 2008 Yamaha R1 prepared by Jamie James Productions for Scott "Mr Daytona" Russell. This bike was a backup bike for AMA SuperStock competition, and retains street legal bits and title in addition to the Jamie James and Scott Russell pedigree.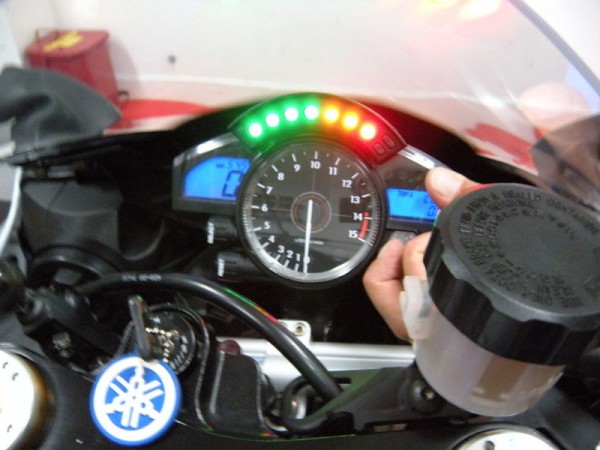 From the seller:
JJP ( Jamie James Productions) a Superbike champion and as a Yamaha factory spokesperson is legendary. With the help of the factory, Jamie James built 2 Yamaha R1's for Superstock competition with the rider being "Mr. Daytona" Scott Russell. This happens to be the back up bike, athough set up identically to the race bike it was actually never raced, hence why its like new. I recently spoke to Jamie about the bike and he remembers it well, in fact Jamie remembers Scott saying "this is the fastest bike I've ever ridden". I wont bore you with the details of the stock Yamaha R1, but this about the time Jorge Lorenzo won Moto GP, Ben Spies won WSBK world superbike ( hence the bodykit) and Josh Hayes won AMA superbike, 'nuff said. It's part of my personal collection of bikes, not my stores and It's condition is near flawless. Yes it's used, so expect to find some wear if you get on your hands and knees ( maybe some carbon damage on muffler),but you would be hard pressed to find it, Im fastidious about the details. Its' never been raced by Scott Russell or myself, but probably needs to be, its an incredible machine and you wont get passed on the straights, thats for sure. It comes with TWO sets of body work,one for the track and one for the street of which there are pics of both in the Sterilgarda livery. Show or ride this bike, street riding is awesome with the Bazzaz fuel management. It's low mileage, and incredible amount of bits of which I'll list below and it may be the only one in the world like it. Have copy of original paperwork from Yamaha to Jamie James. The title is in my name now, free and clear.
Here is a detailed video from the seller outlining key features of the bike:

And here is an extensive list of items included with the bike:
Hand built 1000cc Yamaha engine, balanced-blueprinted,degreed cam's and factory supported power enhancements – JJP quotes as around 180 dyno'd rear wheel horsepower ( around 200hp at the crank)

Full Sterilgarda Bodywork, One street kit AND One track kit
Slipper clutch and close ratio 6 speed transmission
Ohlins World SuperSport front forks (built by Ohlins factory)
Ohlins TTX rear triple clicker shock
Ohlins adjustable steering dampener
Bazzaz Traction control ( on the fly adjustment)
Bazzaz quick shifter ( full throttle clutchless upshifts)
Bazzaz Z-Fi fuel injection mapping w/ handlebar switch ability (automatic engine mapping for power)
Akropovich FULL Titanium headers and exhaust w/ Carbon Fiber mufflers (sounds incredible)
Vortex fully adjustable rearsets
Vortex Front + rear sprockets
D.I.D gold chain
Woodcraft adjustable handlbars
R & G front, mid, rear and front fork frame sliders
Eliptech LED shift light indicator ( awesome piece)
CRG adjust a click shorty levers
Billet Alternator + clutch side plates
Michelin Pilot pure Ultra high performance tires
Street items
Mirror block off plates
LED turn and rear signals
Fender eliminator/License plate holder
Kick stand
If you are ready to step up to the big leagues of track day bikes, this just might be your weapon. With world-class componentry throughout – as well as some tasty add-ons – you could not put this bike together for what you can buy it for. Sure, a real racebike that was wrung out by Scott Russell in anger would likely bring more cash, but this is a very close second place.
This auction is on right now with the current bid under $10k at the time of this writing. The reserve is still in place. There are so many things right with this bike that you have to wonder where it will end up. This bike has all the right stuff: the right names behind it (James, Russel, Ohlins, Bazzaz, Akropovic, Eliptech, Vortex, Woodcraft, etc etc etc), a great presentation with tons of pics and a looong video, and a unique background. The R1 may not be a collectable bike, but I think this one will do rather well.
For more information and details, click on the link and check out the auction. Good luck to you, and be sure and tell 'em you found it on RSBFS!
MI
One Response.