A major rejuvenation of a small-bore can only start as labor of love.  This Missouri refurb concentrated on the mechanical, but the cosmetic looks great as well.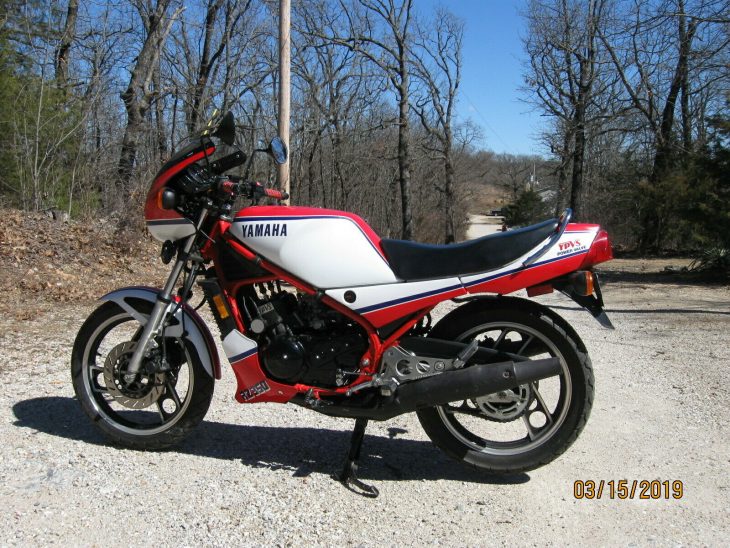 Magazine editors said the visible frame on the RZ looked like a racebike, surrounding the water cooled vertical twin.  Since it was a road machine, Yamaha augmented the two stroke with their Power Valve System and catalytic converters.  59 hp was phenomenal for a 350.  Triple disks were great, though the lightweight suspension was adjustable for preload only.  Accented by the cool chin scoop, body work flowed from the bikini fairing to the tank, side covers and seat console.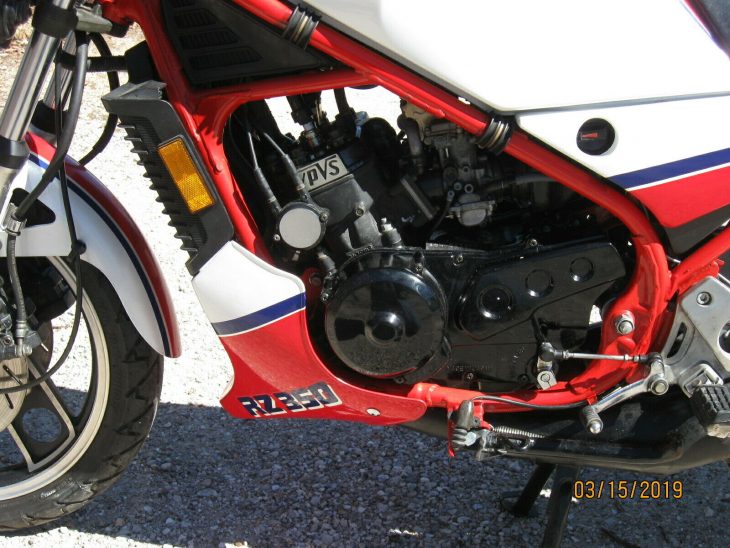 Sitting for a generation but having covered only 8.050 miles, this RZ was given the works:
Just refurbished:

Both master cylinders and new o-rings in all calipers.

New oil lines, and fresh two-stroke oil

Fresh fork oil

Fresh gear oil

Fresh anti-freeze

New air filter

New battery

New needles and seats in the carbs

The CDI was just sent to RZ's Unlimited to repair the infamous cold solders

Just installed the 1985 mounting kit for the lower cowl

New grommets for the side covers

It has the above mentioned new manual petcock from RZ's Unlimited, but I will send the stock vacuum petcock with the motorcycle.

Also has a 16-tooth countershaft sprocket on right now, but I have the stock 17-tooth sprocket.

I have the tool kit, owners manual, and two keys (one original and one duplicate).
An old faux pas on the tank was addressed, but too fancily for the owner:
Both areas were repaired and they did a nice job. EXCEPT! I told them I did not want the warning stickers on the top of the tank removed. So when he repaired the damage, he cleared over the red on the tank and fairing, and you notice where he taped it off if you are close enough. The color is perfect, but it is a little brighter, because of the clear.
Light and easy to ride made the RZ350 popular, though moving over to the track brought the challenge of keeping the little kettle on the boil.  Overdue for a set of expansion chambers, the new owner might want to hang on the factory exhaust in case a move to California is ever an idea.  Bidding is brisk about halfway through the auction but hasn't met the reserve, hopefully this nice riding rehab will pay off for the owner.
-donn