Just In Time For the Gamma Gathering: Walter Wolf RG500 and 1986 RG500
They say timing is everything (or is that location?).  Well, here is your chance to snap up a Gamma and then head right out to Barber Motorsports Park in Alabama and join us at the Gamma and RZ Gathering, Oct 8th-10th.  If you can't make it, I will be posting live updates throughout the event to the RSBFS Facebook page.  After the event we should have a nice write up here on RSBFS.com.  If you are attending be sure to come say hello, I'll be the guy with the bright orange VJ23 wondering why I can't get the jetting correct.
————————————————————————–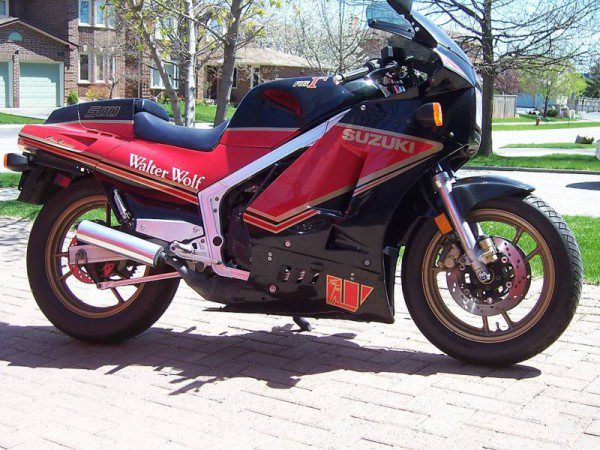 First up is this rare Walter Wolf RG500.  This particular bike has been posted here before at the beginning of the year but is now listed on Ebay.  It is a well used example but on the plus side it has been kept stock.  Unfortunately the reason that it may still be for sale is the asking price.  The seller states in the Ebay text  that the bike  had been appraised at $15,000 Canadian.  I suspect the reserve will very close to that price.  There is no doubt that Walter Wolf version Gamma's are rare but I've never really got the sense they were that sought after.  Other than paint, they are the same as a standard RG500.  If you think about it, it is an unusual replica in that Walter Wolf didn't have much, if any involvement in motorcycle racing.  If memory serves me correctly there is also a cream colored version of this bike.  I think it was the Japanese home market 400cc version of the  bike.  There was also a Walter Wolf RG250 .
From the auction:
Walter Wolf Edition RG500 Gamma. 38,700 Kms on it. Completely stock, absolutely no mods. Bike runs fantastic. Starts on first kick and pulls through every gear. Still a real joy to ride.

The bike has the usual spider cracks in various fairing locations, hopefully the pictures show them. If you want additional pictures just let me know by email. The belly pan fairing is in rough shape. There was a gas leak in one of the carbs (all repaired properly) and I did not catch it in time over the summer and the nearly 25 year old plastic was just not up to the task. Noticeable when you get down low to observe. If you plan on restoring to near perfect condition, it should be replaced. I cracked it when taking the bike off the trailer, and it was just too brittle to survive. Very disappointing, but not the end of the world. If you plan to enjoy the bike as it is meant to be enjoyed, it doesn't detract from the beauty of this bike, or its incredible handling.

These are extremely rare bikes. They were rare to begin with, and have only become more rare in the last few years. There is no doubt the WW version is a hard to find gem. They are almost one of a kind, and here is the beauty of this bike… it was signed in June 07 by Mr. Wolf himself. I was fortunate enough to meet him at the VARAC 40th anniversary F1 races at the Mosport Race Track just outside of Toronto. See the pictures, that's really the recluse himself posing with me. He loved the bike and commented he had never seen one before. He knew of the 400 that were commissioned, but had never actually seen a manufactured one. Needless to say, that makes this one the only one in existance signed by Walter Wolf himself, as he noted to me. We have now taken rare to a whole new meaning.

I had the bike appraised before it was signed by WW, and that appraisal will go with the bike. The helmet in the photos is not included in this auction. It is a replica of the Bobby Rahal lid that he wore when he raced the WW F1 car in the background of one of the photos. It too was signed by Mr.Wolf. The appraisal value prior to signing was $15,000 Canadian.

I'm torn between selling and not selling, and have fought this internal struggle before. I realize I will never own another bike this rare. For that reason, there is a reserve on this auction, but I think it is set very reasonably, compared to some of the non WW gamma's I have seen sold recently.

This can be an everyday ride if you want it to be, but for me it is a sunny Sunday afternoon reflection in time. I hope it goes somewhere that it will be appreciated for what it is.

The bike is located near Toronto, Ontario Canada. I have the original service manual, and the under seat tool kit. The bike is licensed and I have a clean Ontario ownership. There are no loans or leins on this bike.

I'm not interested in test pilots. The bike can be seen locally, and I will gladly start it and run it through a few gears up and down my street for any interested buyer. It is also for sale locally, so I reserve the right to end this auction early.

Buyer is responsible for all shipping arrangements and costs. I will do what ever I can on my end to help facilitate. I can also help deliver in person for a negotiated fee before hand.

Please email with any questions. I will do my best to respond quickly.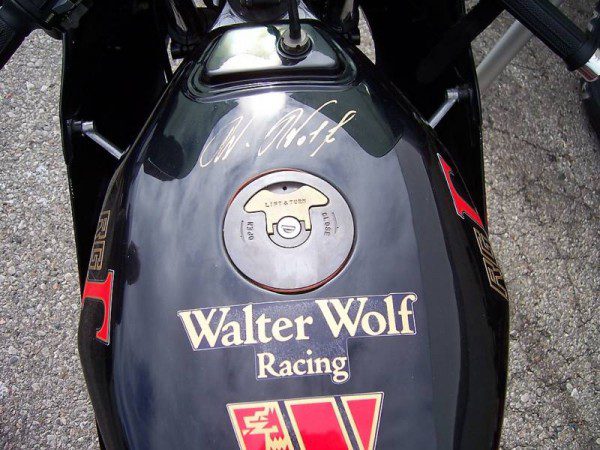 If you've always wanted an orginal Walter Wolf what do you do?  That is a tough one.  In my opinion this bike is over priced IF the seller is expecting close to $15,000.  The miles are just too high to expect that kind of price.  I've seen some extremely clean/low mile RG500's advertised around $12,000 and they sat for a long time.  I know this is a special version but I don't think it deserves that much of a higher price say compared to a standard RGV250 versus a RGV250SP.  Be sure to  as there are a lot more pictures of the bike there and the bidding is ongoing.
————————————————————————————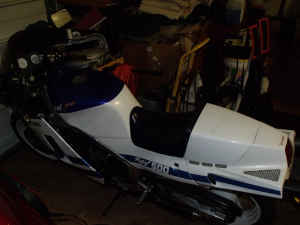 The seller is killing me with a lack of good pictures on this Gamma.  This RG is located in Oregon and quite honestly I don't know a whole lot more.  Read on below to see what the seller has to say about the bike.
From the ad:
Grey market special – this is an extremely rare sport bike for sale. 500cc four cylinder two stroke – it really goes and sounds great too. Never imported directly into this country, this one came from Canada. I've owned it for more than 10 years. It was the former owner's shop display bike – he rebuilt the entire bike and had it on display above the cash register. Beautiful Cobalt Blue and White paint with original Gamma decals. I've had the CDI box replaced and the carbs rebuilt so they do not leak. I also installed the shift shaft support plate and clutch spacer washer that prevents neutral drag and hard shifting. Needs a battery, otherwise runs great. May be getting ready for a top-end rebuild. No test rides without full CASH price in hand. No trades.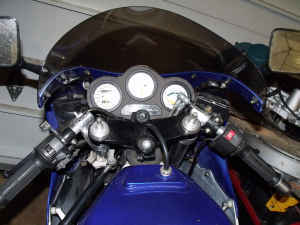 The seller is asking $12,500 and that seems to be the average price I've been seeing for RG's in good shape and with relatively low miles.  I can't tell much of anything from the pictures on this one.  You will definitely have to give the seller a call if you are interested.  This bike can be found on Eugene Craigslist. 
—————————————————————————————–
If you ever wondered what happened to old Mr. Wolf check out the last paragraph on his Wikipedia page.  I know Wikipedia has to be taken with a grain of salt but I do remember reading that arrest warrants had been issued for him on a motorcycle website.
IK