Found this one first thing this morning on // <![CDATA[
document.write('eBay
');
// ]]>.  As you may know, by now, these are my favorite and this one makes me feel all warm and fuzzy inside.  I'll probably be in the mix with a bid or two, so bid to win!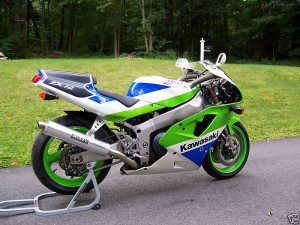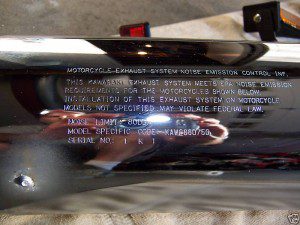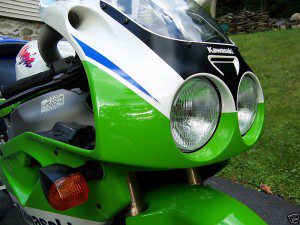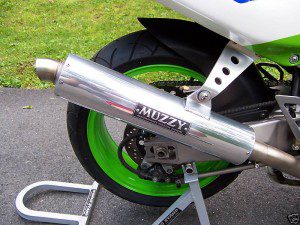 1992 Kawasaki zx7r Rare, original and unmolested. First off this bike is a CASH ONLY deal if you do not have the cash available please do not bid! 500.00 deposit through PayPal within 48hrs of auction end. O.K. now that that is out of the way I will begin. Yes,this is the real deal homologation model, aluminum gas tank, close ratio 6 speed transmission, solo seat and 40mm flat slides. Factory race bike very rare I highly doubt there is another one in better condition. From what I have been told there were less than 200 built.I have owned this bike since 1995 I bought it with 700 street miles on it, it has never been raced, crashed, dropped or mistreated in anyway never ridden in rain always garaged, it has some small scuffs on the tail section where the back pad attaches to it you can see them in the picture unfortunately this is how I bought and it was done at the dealer. It has a couple small scratches on the underneath of the right fairing, which cannot be seen unless you are lying down on your back. Other than that this bike is as mint as they come. The tank, plastics, seat, rims etc. are flawless. Truly must be seen to be appreciated. It has a fender eliminator kit on it which did not require any cutting so the original fender can be put back on also it has a full Muzzy stainless and aluminum exhaust. The fender and original exhaust both mint will be included in the sale. Brand new battery I even saved the original battery if you want it. The tank decal in the pictures is included I don't think you can find one if you wanted to, some of these bikes came with this sticker applied and some didn't. If you have been waiting and looking for one of these bikes this is the one you want. Clear title in hand. The rear stand is NOT included in the auction. Any questions please ask, if you need or want any more pics ask and I will send them to you. Again CASH ONLY DEAL! Shipping is up to the buyer I will help in any way possible loading etc.
The eBay description and VIN sticker say it's a 1992, but all of my information says the K1 serial code is a 1991, which this bike has.  The description also states that this has 40mm carbs, but once again, all of my information says they came with 39mm carbs.
The condition of this 7rr is amazing! I posted a 96 7rr a few days back that was in good shape, but heavily modified. This one appears to have all of the right stuff with only 7,724 miles on it. Original exhaust, original championship sticker, original fender, reflectors, it's all there! The only thing missing is the original crate from the factory.  This one has all the goods and should bring some good $$$.  I would love to continue blabbering about this bike, but I have to go home and start taking inventory on what I can sell. My kids should be scared!  Good Luck!
Update:  This bike sold for $9,855.00!
dd