Update 6.12.2016: SOLD!
Update 2.15.2016: This seller has upgraded to a Featured Listing. Thanks for helping to support the site! Price is $7,500
Chosen by a collector and studiously preserved, this GSX-R1100 was plucked from the streets with 9,300 miles.  The K-model ( Suzuki VIN numbers use a letter code for the year ) had a new 1127cc engine and robust alloy frame.  Notoriously tricky to set up, the combination of power and handling on the 1989 was labeled "expert" by some, and just avoided by others.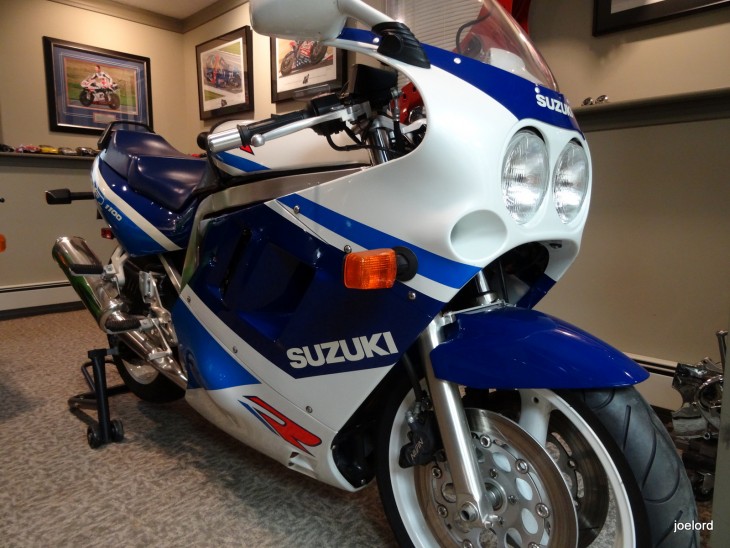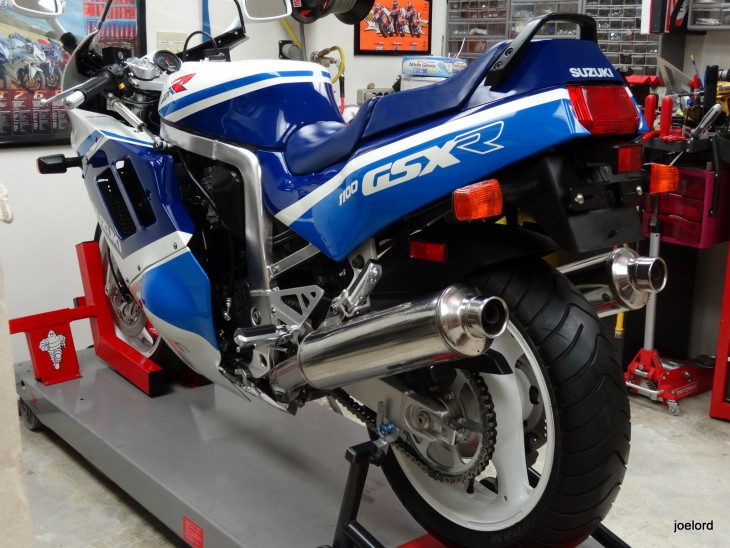 Cooling the cylinders and heads with fins and oil flow, the legendary Suzuki engine delivered 143 hp.  The torque figure of 86 ft-lbs. required only a 5-speed transmission.  The frame of aluminum extrusions welded to cast connectors was light and strong.  The Kayaba forks and Full Floater rear shock each were 3-way adjustable.  Nissin brakes were 310mm front and 240mm rear.  Not as slab-sided as some earlier models, the biposto seat fairing complements the full endurance-inspired fairing, giving the rider a place to hide from the potentially 170 mph wind.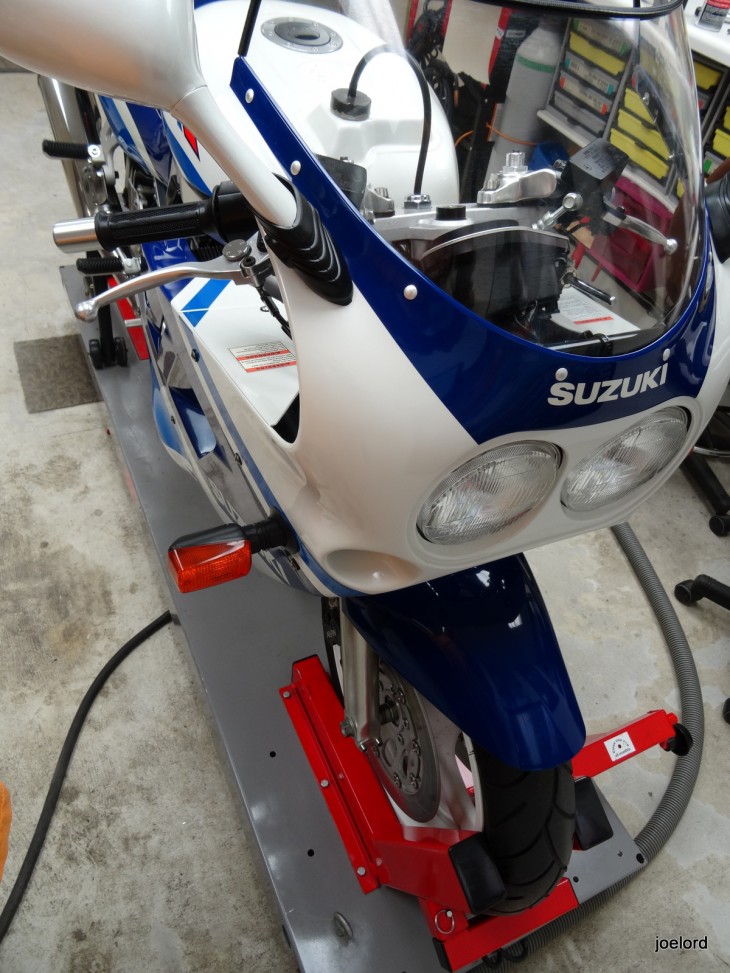 The owner supplied a boatload of high-resolution photos, with every detail shown along with some patina, but no corrosion.  The bike has been ridden some, and the seat fairing has a broken mount underneath, but the fairing and paint condition is surprisingly good, and the cleanliness of the metals is astounding. 
Seller description:
Up for your consideration is a 1989 GSXR1100. This bike has had a very easy life considering. I feel the condition of this bike is way above average for the year and miles (9,295 miles). The originality speaks volumes as to who owned it and how it was treated. I won't say anymore about that as I will let the pictures of the bike speak for themselves. The bike was bought by me as a collector bike and never put on the street. The tank is signed by Kevin Schwantz. It can easily be removed if so desired.

I still have the original ad from when I purchased the bike. It has been thoroughly cleaned twice while in my care. It is detailed and would be a great addition for any collector or anyone whom just wants to ride it. Note that the pictures with the tank bra (which I have since thrown out) and several others were taken before I ever cleaned or detailed the bike. This is a California bike so it has all the EGR equipment still intact and no rust or degradation of metals and or fasteners. It is this bikes originality that makes it so special…

Problem areas:

Small crack in the left side rear cover at the very rear corner. This is a common area that was abused due to lack of knowledge on how to remove the panel properly. It is easily missed if not pointed out as the picture is high res and at the perfect angle to show its ugliness. I promise it is easy to miss walking arround the bike. I have watched for another NOS part to come along and have not been successful.
There are some very minor stone chips here and there. This is a used bike that has almost ten thousand miles so some wear is expected.
Steering damper; they typically last 5-7 years and fail so this is a common issue with a bike of this age
Does not come with a battery

That is it. Other than those items the bike is all there. It does include all manuals, keys, NOS solo seat cover, dealer brochure, binder with all articles and such from over the years, copy of previous owners titles, etc. Note it does not come with the tank bra shown in some of the pictures – that was removed and discarded. You are buying this bike from a enthusiast collector so I think you will be happy. I am however missing the previous owner's maintenance documentation which I do wish it came with. Sadly most people didn't think of these things at that time. The bike has had an oil change and tank and cabs drained while in my care.

This bike is on the rise in value and will follow the slab sided bikes that have just been white hot. It is very easy to see the trends and while most average bikes will get average prices the really good ones always bring the really good money. I was told long ago by a well renowned collector always buy the best you can afford as the best condition always is the most sought after, and always originality trumps restored. They can be restored hundreds of times and original once. This bike is not an ordinary bike and is not for most as you will see with the pricing. This bike is for the buyer that wants low mile, original bike, in great condition and will pay a premium for it.

I have listed and sold lots of bikes over the years without a single complaint. All were pleasantly surprised and all expectations were met, most even became friends after the purchase.

I will be listing a few bikes so please take a look and see if any of them tempt you! It is time to thin the herd so to speak. Good luck!

$7,500.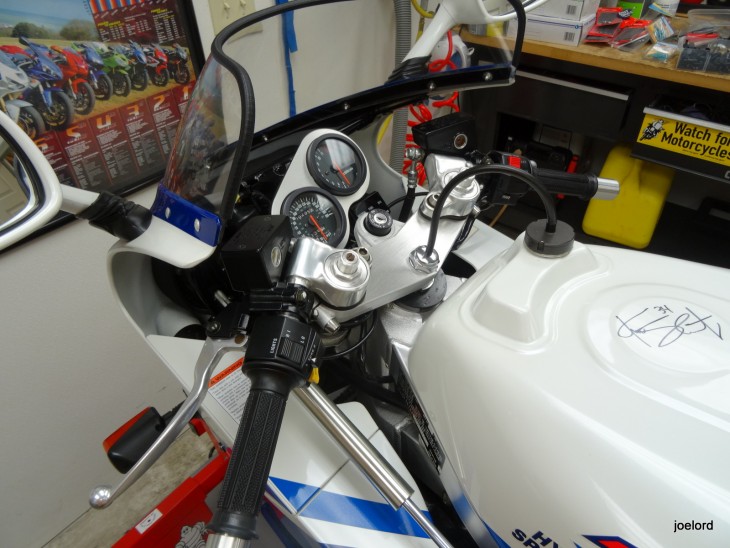 The wear and tear of life on the street for this big horsepower bike ended when the current owner parked it, or rather put it on the lift for polishing.  Signed by Suzuki star Kevin Schwantz, most likely a high reserve will keep it on the display stand.  Might be for the best, since it reviewed as a wrist crushing ride.  Many were bored out and converted to drag bikes or just raced on the street, and survivors in this kind of shape are few and far between.  Maybe one of the current bidders will prevail and take it back out, possibly to the fan corral at an AMA Superbike race…
-donn