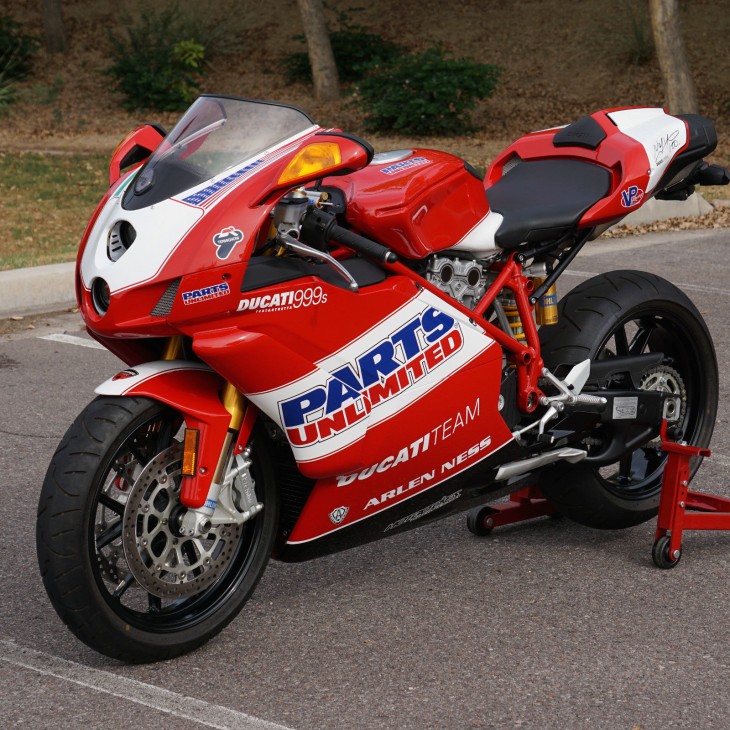 We have written before about the Ducati 999 series, with most posts commenting about how a lot of people (myself included) didn't particularly like the 999 when it came out.  The looks were a bit oddball in comparison to its 916/996 predecessor, with a full front fairing and a stubby rear.  Also while the 999 was the debut of a new and significantly improved engine for the Ducati models available to the public, the 999 also required major servicing every two years via a 14 hour workshop effort to replace the cambelts, fork oil, fluids etc.
In typical fashion for Ducati there were multiple versions of the 999 over its lifespan, including a somewhat bland-looking standard and S models which sold in great numbers, commemorative editions in which the only real difference was looks and a top-level nearly race-replica edition.
In this case we have a Ducati 999s Parts Unlimited edition, which falls into the middle of the 999 lineup.
The 999S Parts Unlimted edition is a bit of a head fake; it looks like a true race replica but upgrades were actually limited to suspension, a different front brake caliper and an engine that gives only 3 more horsepower than the standard 999.   Each bike was signed by Ducati team members Neil Hodgson and Ben Bostrom but the bike's tech didn't include any of the true race track items such as carbon fiber bodywork that the FILA Race/R edition offered.
While only 150 Parts Unlimited editions were built but all were sold in the USA.  Perhaps that why the 999 Parts Unlimited edition seems to come up for sale every few years (the last one we had on RSBFS was back in 2013) but isnt really considered in the USA to be a truly rare sportbike.
This one looks like it is owned by a collector who wants to move off it.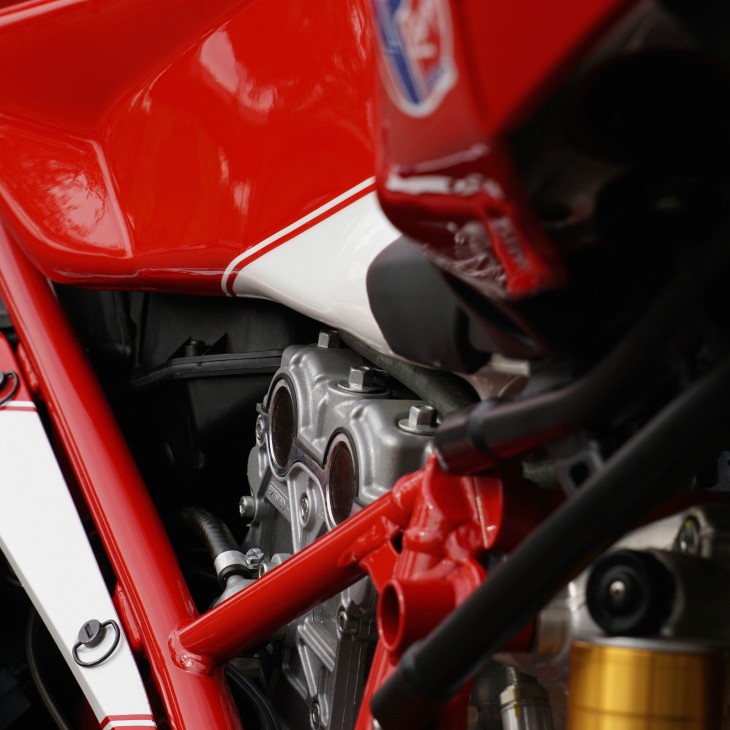 The seller's ad contains lots of standard Ducati marketing language but doesn't provide much detailed info about the condition of this particular bike.  Here is what the seller has to say:
2007 Ducati 999s with only 253 miles.
All stock, no aftermarket parts installed. 
Minor blemish on right hand mirror and exhaust shield. 
Perfect for a collector or someone who wants a new 999
So now we come to the question of whether this pristine 999S Parts Unlimited edition is worth the asking price of $15,000 USD?   In my opinion the price is close to proper value, maybe a bit high.   Previous posts of the 999S Parts Unlimited edition seem to show a price trending around $11,500-$13,000 USD for lightly used versions and anyone who buys this bike will likely need to expend some monies on services, including tires, fluid, probably a battery and would certainly be smart to check with the seller regarding whether the big services such as belts have been completed.
One final note:  I doubt the 999 Parts Unlimited edition will undergo dramatic price appreciation anytime in the near future. While most people find the Parts Unlimited and FILA versions of the 999 to be significantly better looking than the standard 999 and only 150 were produced, the Parts Unlimited version isn't high on most collectors lists…it seems to elicit the same level of desire among collectors as another "middle-child" Ducati, the 748L Nieman Marcus edition.  I suppose that shouldn't be surprising; both are mechanically a mostly standard-edition bike that come with significant upgrades in appearance.
-Marty/Dallaslavowner