Yamaha's Legendary TZ:  1975 Yamaha TZ750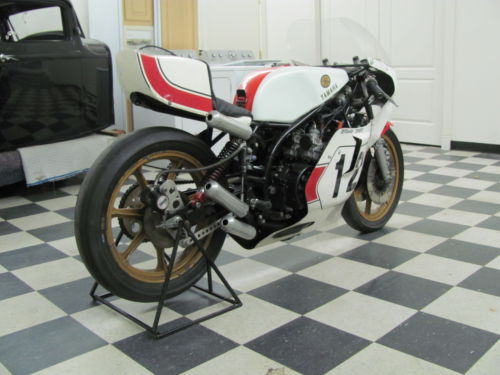 I think you can argue the TZ750 is one of Yamaha's most iconic race bikes.  It takes you back in time to when bikes could truly be nasty beasts.  I think it is also a time when tire and chassis technology hadn't quite caught up with engine performance.   I've posted this info before but it is worth a second look if you haven't seen it before.  It is from a little comparison on Superbikeplanet.com:
Compare: 
the 1974 TZ700 and the 2000 R7 Superbike

| | | |
| --- | --- | --- |
| | TZ700 | R7 |
| Wheelbase | 56.28″ | 56″  |
| Weight | 345 lbs | 356 lbs  |
| Front Tire  | 3.25 x 18 | 3.5 x 17 |
| Rear Tire | 3.5 x 18 | 6 x 17 |
| Horsepower | 145 | 173 |
How about the rear tire size!
Here is the auction info:
Here we have for sale a very rare 1975 Yamaha TZ 750 GP road race bike. This bike is in fantastic running condition. Yes, this TZ runs like you would not believe!! The 4 cylinder 750cc two stroke engine is all rebuilt and had virtually no time on it after a proper break in. The transmission and the chassis were rebuilt too but never raced after the rebuild. The bike runs perfectly down the street. The fairings are 1976 TZ 750 and same with the exhaust pipes. The bike also has the rare magnesium racing wheels on it. I have the new never mounted spoke wheels too. The bike is painted pearl white with red. The gauges are all in perfect working order. The rear shocks were cantilevered to improve the rear shock feel and performance. The bike has all original parts on it. This bike won mutiple races at Daytona back in its hay day. I have all of the documentation with this bike with all of its racing provenance. I have boxes of original TZ 750 parts. Two gas tanks, wheels, wind screens, etc. This is the definition of a vintage collectors race bike!  Its the best sounding 4 cylinder two stroke race bike you will ever hear.  Its a beautiful race bike with a ton of history and do not let this one get away! You wont find a more unique, rideable race bike.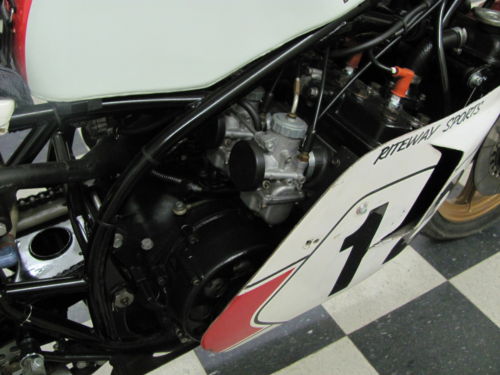 She is looking good under the hood.  You basically have a restored bike that hasn't been used since.  How rare are the wheels the seller describes?  Here is some good tech talk on the TZ750 I purloined from an interesting blog on Yamaha race bikes:
To start off from the beginning, what Yamaha actually did was graft two 350 cc twin race engines and together they belted out 90 bhp from the crank with bore/stroke ratio was 64mm x 54mm. These twins were the TZ350. The crankcase itself was of ultra-lightweight magnesium construction, with the crankshaft having blanked off ends to keep the engine as narrow as possible. The primary drive was taken from straight cut gear cogs from the middle of the twin crankshafts. A massive dry clutch sat along with three of the exhaust pipes on the right of the engine. A spindly, tubular steel frame held the engine, with narrow telescopic forks at the front and conventional twin shocks at the rear. Later, TZ750 models (also known as OW31s) had vastly improved monoshock rear suspension, with a cantilevered swingarm to improve handling. It was named F750 as a prototype although it was actuallt 700cc. Awesome! 90 bhp from a 2 stroker would shred any kind of race tire way back then. Kel Carruthers, the 1969 250 world champ was the first man who tested the bike. He removed the initial glitches by increasing the swingarm and improving the suspension. Still except for Kenny, the others were quite slow on the tracks as they were not able to handle it as the bike had small fork tube and chassis. After about 3-4 races, Yamaha added some more power! Another 20 bhp. Why? Because according to Kel, "It wasn't as fast as it could have been. They were really conservative in the way they built it." In a way, Kel was actually serious. You know Yamaha back in the late 60s had V4 250cc GP bikes which were making around 75bhp, so logically the bike should have around 140bhp. Of course there was no chasis or tyre which would have hold it was another thing, but come to think about it, the bike with modifications later did belt was that much power.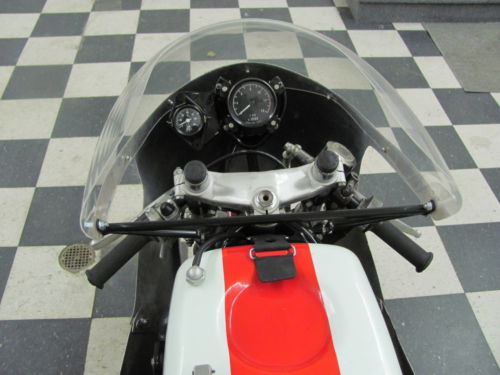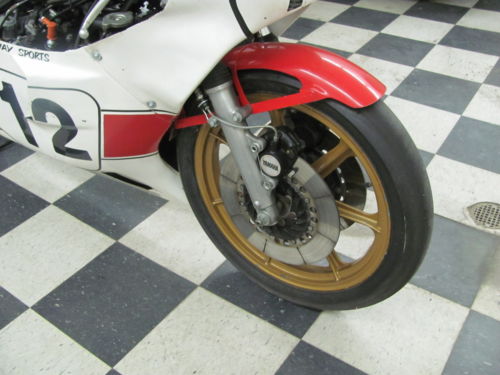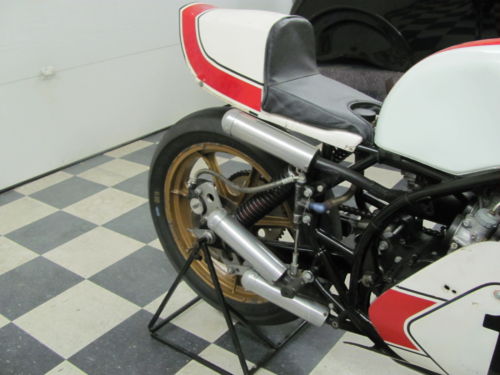 I honestly can't imagine the hit this bike would have.  I've always thought a healthy 250cc two stroke gives a nice adrenaline rush.  Maybe it is an optical illusion but I don't know how that upper muffler doesn't cook your leg.
It will make an excellent addition to any collection or instantly turn you into the bad boy at  the track.  If you interest still isn't peaked it looks like it is a "no reserve" auction.  It is going home with someone.  Click to win.
Ian
4 Responses.