For Sale: 1990 Yamaha FZR750R OW01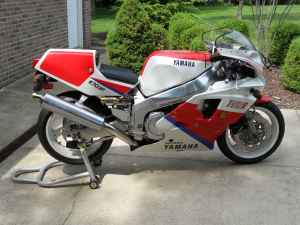 Next to import two strokes, the WSB homologation 750 sportbikes are definitely a favorite around the RSBFS corporate office. And of those homologation bikes, the OW01 is quite possibly the most rare of the bunch. While not as successful as the Honda RC30 and RC45 on the track, the OW01 definitely held its own with numerous race wins with the likes of Eddie Lawson and Dave Sadowski (just to name two).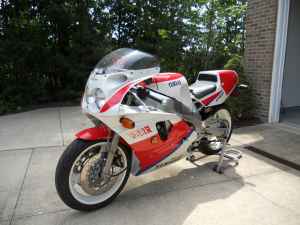 Because these bikes are a favorite of RSBFS staff, we have posted quite a few – sometimes the same bike as it trades hands. Staffer Alex points out what makes these bikes so special: "The short stroke motor breathes through four 38mm flat-side Mikuni's, five valves, hand finished porting, lightweight pistons, titanium connecting rods mated to a close ratio transmission. This results in 108RWHP at 12,500RPM."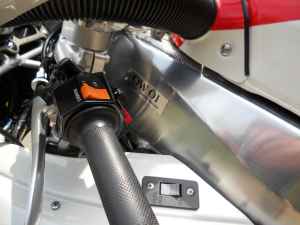 From the seller:
EXTREMELY RARE 1990 Yamaha Factory Superbike FZR750R OW01 12,200 miles
1 of 500 produced – Serious Inquiries Only – More information available upon request for serious buyers. Part of a Private Collection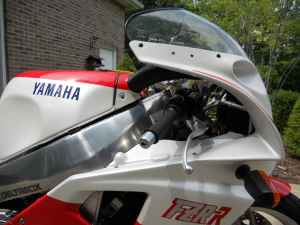 With relatively low miles (although somewhat high for such a rare collectable), the bike looks to be in great condition. As always, we strongly recommend contacting the seller for more details and information if you are serious about this particular bike. This is especially true of Craigslist bikes due to the limited pictures and text.
The seller is asking $17,500 for this rare beauty – and if all checks out it is certainly worth that kind of money. Note that the OW01 has not risen to the level of the RC30 (yet), and as such represents a good deal in the world of WSB homologation specials. To reach out to the seller, click the link and hop over to the Craigslist advert. Good luck!
MI