Update 10.12.2017: SOLD. Congratulations to buyer and seller! -dc
Update 9.23.2017: Back on eBay with fresh pictures and a buy-it-now of $9,000. Seller note: Open to trades, would consider a trade up or trade down on a RC30, RC45, NC35 and possibly an Ow01 or Ow02, already have an NC30 so I'm good there. Yes, I realize the RC's and OW's are quite a bit more but if the offer is fair, I'll make up the difference in cash. Would also consider a Hypermotard (only bike I miss after I sold and want another one soon!). Open to all trades I suppose, just has to be interesting and not run of the mill… Good luck to buyers and seller! -dc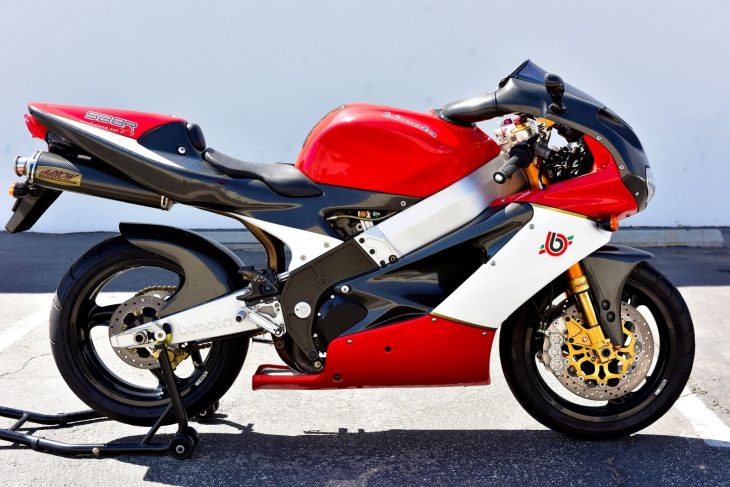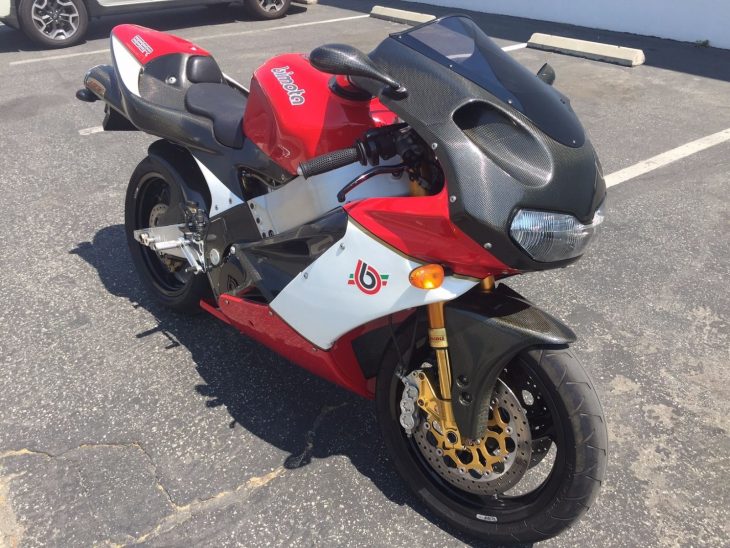 Two nice Bimotas in one week! Today's SB8R Featured Listing that can also be found on eBay doesn't bother with a traditional Italian powerplant like the DB2, but does stick with a v-twin, in this case the liquid-cooled, 996cc unit from Suzuki's TL1000R. The TL-R may have been flawed as a sportbike, but there was surely nothing wrong with that engine, and Suzuki supplied it to Bimota and Cagiva to power their Raptor line as well. The engine was largely stock, although Bimota used different fuel injectors to bump power to a claimed 138hp. It's reliable, sounds great, and offers up plenty of performance in this lightweight machine.
Styling certainly isn't as svelte as the Ducatis it was pitched against, but the look is distinctive, with lots of exposed carbon on the bodywork and frame. Of course, that frame really is the centerpiece of any Bimota and the SB8R uses a sophisticated, composite design that uses aluminum spars and carbon fiber side plates, a design inspired by the one found on Cagiva's Moto GP bike. That curvy tail is made of carbon as well, and is self-supporting. Up front were beefy Paioli forks and a traditional Öhlins rear shock replaced Suzuki's troublesome rotary rear damper. These components helped shave nearly 50lbs compared to the TL-R and improve both the power-to-weight ratio and handling of the SB8R.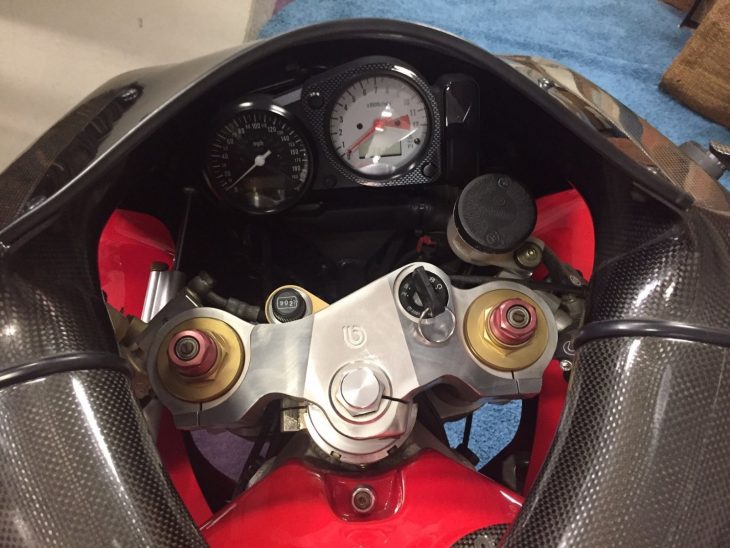 Suzuki donated the headlight and the gauges as well. They don't look quite as special as you might hope for on a pricey Italian exotic, but they also actually work, something that wasn't guaranteed on other 1990s Bimotas, so it's a sensible choice. Those huge carbon intake tubes may hearken back to a late 1980s Kawasaki ZX7, but that beautiful top triple they frame really shows the incredible details found on Bimotas of every era: innovative frames, trick bodywork that removes with just a few fasteners, machined from billet frame parts, footpegs with eccentric adjusters, and top shelf components. If you don't like what you see at first, just look a little bit closer.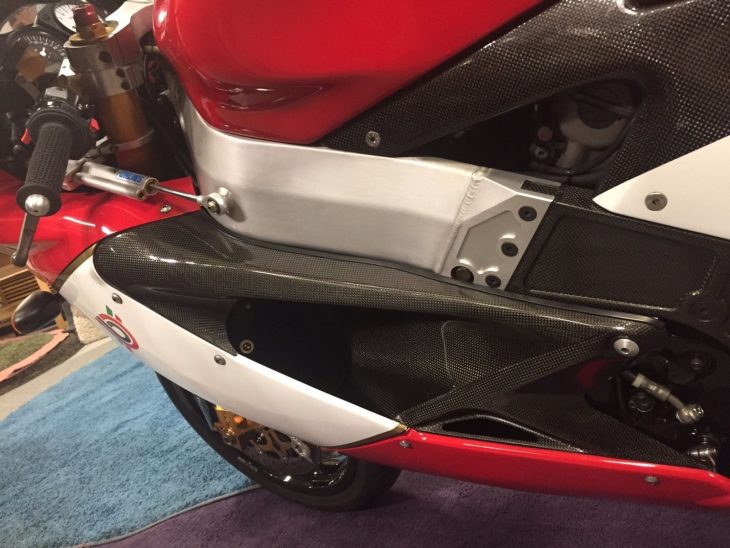 From the Seller: 1999 Bimota SB8R for Sale
This example is number #18 out of 250 ever produced, with just 50 SB8Rs officially imported into the USA.  Hand built Italian super bike weighing in at around 380 lbs dry and 135 HP. This Bimota is truly stunning, especially considering it's 18 years old!  The red paint is a vibrant red, white is very clean and the carbon work is amazing.  The only imperfections that are all quite minor are the barely functional mirrors (look good for display though) and a tiny little crack in the "carbon tube base" where it meets the fuel tank (I pointed it out in the picture with my finger) but even that would be a very easy touch up, if you even noticed it.

 

The bike is pretty much stock other then a carbon Arrow Exhaust, 6 pot ISR calipers (rebuilt in 2016 with receipt), aftermarket kickstand (stock ones are known to collapse) and adjustable rear sets.  I have the stock exhaust and a few other things in a box.  Bike starts right up as it should with the choke engaged and is currently sitting in our warehouse under a soft cover.  Will need tires pretty quick though if you're planning to ride.  If you want to fly in and ride it back, I'd be willing to have new tires installed prior to your arrival at your cost of course…the labor would be free though.

 

I've been a huge Bimota fan since they first came out but back then they were out of my budget and just a poster bike.  The workmanship with the beautiful gold forks, CNC'd fork legs, carbon fiber frame and beefy swing arm are truly Italian Art.  The reason the SB8R is one of my favorites is that it utilizes the TL1000R motor which means you get the Italian style and an exceptionally easy motor to work on whereas some of the other models are belt driven Ducati's and much more expensive to keep running.  This is one of the few collector quality motorcycles that you can actually ride.  It's not a small bike by any means (I suspect it may be large for anyone under about 5'10) but it's exceptionally well planted on the freeway, excellent torque, fantastic brakes / suspension and much more comfortable then many of my prior bikes.

 

I've been shopping for one for years but they were not the condition I was looking for or perhaps I didn't trust the source.  So why sell after a short stint of ownership?

 

My son had went down on his Daytona 675 last year (see it on my other ebay auction), he's saved up enough for a new ride so we stopped to see a pretty special bike on the way to Laguna Seca last week.  Turns out, he has my UNICORN of motorcycles…the one bike that I've never been able to get my hands on, a beautiful condition RC45!  He also has the CBR400 my son was looking for.  Here's the catch, he's getting up there in years and cleaning house.  He will only sell me the RC45 if I take all 7.5 of his bikes (the .5 is a  rolling chassis)…  I've never really wanted a large collection, just a handful at the most, not to mention I just picked up some classic sport bikes in the trailing weeks to fix up with my son.  SOOOO.. seeing that I can't pass up this RC, looks like I'll be selling some of these others once I get through all the paperwork and figure out what I want to keep (tough life I know…HAHA).

 

Bear in mind, I'm not letting the Bimota go for cheap, if it doesn't find the right owner then I'll focus on selling some of the others.  Fact is, this SB8R is in such great shape, I feel bad to ride it… just too hard to find bodywork and I'm not the kind of guy that just looks at my bikes. The RC45 comes with 2 set of bodywork which is perfect for taking her out and new skins for showing it off :).

 

Thank you again Frank, my son and I are very excited about the new arrivals!!  I know you watch the 'Rare Sportbikes for Sale" site daily as we try too so you'll undoubtedly see this post.

 

Title is clear, in my name and CA registered.  If you want to ship, no worries.  I use Federal Transport (owned by Allied Van Lines), great guys!

 

PS.  This bike has had a few owners, as such you can search SB8R and see some of the prior postings as well as many other pics.  Last owner was a great guy!  He babied the bike and just sold it to get something that was a little more of a daily rider.  I've already waxed it as well so she's looking spiffy!
The SB8R was one of Bimota's most successful models, a much-needed win for the financially troubled company. With a starting bid of $8,000 and several days left on the auction, there's still time to pounce on this bit of Italian exotica,
so head on over and bid at eBay if you're interested!
This example has been thoughtfully upgraded with six-pot calipers and a set of classic Arrow cans, as indicated by the seller. There are just over 7,000 miles on the clock, which is low enough for collectors, but not so low you'd be afraid to put on a few more riding your handbuilt superbike.
-tad