Update 10.27.2017: SOLD! Congratulations to buyer and seller! -dc
Update 9.27.2017: New price: $25,500. -dc
Update 9.20.2017: Now on eBay. Links added. -dc
Update 9.12.2017: Price reduced to $28,500. Good luck to buyers and seller! -dc

Jim Granger is widely considered royalty among the cognoscenti in U.S Honda RC30 circles, having owned and tweaked a raft of the rare V4 beasts over the years. What you see here is a 1990 Honda RC30 that Jim owned for the better part of its life, adding go bits from the HRC parts bin along the way.
We can't say for sure which one of Jim's RCs this is, but check out this forum post describing power figures for a brace of mild and wild RCs he built at some point:
Jim Granger's RC30: 123rwhp skimmed block, stock pistons, stock cams,
un-cut stock heads HRC spec porting, HRC exhaust, flatslides, HRC ignition

Jim Granger's 133rwhp RC30: Same as previous plus custom stainless valves
(std size), race spec valve job, 91 HRC cams, multiple
assemble/disassemble "clearancing" . Dyno fuel flow indicated 1 jet lean,
approximate 3 hp per operator.
Seller Jay told us this bike's engine has never been opened, so we wouldn't expect those numbers from it, but keep reading to see the tasty pieces it did pick up in Granger's stewardship.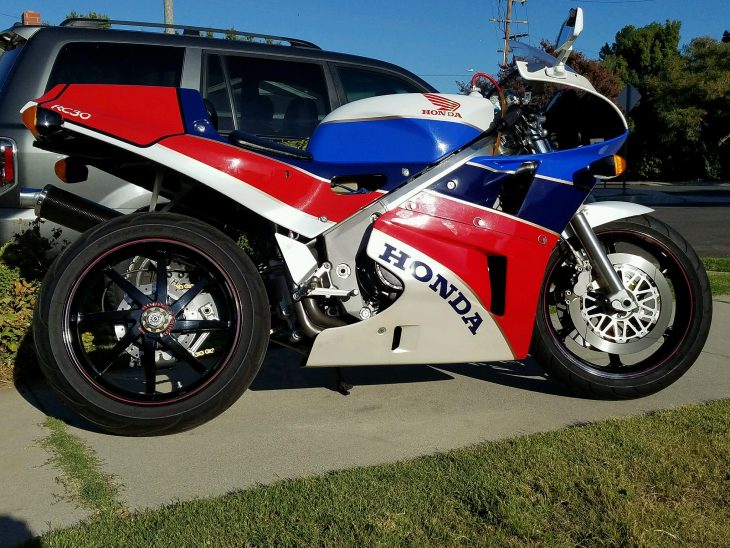 The predecessor to the also-legendary RC45, RC30s found glory both in short-circuit superbike racing and on the longer, scarier road courses of England and Northern Ireland with names like Robert and Joey Dunlop aboard.
The grocery list of rare and unobtainable parts on this bike is very long, but includes HRC jet kit, radiators, rear shock, fork internals, wheels, a Moriwaki dry clutch setup and a one-off Yoshimura exhaust. The changes, though subtle, are wide-ranging and strategic, and will give the bike slightly more than the stock 118 horsepower and sharpen its responses on all fronts.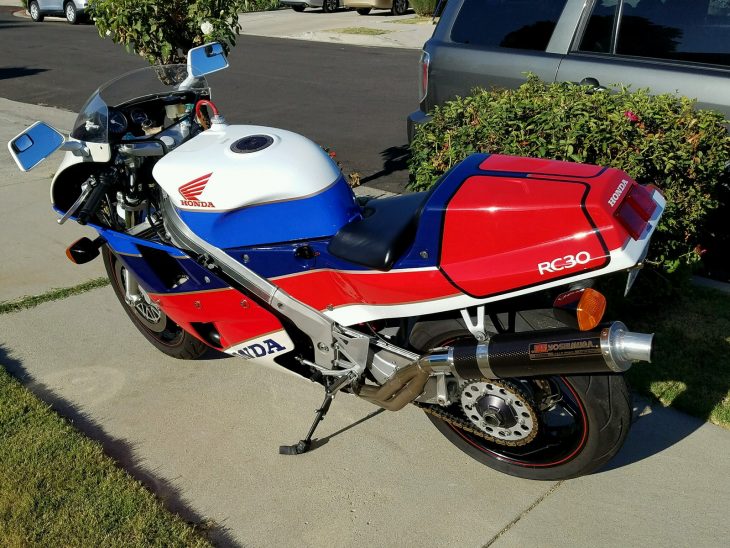 No internal modifications also mean the engine has never had to come apart for any reason, and in true Honda fashion, it has performed reliably with regular maintenance. It is also fully street legal, and retains the stock clipons, rearsets, turn signals and lights. It is decidedly not superbike-spec, and that makes it almost more desirable.
The seller says Jim owned and rode the bike for more than 20 years, adding about 10,000 road miles to the clock in that time. The mileage currently reads just over 21,000, but Jay says about half of those miles came from Granger adding mileage to the odo in order to register the bike in California.
In Jay's words:
Jim Granger's 1990 RC30

This was Jim's personal RC30 from 1991 till 2014 when I bought it. Jim is the US RC30 guru, no one can question his love or knowledge of these bikes. I've ridden it about 800 miles, 50 in the last week. Most of its time with me it was on display in my buddy's office or living room.

This girl has history, some of it I might get wrong, hopefully Jim will correct me. Jim bought it from someone in the southwest and had to add almost 10,000 miles to the odometer the register it in California. Then it spent it's time in his shop and in the mountains of So-Cal racking up another 10,000 or so miles, the current Odo reading is 21,537. When I bought her she had been "sleeping" for a few years in his shop, he woke her back up with fresh fluids, tires and anything else she needed. Recently I changed the oil and bled the brakes and clutch and replaced the battery, she is ready to ride.

She has a bunch of cool parts in this list, but I bet I missed a few:

HRC 17″ Magnesium wheels
HRC full floating and vented front rotors with HRC calipers
HRC front axle
HRC fork internals with external adjusters
HRC Radiators and Temp gauge
HRC jet kit (I think)
Moriwaki DRY CLUTCH ) (imagine a Japanese refined Ducati dry clutch sound, F'ing musical)
HRC Aluminum bodied rear shock
HRC rear ride height adjuster
A one off Yoshimura full exhaust with a period carbon can
PFM iron rear rotor
HRC breather tank
Modified rear subframe
Braided lines
Aftermarket 520 chain and sprockets
A lot cool aluminum hardware here and there

She has a lot of the practical stock parts, like the stock rear sets, stock clip-ons and bar-ends, stock turn signals and lights. She is just as comfortable and easy to ride as the day she left the factory. Her motor is stock, has never been removed or apart and has never had any problems. A bunch of the cool parts came from Freddie Spencer's RC30 program like the wheels, clutch and suspension.

This girl has been meticulously cared for, she has never been crashed, never fallen off the stand or anything like that. But she does have a few blemishes, look carefully at the pictures, ask questions, I want to make sure you know what you are getting. I've taken over 30 pictures, the latest one after I rode her to work this morning (8/21/17). The upper hasn't been painted, but the pearl white is a bit off, maybe it was kept near the welder or got some extra sun. The bike has a few chips and marks but nothing besides the pearl white really worth highlighting. Take a look at how great the fork lowers look, she is in great shape. What you see is what you get, she doesn't include any other parts (except her factory rear stand), no tool kits or manuals.

Ask questions, ask for pictures, please understand what this bike is and what you are buying. Asking $30,000.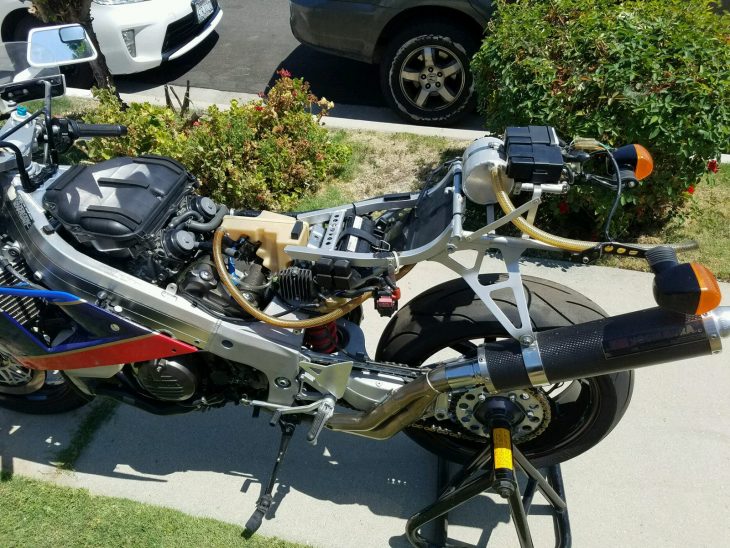 The $30,000 $28,500 asking price is a big number, to be sure, but RC30s are only getting rarer, and this one is in largely unmolested condition, and comes with the provenance of Jim Granger in its ownership history. For more pictures or to make an offer, contact Jay directly at the address above.