Update 2: This one is now sold. Congratulations to both buyer and seller, and thank you for helping to support the site Mark! -dc
Update: I have corrected this post to note that it is actually #265 as noted in the photos. Sorry I missed this when originally published and I apologize for any confusion it may have caused. -dc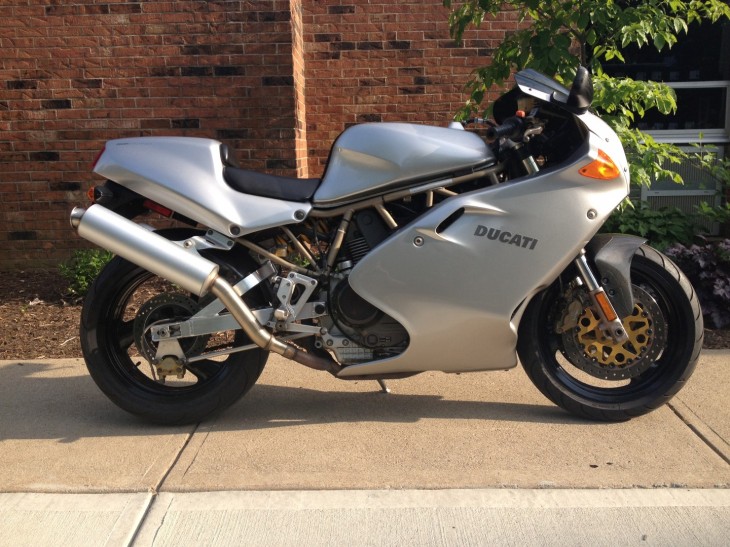 Our latest Featured Listing is this very clean and original Ducati 900 Supersport Final Edition. This was the last year for the air-cooled SS before the restyled and fuel injected models were released. These were the only Supersports to get the silver paint and they also came with many bits from the Superlight model like the solo seat, high pipes, and carbon fiber additions. The Supersports of this era don't necessarily impress on paper but ask anyone who has ridden one and you'll almost always hear stories of fond memories. They have enough power to get the job done quickly, handle in a very steady manner, and are comfortable enough for long journeys (I've done plenty myself!) If you've been waiting for a nice one that is barely broken in, read on to the seller's description below and then contact the seller via email with offers over $7000.
dc
from the seller:
1998 Ducati 900 Supersport Final Edition

This listing is for Ducati's 900 Super Sport Final Edition. I'm the second owner of this collectible and limited edition example of Ducati's classic Super sport chassis and body design. Mileage is 5800 and I took the liberty of having Northern Ohio Ducati and Triumph complete the 7500 mile service on the bike and inclusive of new battery, carb rebuild and sync, belt replacement, Ducati Performance slave cylinder, new tires, new spark plugs, check of chain tension and alignment and fresh oil and filter. You will find that the records are meticulous and up-to-date.

There were only 300 of these examples manufactured (for the U.S., 800 world wide. -dc) and this is #258 #265 as displayed on the badge on the upper triple tree. The paint is near flawless but there are a few blemishes to point out: small paint chip underneath the headlamp and another on the right cowling (only noticeable if you look under the bike to inspect). I do have matching paint from Colorite (provided by the original owner) to attend to the affected area. Never crashed or damaged whatsoever. The FE came with all the SP upgrades like carbon fiber, performance aluminum swing arm, dual floating front race brake package plus the unique single seat tail and the hard-to-find high exhaust configuration. This is a stocker example except for the dark smoke windscreen. I do not have the original windscreen but they are available. There are two fine scratches on the left muffler but non-visible at a three-foot distance.

The Final Edition has no issues with frame or swing arm complications associated with earlier model Ducati Super Sports

Bar risers would make this the perfect bike for the curves as well as extensive trips. This could certainly be an outstanding collectible Ducati for the new owner. I find myself staring at it often, weird as it sounds, but the design is a thing of beauty. I have ridden it less than 200 miles and it's one of the most responsive, best handling bikes that I've ridden. Without question, it's sound and feel is unmatched.

Thank you for viewing my listing. No disappointments here. This is an incredible find in central Ohio. I purchased the bike from AZ, sight unseen, and I've been thrilled with it ever since.