Update 6.12.2016: SOLD!
Price is $7,500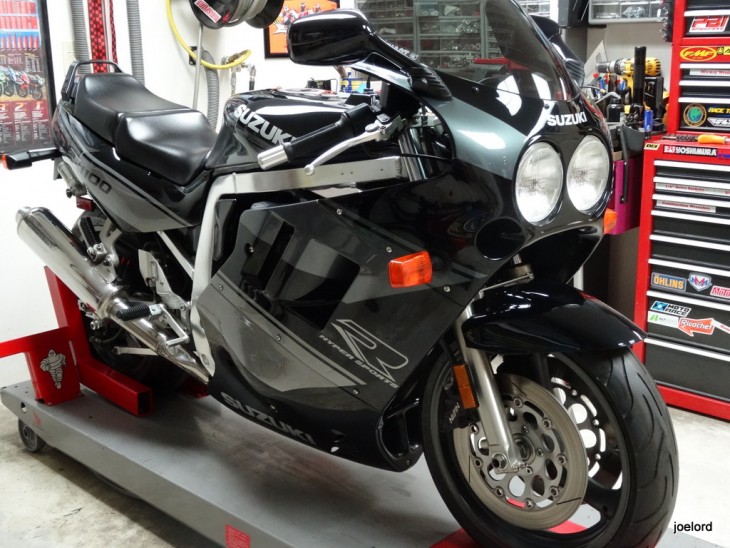 Introduced in 1986, the GSX-R1100 followed the age-old tradition of stuffing a big motor into a small package. It was more complicated than that, of course, and the 1100 isn't just a 750 with a bigger engine. But the idea is there, and it can easily be argued that the Gixxer 1100 was the start of the big-bore sportbike craze. Beloved of hooligans, it had a mystique that later, faster, nimbler bikes could never quite match.
The first-generation "Slabby" models are clearly dated by their 18″ wheels and tiny brakes, while the later models are distinguished by their garishly jagged 90s paint schemes. But these middle child "Slingshot" K and L models from 89-90 have been largely forgotten. At the time, Suzuki couldn't seem to sort out the handling and the bikes have a bit of a reputation that had owners fitting bits from the 750s in an effort to get the handling they expected.
Looking at them today, it's easy to appreciate them for what they are: big, fast, and nearly unburstable. The oil and air-cooled, 16-valve inline fours displaced 1127cc in this iteration, with an honest 140hp in stock form and could be easily tuned for much more. Drag racers loved the engine and the engine can handle turbos and nitrous with relative ease.
Unfortunately, that means its getting harder and harder to find unthrashed examples like today's featured listing, especially in this very subtle and classy black-on-grey scheme.
From the seller: 1990 Suzuki GSX-R1100 for Sale
Up for your consideration is a 1990 Suzuki GSXR1100. This bike has had a very easy life considering. I feel the condition of this bike is way above average for the year and miles (9,933 miles). The originality speaks volumes as to who owned it and how it was treated. I won't say any more about that as I will let the pictures of the bike speak for themselves. The bike was bought by me as a collector bike and never put on the street. 

It has been thoroughly cleaned twice while in my care. It is detailed and would be a great addition for any collector or anyone whom just wants to ride it.  It is this bikes originality that makes it so special…

Problem areas:

The right rear tailpiece has a broken tab (the one that is the male piece into a rubber circle).
There are some very minor stone chips here and there. This is a used bike that has almost ten thousand miles so some wear is expected.
Steering damper; they typically last 5-7 years and fail so this is a common issue with a bike of this age
The rear shock needs to be rebuilt (rebound is like a pogo stick)
There are some small imperfections under the clear coat on the tank – see pictures for details as you will see they look like dots in certain areas
Does not come with a battery
Has an aftermarket windscreen

That is it. Other than those items the bike is all there. It does include a manual, key, and previous maintenance records that are handwritten on original dealer document pouch:

Original purchase date was 6/30/90 from Suzuki World, Inc in Warwick, RI
600 mile check-in at 628 miles on 9/6/90
Next service was 4,065 miles on 8/6/94

Also includes binder with all articles and such from over the years.   You are buying this bike from a enthusiast collector so I think you will be happy. The bike has had an oil change and tank and cabs drained while in my care.

This bike is on the rise in value and will follow the slab sided bikes that have just been white hot. It is very easy to see the trends and while most average bikes will get average prices the really good ones always bring the really good money. I was told long ago by a well renowned collector always buy the best you can afford as the best condition always is the most sought after, and always originality trumps restored. They can be restored hundreds of times and original once. This bike is not an ordinary bike and is not for most as you will see with the pricing. This bike is for the buyer that wants low mile, original bike, in great condition and will pay a premium for it.

I have listed and sold lots of bikes over the years without a single complaint. All were pleasantly surprised and all expectations were met, most even became friends after the purchase.

I will be listing a few bikes so please take a look and see if any of them tempt you! It is time to thin the herd so to speak. Good luck!

Price is $7,500
It's not absolutely perfect, as clearly indicated by the seller, but it's about as close as you'll likely find. The minor blemishes are to be expected, the mechanical issues simple to fix, and in the hands of a sympathetic enthusiast, this bike should provide many years of fast touring and back road blasting.
-tad