This one has been on the site before, but this time it's selling for good as it's a $1 no reserve auction. It has been relisted twice since we saw it the first time and at it's lowest reserve price of $14k, failed to get a bid. So if you were on the fence this might be your chance to get a deal. Good luck to buyers and seller!
dc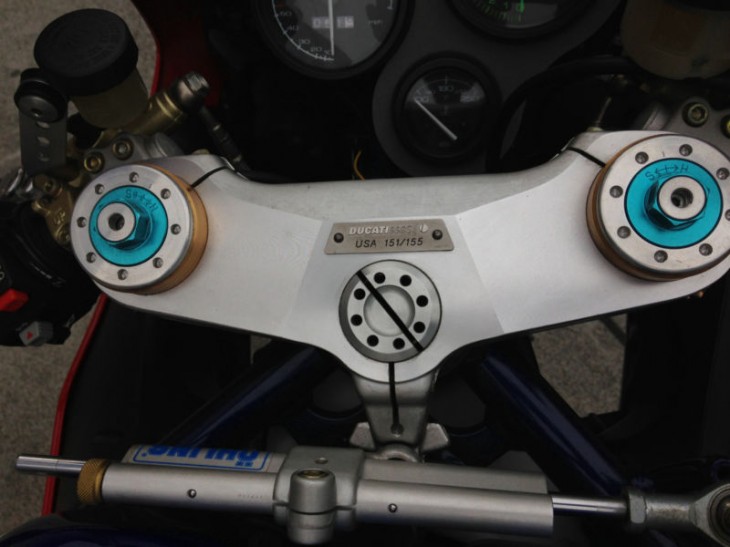 quote from the seller:
I'm selling my all-time favorite bike.

This is a 2002 Ducati 998s Ben Bostrom limited edition super bike. It is built to commemorate Ben Bostrom's 998 and is signed by him on the gas tank with a clear coat on top. There were only 155 of these built. This is number 151.

Unlike the Troy Bayliss edition with 400 produced, the Ben Bostrom edition is much more rare and only seen in magazines or online. I've never seen one on the road or at exhibitions.

This bike is totally fresh with a new lithium battery, brand new tires and fluids. Belts are fresh and everything is stock except the exhaust which is a Marving Carbon. I have the original system as well. Some of the stock highlights are carbon fairings, Ohlins forks, Ohlins rear and Ohlins steering damper. Carbon chain guard and fender, carbon license plate assembly.

There is a small scrape on the back fairing that happened when I swung my foot over the back the first time.

I've wanted this bike for a long time and am really sorry to see it go. I guarantee the next person to own it will never feel like any bike will ever compare. These bikes are appreciating quickly so this is your rare chance to get one. I'm starting this auction for $16000 even though the bike is worth well over that. If you don't want to draw attention to yourself, don't buy this bike. It is far from a sleeper and absolutely flies down the road.

This is the bike that even the Ducati dealer walks out to check it out.